One of four cool, verdant regions lining the north coast of Spain along the Atlantic Ocean's Bay of Biscay, Cantabria 's capital Santander as well as its rolling countryside, and its craggy coast are a delight for its culture, history, ecotourism, adventure, beaches (including surfing magnets!), and lovely towns, as this blog has covered extensively.  And while you're luxuriating in all the above, you can also treat your taste buds to some absolutely marvelous eating, thanks to both the region's culinary traditions and innovations, all underpinned by fresh, top-quality ingredients such as beef from its prized Tudanca cattle. And here's a taste of the top stars of the Cantabrian table:

Palate-Pleasing Cheeses
Cantabria is home to three cheeses featured by Spain's denomincación de origen ("designation of origin") system denoting top-quality, artisanally crafted foodstuffs linked to a particular geographical area (similar to France's AOC, appellation d'origine contrôlée). Made from cow's milk throughout most of the region, queso de nata (cream cheese) is smooth, buttery, and creamy, pairing especially deliciously with jams, jellies, and desserts. In contrast, Queso Picón Bejes-Tresviso is a powerful, slightly spicy blue cheese – also cow's milk – aged in caves 1,200 metres (3,937 feet) up in the mountains of bucolic Liébana shire in the west of Cantabria. This same valley also produces semi-hard quesucos de Liébana, from cowsmilk and sometimes mixed with milk from sheep and goats; aged for two months, it too has a mild, buttery flavour (though it also comes in smoked variations).
There are numerous others produced up here, as well, and even the most discerning of cheese lovers are guaranteed to find quite a few that will delight their taste buds.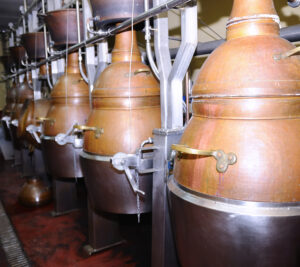 Orujo, a Potent Spirit Indeed
A tradition shared with its neighbours in northern Spain, orujo is a brandy distilled from grape skins (and comparable to France's eau de vie and Italy's grappa), and 100-proof orujo de Potes is a speciality of a charmingly picturesque village of the same name (pop.  just over 1,300) out at the foot of the Picos de Europa mountains in the Liébana Valley. Smooth but powerful, in addition to the baseline orujo blanco it's also made with flavours including coffee, cream, herbs, and honey. Every second weekend in November, Potes also organises an Orujo Festival, but local distilleries welcome visitors year round, as well, to learn about the production of this firewater – and tastings, of course, are included.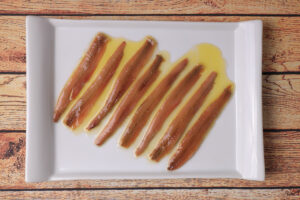 Conserved Bonito & Anchovies

Whilst at first you may possibly find praising foods from tins and jars a bit jarring, here in Cantabria this technique of conserving them in salt and olive oil is prized. Brought to the coast by transplants from Sicily in the 19th century and nurtured here especially by women, who passed down recipes from generation to generation, they're produced industrially – though not in what you'd call mass quantities – and are a common feature of local menus from corner pubs to fine-dining restaurants, whether vegetables, meat pâtés, and most expecially wild-caught seafood.
In fact, the most celebrated of these include canned bonito del norte (quite similar to skipjack tuna), known for its extremely white meat as well as exquisite taste and texture, and anchovies are another well known delicacy conserved in this way, especially concentrated around the fishing port of Santoña (pop. 11,000), some 40 minutes west of Santander.
Hungry yet? Fly to Santander from 60 euros!