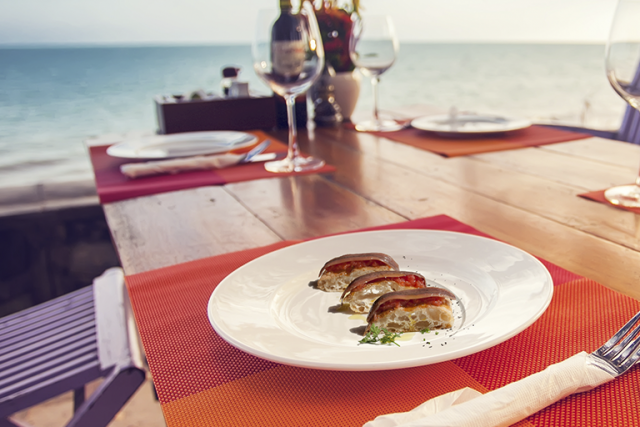 In this blog's previous posts, you've read how Spain's lovely green region Cantabria region is packed with natural beauty and lovely landscapes; spectacular surfing; ravishing rural drives (including towns and villages along the Way of St. James); and historic capital Santander, also home to cutting-edge art and architecture. But today we're focussing on something every traveller is especially interested in: this area's absolutely delicious culinary menu!

The success of the Cantabrian table always goes back to the source: raw materials of the highest natural quality, with flavours strong and pure. It's no coincidence that innovative, world-class chefs like Óscar Calleja and Jesús Sánchez have put the region on the international culinary map thanks to the pair of Michelin stars at their restaurants here.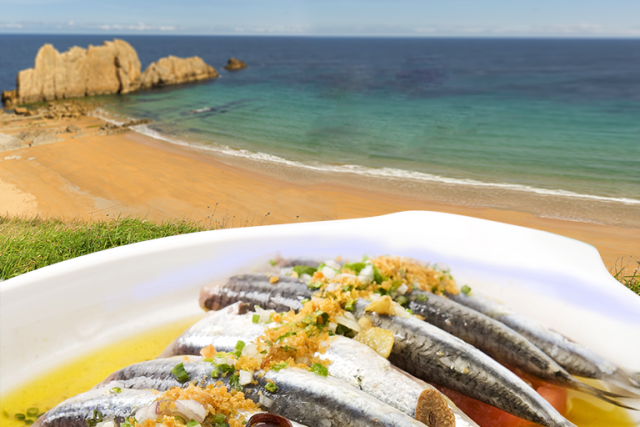 The Sea as a Way of Life 

The name "Cantabria" is of course closely linked to "Cantabrian", as in the Cantabrian Sea which forms the southern portion of the Bay of Biscay, shared by Spain and France. And its bounty plays a huge role in the local cuisine. A perfect example is its signature speciality, anchoas en salazón (salted anchovies, above), artisinally fileted and canned in factories which have become tourist attractions in their own right. Fish in general plays a huge role on the menus hereabouts – not just the notables found all over Spain, but also local specialities such as sorropotún (aka marmita de bonito, tuna in a tomato-pepper sauce), almejas a la marinera (clams in white-wine sauce, also found across the rest of north Spain), and rabas (the Cantabrian version of fried breaded squid).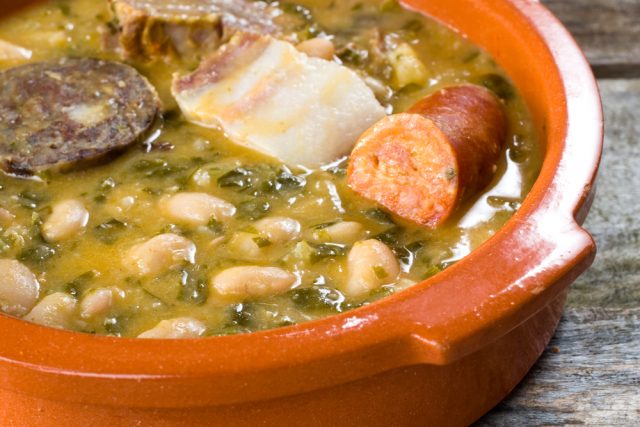 Cantabrian Mountain Stews Warm Both Stomach and Soul
Originating in the rolling hills of the region's hinterland, a pair of similar stews are especially appealing in the cooler months but tasty on menus all year round. Cocido Montañés (mountain stew) hails from western Cantabria's bucolic Cabuérniga Valley, and mixes different cuts of pork (ribs, sausages, blood sausages, pork belly) with cabbage and white beans, eaten all together.
Meanwhile, in the Liébana Valley to the southwest, the local cocido lebaniego (above) is also composed of pork cuts such as bacon, sausage, black pudding, and ham, plus beef, all mixed with chickpeas, collard greens, and potatoes. A final interesting twist is a stuffing made of breadcrumbs, sausage, egg, and parsley. It's a particular speciality of the valley's capital, the tiny mediaeval town of Potes.

Cheese as a Reason for Being
With a rich cattle-, sheep-, and goat-ranching tradition, Cantabria is home to dozens of local, artisanally produced cheese, including three of Europe's Protected Designations of Origin (DOP). One pair of special note comes from the Liébana Valley. Slightly spicy, cowsmilk blue cheese Picón Bejes-Tresviso (one of those DOPs) is matured in hill caves 1,200 metres (3,937 feet) above sea level. The other is a semisoft mix from cows, sheep and goats called quesucos de Liébana. Cured in smoked and unsmoked varieties, it's pleasantly soft in flavour as well, its slight sweetness makes for excellent pairing with pudding and fruit.
You can also do guided cheese routes that include producers like La Jarradilla and Las Brañas de Pendes, with tastings and even workshops where you can learn to make your own cheese. For as Monty Python's version of the Sermon on the Mount puts it, "blessed are the cheesemakers"! 😉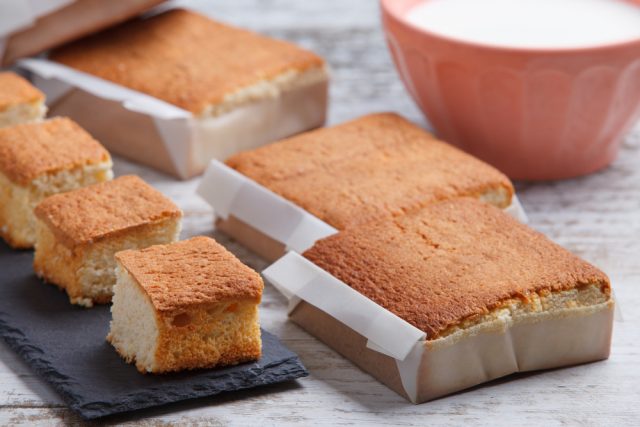 The Final Sweet Touch
For all this region's prowess in the savoury, it also excels in winding up each meal with a tasty pudding indeed. The best known example is sobaos, originating in the Pasiegos Valleys of south central Cantabria: tender biscuits made of wheat flour, butter, sugar, egg, and lemon zest. These artisanally crafted treats have won Europe's Protected Geographical Indication, and you can learn about how they're made at producers such as Joselín Casa El Macho, and El Andral (all in the town of Selaya). These sweet valleys are also home to quesada pasiega, a crustless cheesecake of ricotta or similar cheese as well as milk, sugar, butter, wheat flour, and egg, all flavoured with lemon zest and cinnamon and served warm or cold.
A third iconic sweet is hojaldre (puff pastry), which comes in various local forms such as the pantortillas (flat, oblong, topped with caramelised sugar) from the stunningly sited mediaeval town of Reinosa; the corbatas ("neckties", because they somewhat resemble bowties, garnished with almonds and powdered sugar) of the tiny village of Unquera, up near the coast in Cantabria's far west; and the emparedados made in Torrelavega (not far from Unquera), in which similarly to a napoleon two layers of pastry sandwich a custard middle. This city is also home to a Brotherhood of Hojaldre (who knew?) and even throws a Festival del Hojaldre in mid-August.
And by the way, whichever of these sweets you savour, don't forget to accompany it with a nice orujo lebaniego, the smooth, grape-distilled schnapps also from the foodie-mecca Liébana Valley. (And if you can make it up here the second week in November, taste your fill at the Fiesta del Orujo in Potes!)
More info: TurismodeCantabria.com.