As the onetime capital of one of the world's greatest empires, our home town is packed with grand buildings, monuments, parks, gardens, and other memorable landmarks which are reliably irresistible Insta catnip. In fact, it's hard to isolate just five – but here's our best shot So…prep your hashtags and ready…set… #madrid!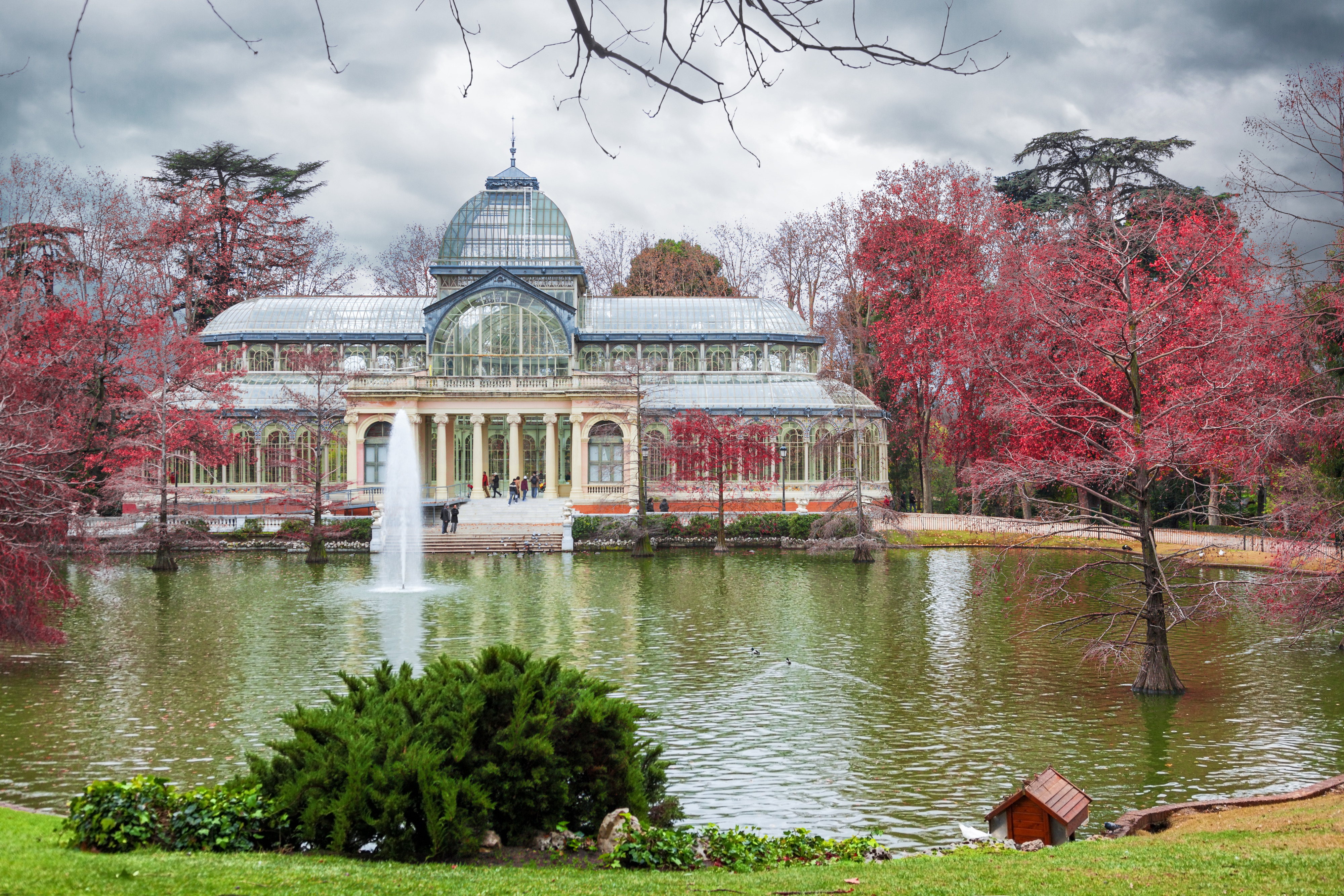 One of the pavillions in Retiro Park, the #PalaciodeCristal was designed by architect Ricardo Velázquez Bosco to house exotic plants from Spain's Philippines colony for the Exposition of Plants and Flowers in 1887. Sitting alongside a small lake surrounded by chestnut trees, it's an excellent exemplar of that era's iconic glass-and-iron architecture – and indeed it was meant to imitate the Crystal Palace in London's Hyde Park, built 36 years earlier. Its great panes of glass attached to an iron framewok are punctuated by decorative ceramic friezes and crowned in the middle by a large glass dome rising nearly 23 metres (75 feet). These days it houses temporary exhibitions of the Queen Sofía Museum of modern art, and is open to the public free of charge from 10 am to 6 pm.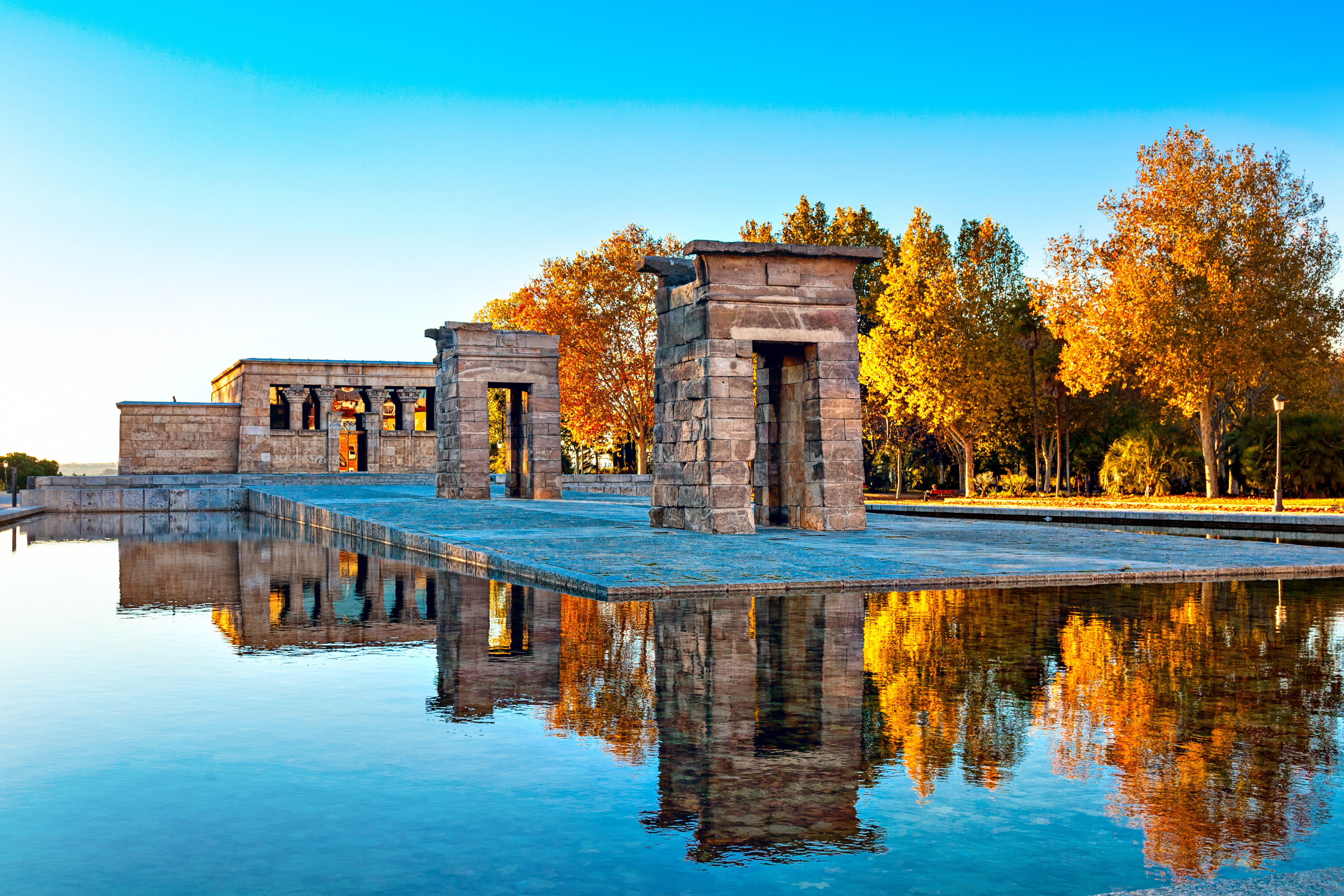 Smaller but perhaps even more distinctive, this actual ancient Egyptian temple is the star of the small Cuartel de la Montaña Park, a bit north of the Oriente Royal Palace and the Plaza de España (see below). Dating back to the 2nd century BCE and dedicated to the god Amon Ra and goddess Isis, the #TemplodeDebod was gifted by Egypt's government to Spain in 1964 for this country's assistance during the early 1960s in saving it and various other archaeological treasures of the lower Nile Valley (most notably the temples of Abu Simbel) from being flooded by the creation of the Aswan High Dam and resulting Lake Nasser. Reconstructed stone by stone, its various chambers include, in addition to hieroglyphs and illustrations, audiovisual projections as well as a scale model have been added to help visitors understand and appreciate the site and its history. Open free of charge daily except Mondays from 10 am to 8 pm. More info here.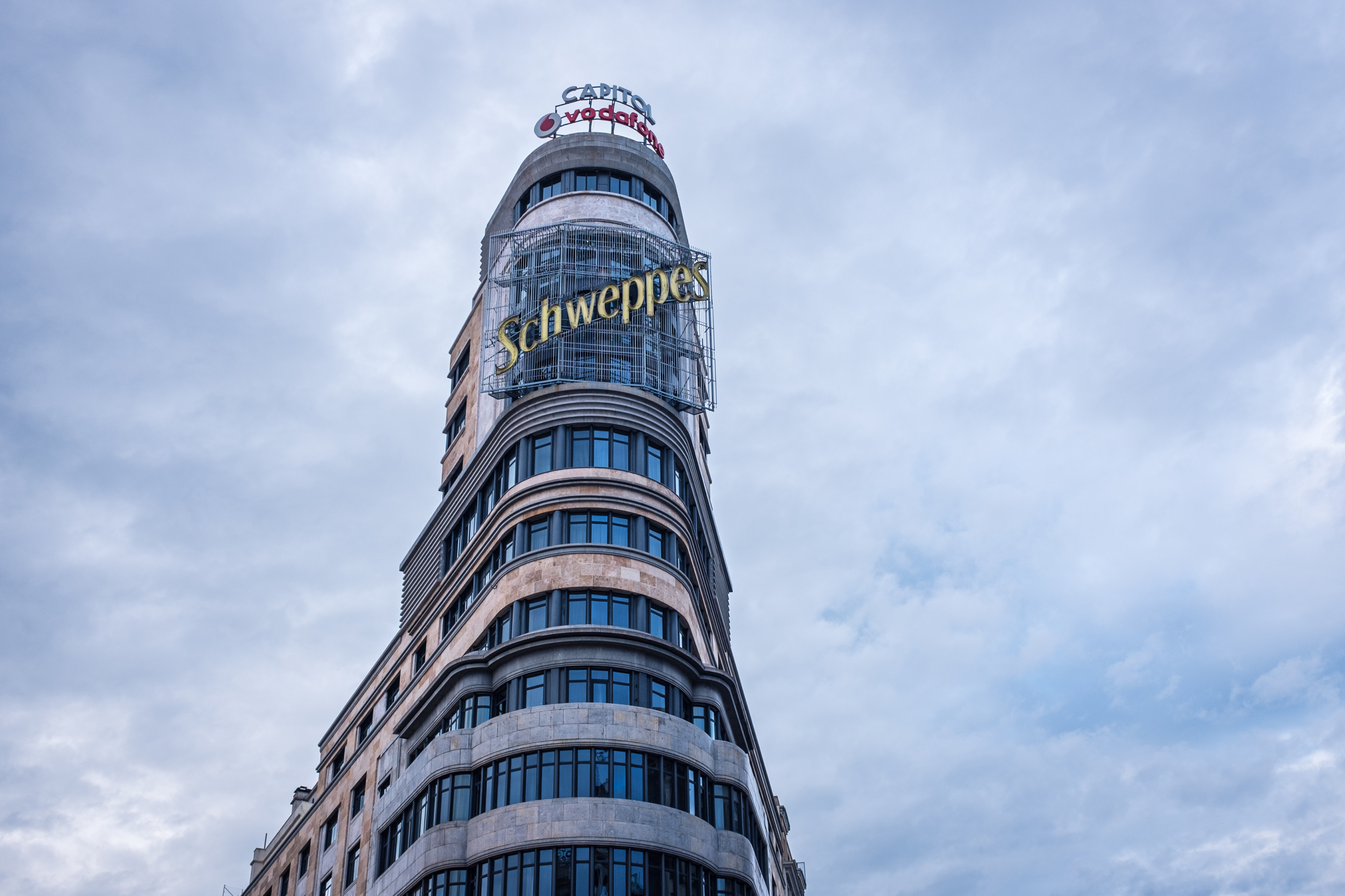 Inaugurated in 1933 and also known as the Carrión Building (named for the man responsible for its construction, the marquis  Enrique Carrión y Vecín), the 14-storey #EdificioCapitol with its huge neon Schweppes sign on Callao Square is an icon of downtown's Gran Vía – the Broadway of Madrid. These days it houses a mix of flats and businesses including the 143-room luxury Vincci Capitol Hotel; the Spain flagship store of the Italian clothing chain Benetton; and the huge Capitol Gran Vía, a cinema and stage-theatre venue with three theatres seating up to 1,790 spectators.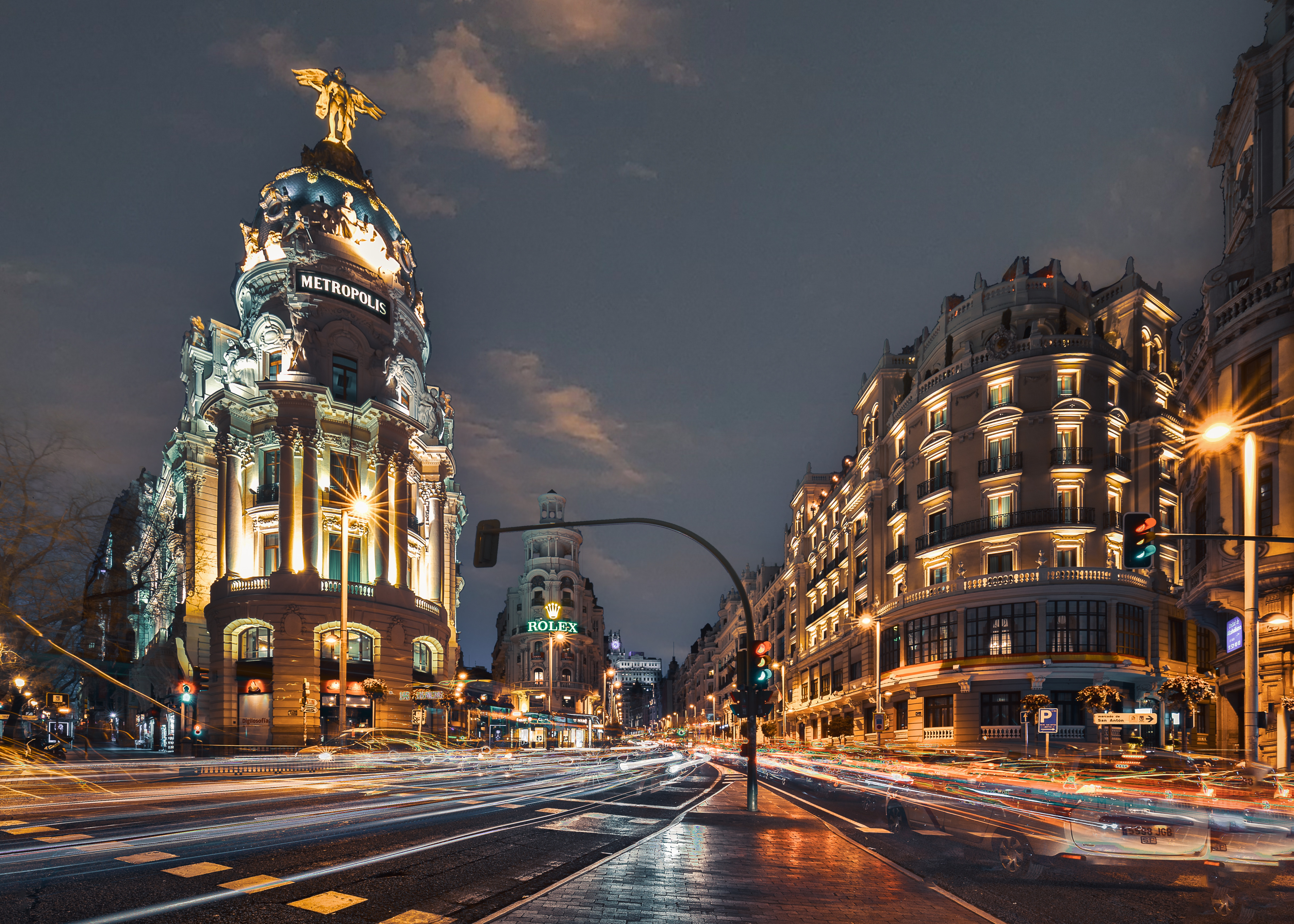 A bit farther along Gran Vía, where it meets the Calle de Alcalá, another local Instagram star is a French Beaux-Arts beauty (also pictured at top) inaugurated as Madrid's tallest building in 1911 – when the Gran Vía was still being designed and built. It's the elegant work of French brothers Jules and Raymond Février, winners of a competition open to French and Spanish architects to design the headquarters of an insurance company, La Unión y el Fénix; it was renamed the #EdificioMetrópolis in 1972 after being acquired by another insurance company Metrópolis Seguros.
This landmark's most notable feature is the rounded dome, its black tiles adorned with some 30,000 leaves of 24-carat gold accents and crowned by the dramatic statue Victoria Alada (Winged Victory), six metres (nearly 20 feet) high, installed in 1977. The storey at street level is topped by ornate colonnaded upper floors and the columns support four statues representing mining, agriculture, industry, and commerce. At the foot of the dome you'll see a set of sculptures created by Mariano Benlliure (who was also responsible for many other statues around central Madrid) called The Family, Protection Against Fire, and Assistance to the Work World. Unfortunately, at present the ground-floor retail space is unoccupied.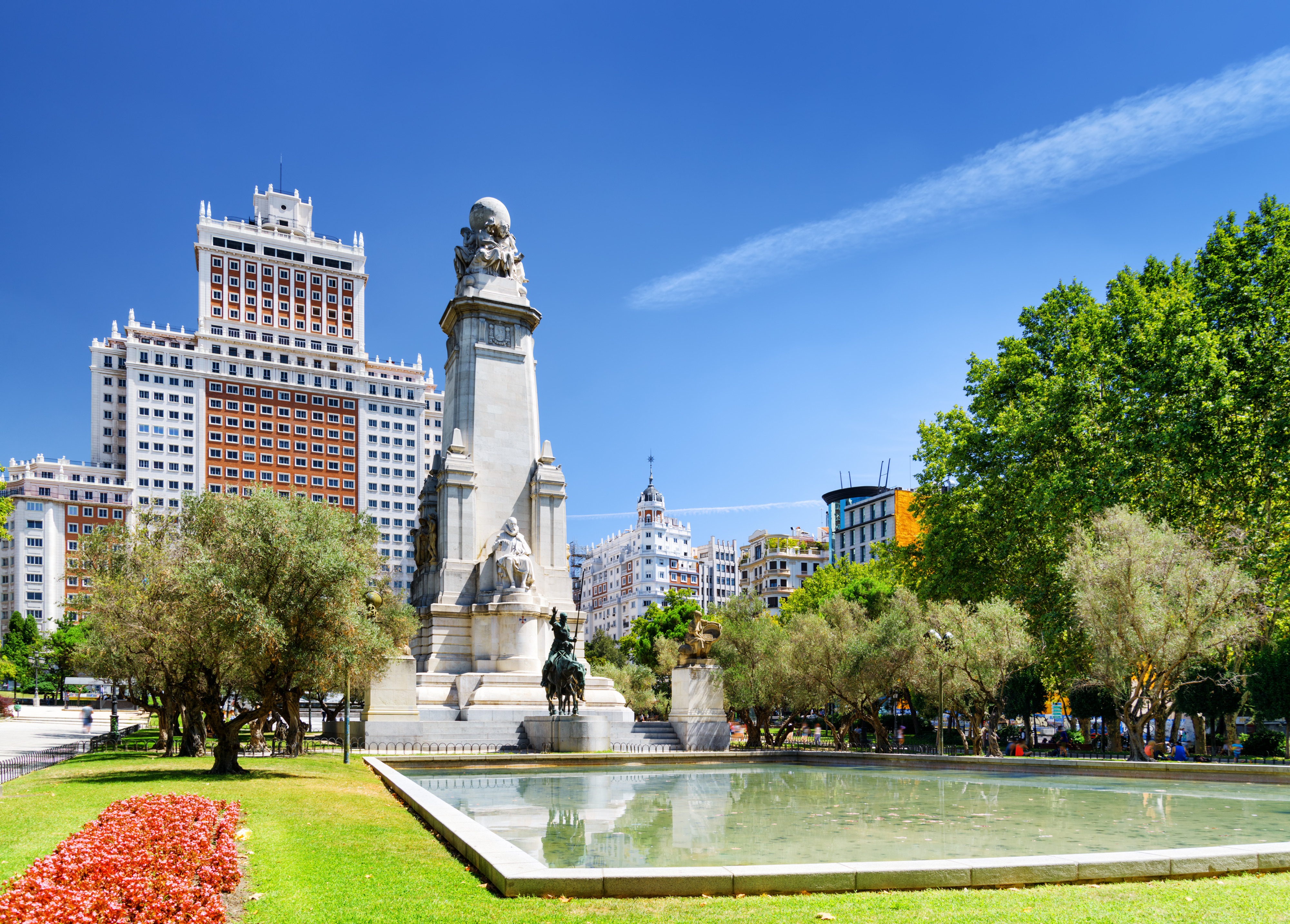 Last but most definitely not least on our list is the emblematic, 113-year-old square at the western end of Gran Vía was inaugurated in  which this past November was reopened to pedestrians after a 2½-year makeover. The centrepiece of the #PlazadeEspaña remains the monument, 34m (112 ft.) high, to Spain's Shakespeare, the 17th-century novelist Miguel de Cervantes (depicted seated above the literary characters for which he is most remembered, Don Quixote and his doughty sidekick Sancho Panza).
What now surrounds it is more than seven hectares (17⅓ acres – Madrid's largest square) including a pair of fountains (one newly created); bike lanes; a Cervantes-inspired kids' playground; the new, triangular Café de Cervantes, with "living walls" designed to grow in with greenery and flowers; and the remains of structures that stood here before the square's creation: two floors of the Godoy Palace and parts of the onetime Royal Stables and San Gil Barracks.
Furthermore, the plaza is also a gateway into a green corridor composed of areas such as the Sabatini Gardens, Parque del Oeste, Campo del Moro, and from them onward down to Madrid Río and Casa de Campo; meanwhile, on its north side, right across Gran Vía, the Riu Plaza de España hotel is worth a visit for its 27th-floor "skybar" affording not just a fantastic bird's-eye view over the square below but one of the best overall over the downtown and well beyond.
So this spring and summer, come book a very affordable flight to Madrid from the UK or the USA, and add these sweet spots to your Instagram feed forthwith!