The grand old lady on the Thames is arguably as defined by her open spaces as her streets and monuments. And while we tend to think of London parklands in their verdant splendour of spring and summer, or the equally splendid colours of autumn, Londoners also appreciate them in frostier times as a respite from the hustle and bustle of the surrounding city – not to mention some of the blue-chip cultural institutions that call them home. No matter what season you visit, this handsome half dozen will cast their spell over you.
Greenwich Park
Down in southeast London, these rectangular 74 hectares (180 acres) are one of the eight Royal Parks of London dating back to the early 15th century. The hilltop views out over the Thames to Canary Wharf and beyond are impressive. But this park's main claim to fame has to be as home to the Royal Observatory – ground zero for Greenwich Mean Time – and especially the Greenwich Meridian, which divides the world into east and west as the Equator does north and south. The hill on which it sits is the site of some epic sledding and other snowy frolics each winter, and for those of a more cultural bent, the National Maritime Museum and its 17th-century annex, the former royal residence known as the Queen's House. (Fun fact: this park was the site of the equestrian events of the 2012 London Olympics.)
Hyde Park
Another of the Royal Parks, this is also one of Britain's best loved, as well as its most world-famous. Past the stately ionic entrance columns at its entrance, these 142 hectares (350 acres) harbour landmarks such as the Serpentine, its large, curvy, navigable lake; the Diana Princess of Wales Memorial Fountain, among various memorials here in the park; and of course Speakers' Corner, one of the world's most famous examples of pre-tech "social media" as an epicentre for soapbox orators and public demonstrations. Now, running through January 3, it's home to another edition of the annual Winter Wonderland, with an ice skating rink, rides, a circus and other shows, and much more family fun.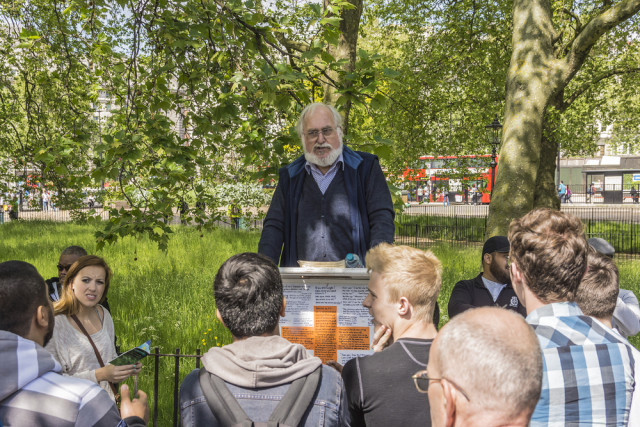 Kensington Gardens
Actually the continuation of Hyde Park to that park's west, it's a charming 111-hectare (270-acre) expanse full of Italian fountains, lovely flower beds, and landmarks such as the Albert Memorial, and a statue dedicated to Peter Pan, this last thanks to the fact that author J.M. Barrie set one of his PP novels here. And if you're here this winter, be sure to grab a lovely hot cocoa at the Broadwalk Café!
Regent's Park
Yet another of the Royal Parks, this 170 ha. (410 acres) in northeast London, shared between Westminster and Camden, include the London Zoo along with a lovely rose garden and various other flower gardens; the Open-Air Theatre; a lake with boats in warm weather and skating in winter; kids' playgrounds; winter sledding on Primrose Hill; and various cafés and eateries. Quite enough to keep you happily busy all day long and beyond!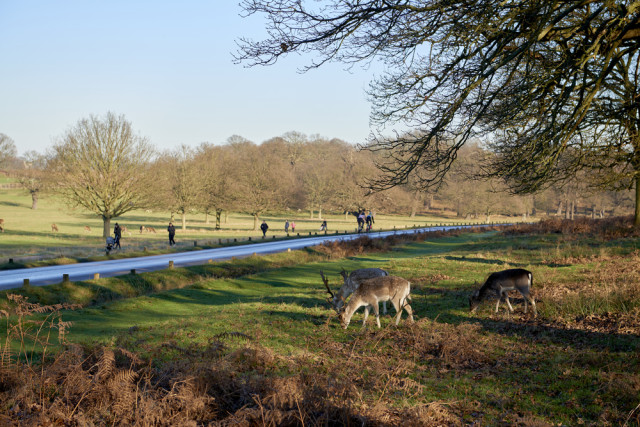 Richmond Park
Located along the Thames in the eponymous outlying borough of Richmond, the largest of the Royal Parks at 955 ha. (more than 3 1/2 square miles) is also one of the wildest-feeling, created as a deer park in southwest London back in the early 18th century (you'll still spot deer and various other wildlife out here). Lots of biking, hiking, and various physical activities (even a golf course), plus one, er, cool attraction in December is a marvelous ride in a carriage drawn by elegant grey horses (hot drinks and a behind-the-scenes visit to the stable included).
St. James' Park
Another classic Royal Park, though one of the smallest at 23 ha (57 acres). Very cenetrally located in Westminster alongside Buckingham Palace and just a hop and a skip from Trafalgar Square, it's especially popular with students and office workers looking for a little midday respite. You'll find bands playing, food and drink at Inn the Park, and a quartet of resident pelicans among the ducks at the pond.
More information: RoyalParks.org.uk.
Flights to London from the USA, from Spain.
images | Nando Machado,  Kiev.Victor