Berlin may have a world-class cultural scene and Munich the world's most iconic Oktoberfest, but Germany's second-largest city, Hamburg, boasts the country's biggest port, along with a sea lover's spirit that spills across its architecture, cuisine, and culture. Dubbed "the Gateway to the World" for its historical position as a maritime trading centre (it sits astride the Elbe River that connects to the nearby North Sea), this vibrant metropolis of more than 1.7 million features waterfront landmarks, culinary delights, and an eclectic music scene to suit all lyrical sensibilities.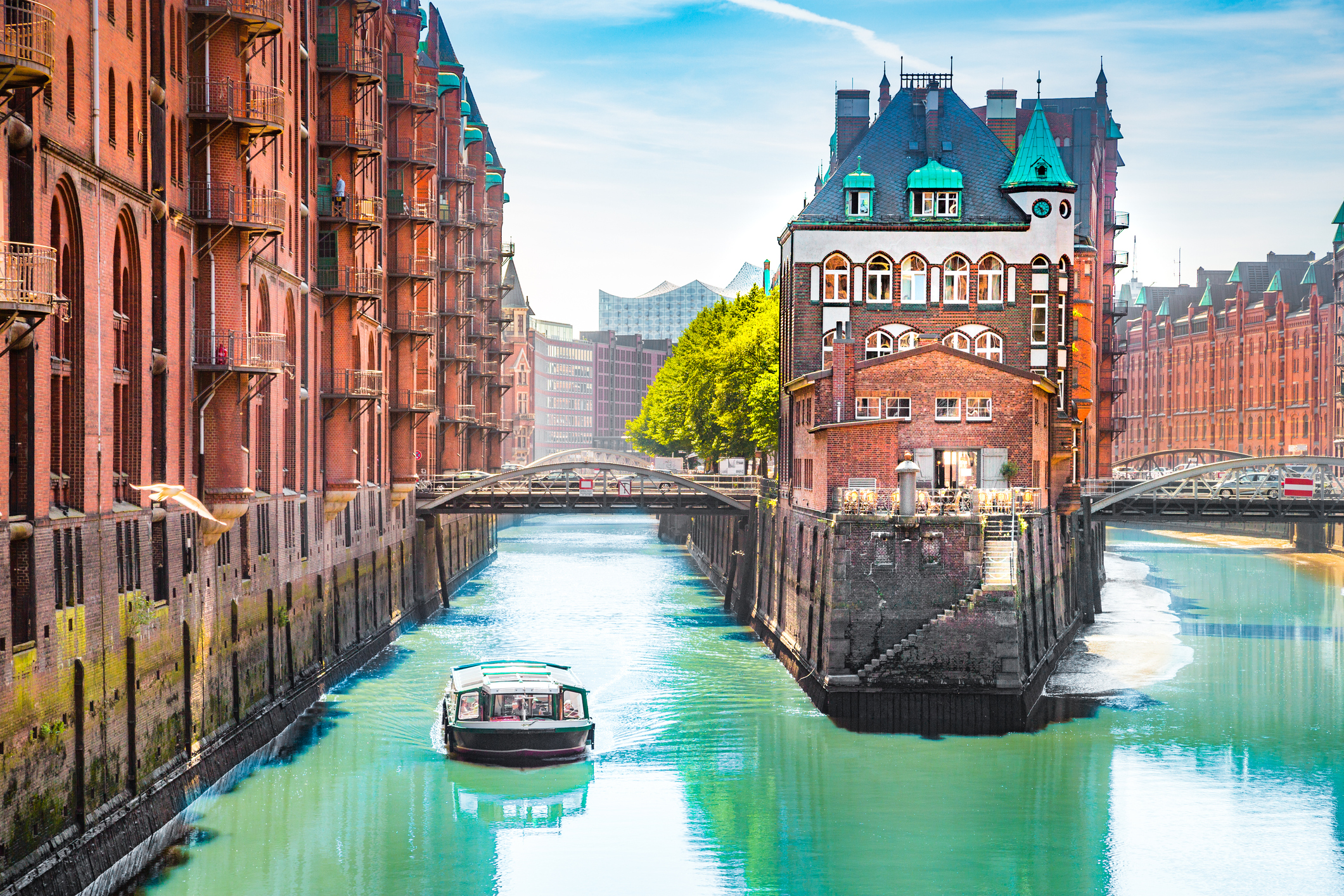 A City with Many Faces
Whether modern is your mojo or you prefer an old-world vibe, Hamburg's distinct districts offer visitors the best of all scenes. Start your exploration at Elbphilharmonie (better known to locals as Elphi), the city's newest concert hall and striking skyline superstar. From its stylish plaza deck enjoy an overview of the contemporary rooftops of burgeoning HafenCity as well as neighbouring historic edifices of centuries past. 
Continue your visit at Miniatur Wunderland, a massive mini railway and airport (where the planes can actually take off!) attraction, the largest of its kind in the world, located in the late-19th-century Speicherstadt (above), a former warehouse complex-turned-UNESCO World Heritage Site. This treasured landmark featuring rust-coloured brick buildings and charming canals can be toured by vintage barges during the day or on foot by night when 800 bulbs illuminate the storybook façades. 
From here cross over to the Altstadt (Old Town) and stroll past classic architecture, including the late-19th-century, neo-Renaissance Hamburger Rathaus (City Hall) on  Rathausmarkt square and the St. Katharinen Church, the city's second oldest building, dating back to the 13th century. 
Carry on to Neustadt ("New Town", even though it was built in the 17th century), where you can get your local-history fix at the Museum für Hamburgische Geschichte; kick back and smell the flowers at the Planten und Blomen Park; and the 18th-century Baroque church Sankt Michaelis, (dubbed "Michel") a Hamburg icon whose 132-metre (433-foot) tower can be climbed for sweeping views out over the city.  
After a day of touring, let your hair down in St. Pauli, with its alternative artsiness and raunchy nightlife, especially around the notorious red-light district Reeperbahn. Or if your scene is more hipster than hellraiser, head to St. Georg, where trendy cafés, stylish shops, and international street food reign supreme.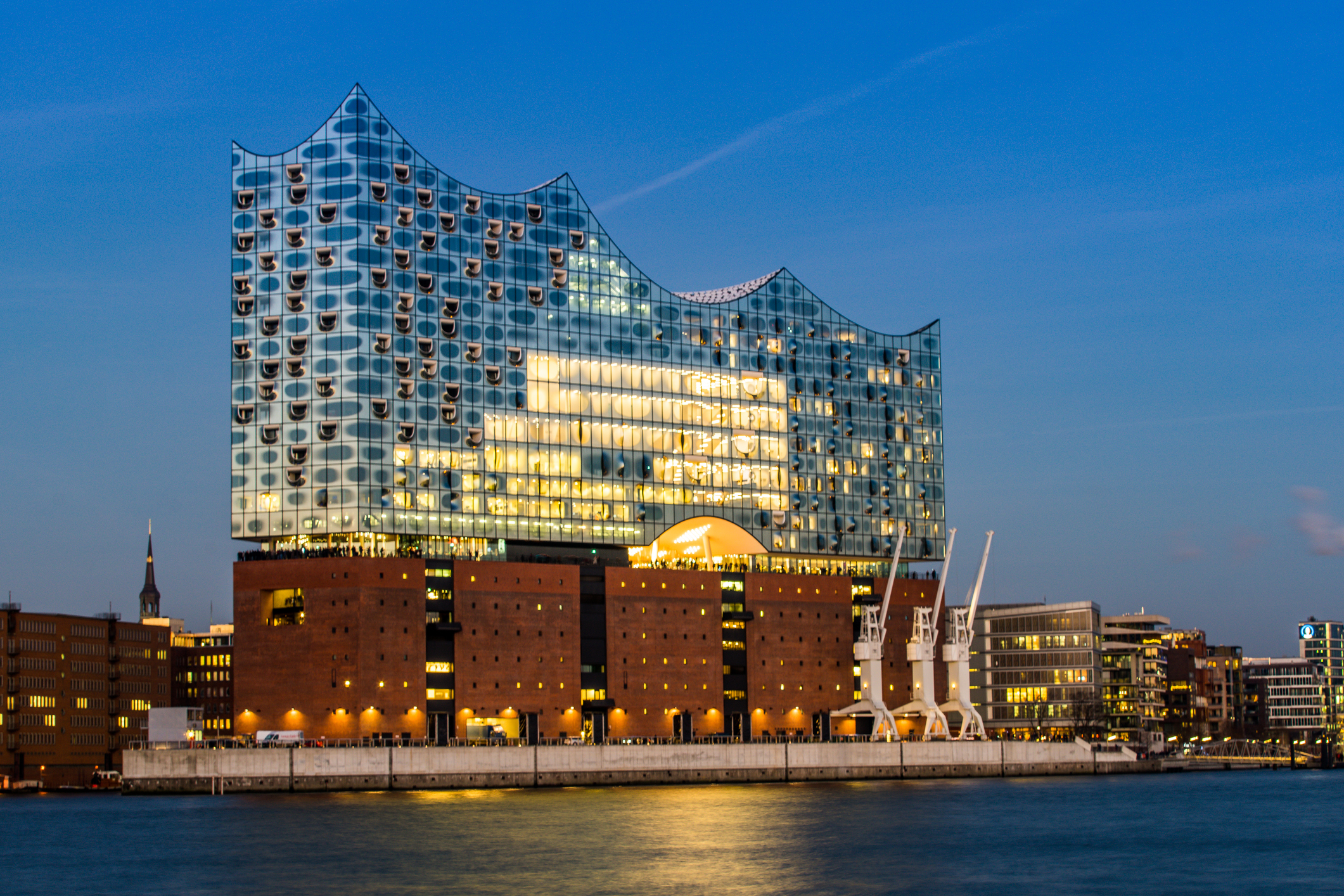 Take a Walk on the Sound Side 
The Beatles may have put Hamburg on the pop-music map in 1960-62 (you can take Fab-Four-themed tours and hits clubs at which they played, such as INDRA and the Kaiserkeller), but this city has been a haven for musicians and music enthusiasts for centuries. To learn more about classical composers, go to the Komponistenviertel (Composers' Quarter) and visit museums dedicated to native son Johannes Brahms as well as  Georg Philipp Telemann. For live classical, see what's on at the aforementioned Elphi (above), the Laeiszhalle concert hall (home of the Hamburg Symphony and the city Philharmonic), and the Staatsoper for some world-class opera. 
Club music lovers are also spoilt for choice with beyond the two mentioned above, with a wide selection of live venues as well as festivals (the biggest and boldest, the Reeperbahn Festival, being held over three days in late September). The Barclays Arena regularly hosts the biggest headliners in the pop and rock, while Stadtpark Open Air is the biggest is live-music venue outdoors (back next summer, from mid-May through August). 
Niche interests are also amply catered to; the MS Stubnitz is a onetime East German fishing boat turned popular floating performance space. Jazz cats and musical-theatre lovers, too, are in luck; Hamburg is host to weekly citywide jam sessions and home to the world-famous Cotton Club and it's even considered the world's third-largest city musical theatre city after New York and London.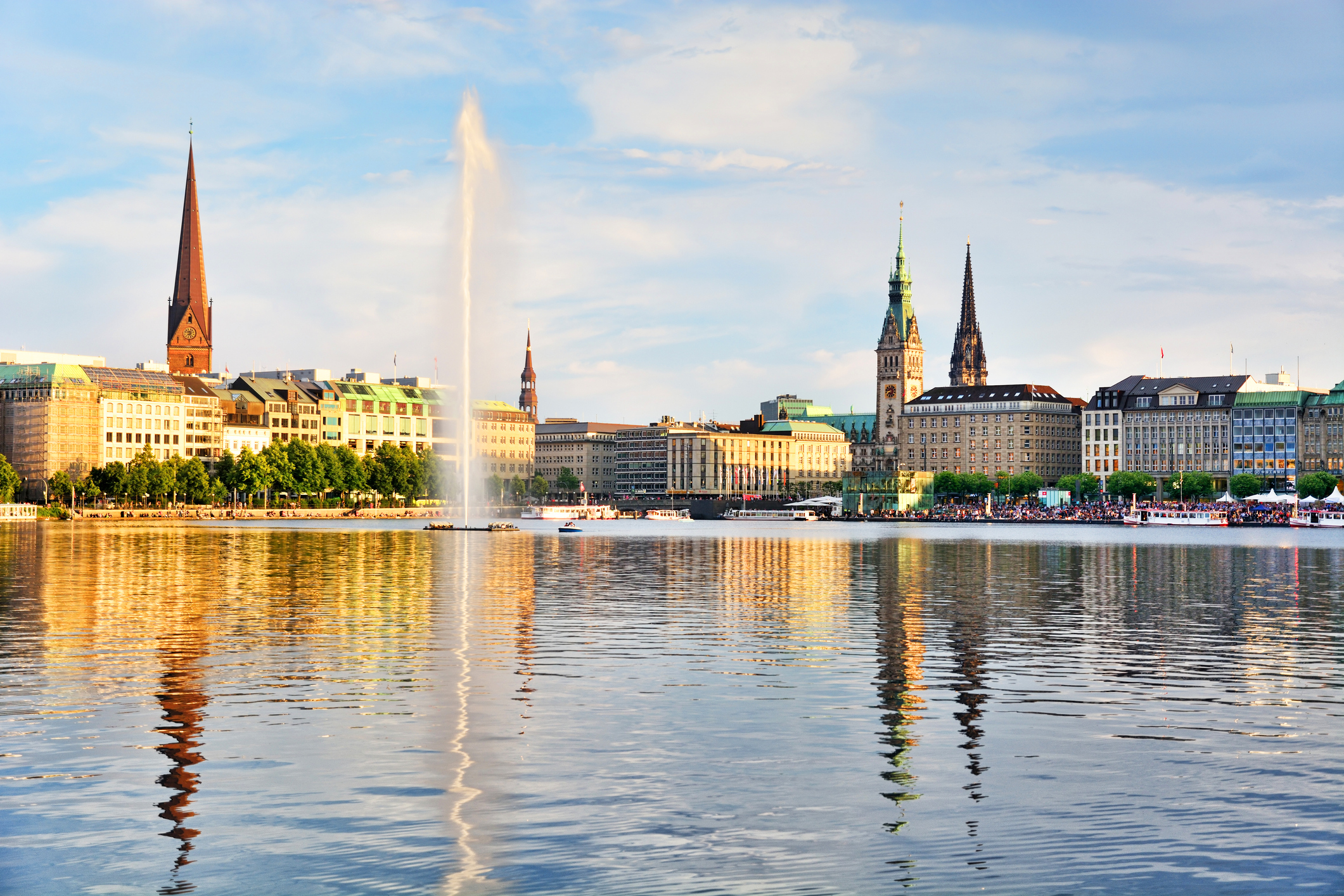 Canals, Bridges & Lakes, Oh My!
Just south of city centre, the pair of manmade Alster Lakes connect to the Alster and Elbe rivers (the latter by way of canals, known as fleeten) and boast picture-perfect streets, squares, walkways, and the landmark, water-spraying (up to 60 metres or 197-feet high) Alster Fountains. Notable areas include the Jungfernstieg, with landing docks for tour boats, and the Pöseldorf, a scenic spot with rows of boutiques, cafés, and galleries. Of the nearly two dozen canals here, the Nikolaifleet with its rows of colourful façades is arguably the most memorable – though honourable mention goes to the Brookfleet for its uncanny resemblance to a Venetian canal and the Herrengrabenfleet for its old-world allure.

Of course you can't have canals without bridges, and Hamburg boasts nearly 2,500 – in fact, more than than any other in Europe (take that, Venice and Amsterdam!). Of particular note are the Poggenmühlenbrücke (try saying that three times fast) with its photogenic location in front of a picturesque manse known as the Wasserschloss (Water Castle, above); Reimersbrücke for its postcard views (also including the Wasserschloss); and the Kibbelstegbrücke, a series of late-19th-century iron bridges offering more comely urban vistas. 
A Cuisine with the Soul of the Sea  
As a major seaport for centuries, Hamburg was left with culinary influences from around the world by the comings and goings of countless seafarers (and especially ships' cooks). To this day visitors can enjoy myriad eateries ranging from harbourside seafood spots to high-end restaurants (a total of ten Michelin stars so far) and German street food to diverse international cuisines.
Regional signature dishes of course abound — many of which involve seafood due to Hamburg's location on the Elbe and near the sea. Local favourites include Brathering (fried herring marinated in vinegar), Finkenwerder Scholle (fried plaice fish with bacon and potatoes, above), Hamburger Hummersuppe (hearty lobster soup with a dollop of whipped cream and dill), and snack foods like Fischbrötchen (fish sandwiches served on roll with onions, pickles and a choice of sauces) or Krabbentoast (tiny brown shrimp on toast).
Meaty mains include the traditional Himmel und Erde (blood sausage or pork served with stewed apples, onions, and potatoes) and sausages popular throughout Germany such as Currywurst (with red curry sauce) and Knackwurst (pork and veal sausage served with a side of bread, mustard, and sauerkraut. And for the cherry on top (literally), enjoy Rote Grütze, mixed berries and cherries served with vanilla custard or cream.
Tempted to visit? Of course you are – so why not Book a flight to Hamburg and enjoy the sights, bites and sounds of one of the most dynamic cities in northern Europe! 
And for more info, check out Hamburg-travel.com.