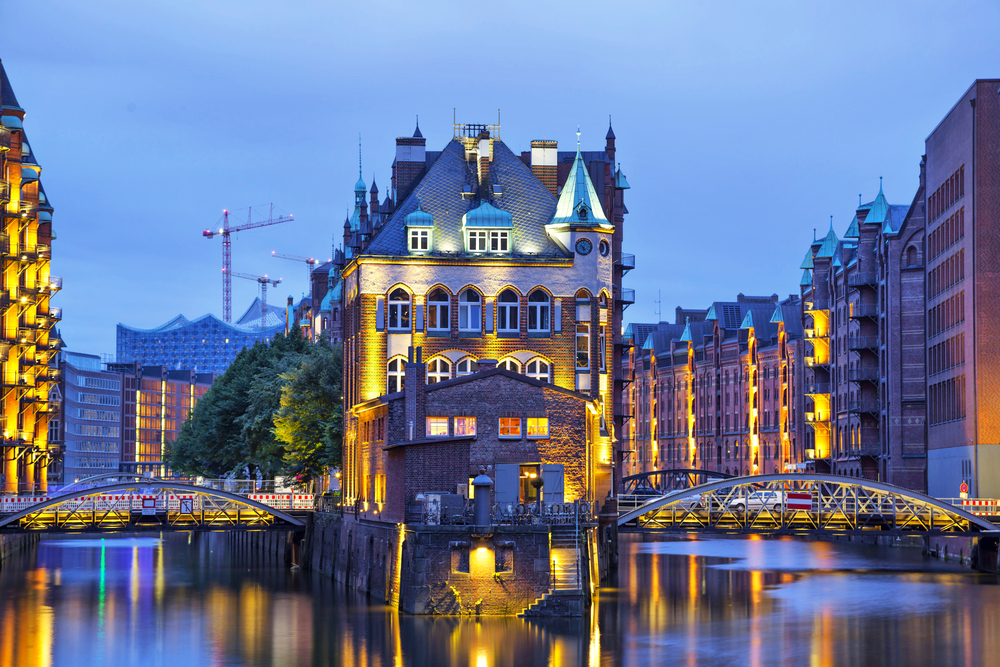 Especially as the weather starts warming up again, I find I have a soft spot for northern Germany's most vibrant city. As a European looking for a stimulating city break, I consider Hamburg a sweet spot for quenching the thirst not just for some tasty local Pilsner but also culture, art, and the creative scene in general (with fabulous design hotels to stay in all the while).  Come with me – it's springtime for Hamburg, and no more so than in two of its coolest neighbourhoods of the moment!



Hamburg Attractions
First I should start with an overview of what has made this Saxon city on the Elbe River (pop. 1/75 million) appealing for generations. Talk about "Venice of the north" – did you know, for example, that Hamburg has more canals than the real Venice, or Amsterdam (and bridges than both of them put together)? It's also a city of parks, other green spaces, and increasingly eco-friendly spirit in general.
Its cityscape is also a diverse mix of architecture, from modern highrises (though relatively few) to gracious examples of Renaissance, Gothic, and 19th-century – though many of these are reconstructed after the originals were destroyed by Allied firebombing during World War II. In fact, many of the skyline's most notable silhouettes belong to the city's distinguished old churches, such as the 18th-century Baroque Hauptkirche Sankt Michaelis (aka Michel, left); red-brick St. Petri, its current incarnation dating from the 19th century; 14th-century St. Jacobi, with northern Europe's largest Baroque organ; and the brick Gothic St. Katharinen, dating back to the 14th century (J.S. Bach played the organ here!).
Port/HafenCity
Once upon a time, Europe's second largest port (and ninth in the world) was few people's idea of cool. But these days, in addition to a commercial powerhouse it's also become something of a draw for visitors, who can take boat tours from the St. Pauli Landungsbrücken (St. Pauli Piers), reachable via Hamburg's Underground (U-Bahn).
And one of the city's most popular attractions is now the Fischmarkt  (Grosse Elbstrasse 9), a street market adjacent to the port where every Sunday from 5 to 9:30 AM (from 7 AM in winter) where in addition to fishmongers calling out their wares you can find locals shopping for flowers, produce, clothing, and more, as well as taking in some live pop and rock music.
What's more, in the last decade or so, the Speicherstadt, an old zone of red-brick warehouses on a pair of islands in the Elbe, has been undergoing massive redevelopment (due to continue for another few years yet). Despite a few recent bumps due to the European economic crisis, it's been transformed into HafenCity, more than 2 square kilometres (495 acres) of shops, hotels (such as the acclaimed 25Hours Hotel), restaurants, art galleries, and nightspots, as well as flats and offices both private and government (the district is also served by a new U-Bahn line).
Some of the architecture you'll find here is among Europe's most innovative (and like any of this type, occasionally not without controversy). Exhibit A is the home of the Elbe Philharmonic Hall (right), an interesting project designed by the firm of Herzog & de Meuron, and likely to finally wind up in 2016 or 2017 after years of delay and cost overruns.
Another example is the Science Centre, a semi-transparent structure by the Dutch superstar Rem Koolhaas. It's slated to be 70 metres (230 feet) high and include an aquarium and oceanography centre.
Sites already pulling in visitors include the International Maritime Museum, and for aviation geeks (and transportation geeks in general), the also very cool Miniatur Wunderland, which includes an animated scale-model airport that'll knock your socks off.
You can get an overview of HafenCity's past, present, and future in the Kesselhaus InfoCenter. And for fuel during your perambulations, there are myriad cafés and restaurants where you can dine to your heart's content on a wide variety of delectables, from international and nouvel German cuisine (recommended for nouvel North German: Vlet) to local Hamburg specialities such as Birnen, Bohnen, und Speck (pears, green beans, and bacon), mainly enjoyed in late summer.
St. Pauli/Kiez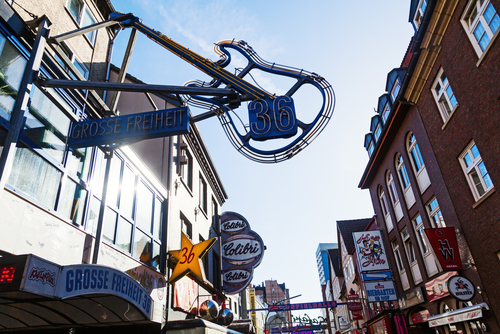 Like HafenCity located near the port in Hamburg-Mitte, the city's central area, the multicultural neighbourhood of St. Pauli (aka Kiez) has long been a boho, sometimes edgy kind of area, and that tradition continues today, including some tremendously innovative stuff going on in art and music.
St Pauli is Hamburg's cultural hub, from classical opera, operettas, and modern musicals such as Phantom of the Opera, The Lion King, and, er, Rocky the musical (a flop on Broadway in 2012 but currently punching above its weight at the one of the higher profile local theatres, the Operettenhaus on Spielbudenplatz).
The nabe is also nightlife central, thanks to its most famous street, Reeperbahn (left), with a plethora of cool pubs and clubs including landmarks such as the Cotton Club (Alter Steinweg 10), at age 56 Hamburg's oldest jazz club, and Gretel & Alfons (Grosse Freiheit 29), the gemütliche Kneipe (cozy pub) frequented in the early 60s by the likes of the Beatles and Jimi Hendrix after their gigs at the nearby Star Club and still attracting a mostly young crowd with good and affordable drinks and pub grub.
Other sides of the local scene include a famous red-light district with all manner of "adult" entertainment, as well as a Chinatown, in the area of the delightfully named Schmuckstrasse, which has seen something of a revival within the past half-decade.
(And a regretful note for those of your who are fans of St. Pauli beer – sorry, but these suds are brewed not here but in the city of Bremen, a 1 1/2 -hour drive southwest of Hamburg.)
Hamburg – sie liebt dich, yeah, yeah, yeah! 🙂
More information: Hamburg.de.
Best Iberia fares from the USA, from Spain.


images | Sergey Dzyuba, Pedelecs, Heidas, Christian Mueller