by Jorge de Luis Sierra
For aviation watchers, when it comes to annual industry expos late July's Farnborough International Airshow in the United Kingdom is probably tops, especially in terms of trades and commercial agreements between the major airlines and aircraft manufacturers: aerospace, defence, sustainability, innovation, and advance air mobility are also showcased at this event, which is well known because of its great impact on the aviation sector.
Another highly influential annual expo takes place in Hamburg in early June (in 2023, 6-8 June), where the major aviation suppliers display innovations and developments relating to commercial jetliner cabins. Back this year after a two-year hiatus due to the COVID-19 pandemic, the Aircraft Interiors Expo (AIX for short) showcases the world's top aircraft manufacturers' top new offerings in terms of comfort, space, amenities, and ambience. So expo attendees can find, among others, all trends in the interior CMF (colour, material, and finish); the newest seats; innovations in IFE (inflight entertainment); and all the related technical and safety systems that come into play in the interior design of an aircraft cabin.
Particularly with regard to materials and finishes, one major point of interest is what the major upholstery and soft-furnishing suppliers bring to the expo, with an always stimulating narrative about their upcoming products, and to insiders it's fascinating to see how they adapt to the aviation industry's evolving business models and trends – and in recent years especially when it comes to boosting environmental sustainability and reducing carbon footprint.
At this past June's expo, I personally was more focussed on venturing into the more technical side of things, and more deeply understanding how we can minimise carbon footprint by bringing lightweight materials and other innovations that can reduce aircraft fuel consumption.
Among the standouts I spotted among the many displays was a prototype for a "Chaise Longue Economy Seat" (top), invented by Alejandro Núñez Vicente, a Spanish graduate student at the Delft University of Technology in the Netherlands. This revolutionary double-decker setup uses ultralight materials; could be installed without major structural modifications to the aircraft; and if adopted by airlines would be a potentially game-changing innovation combining efficiency and passenger comfort.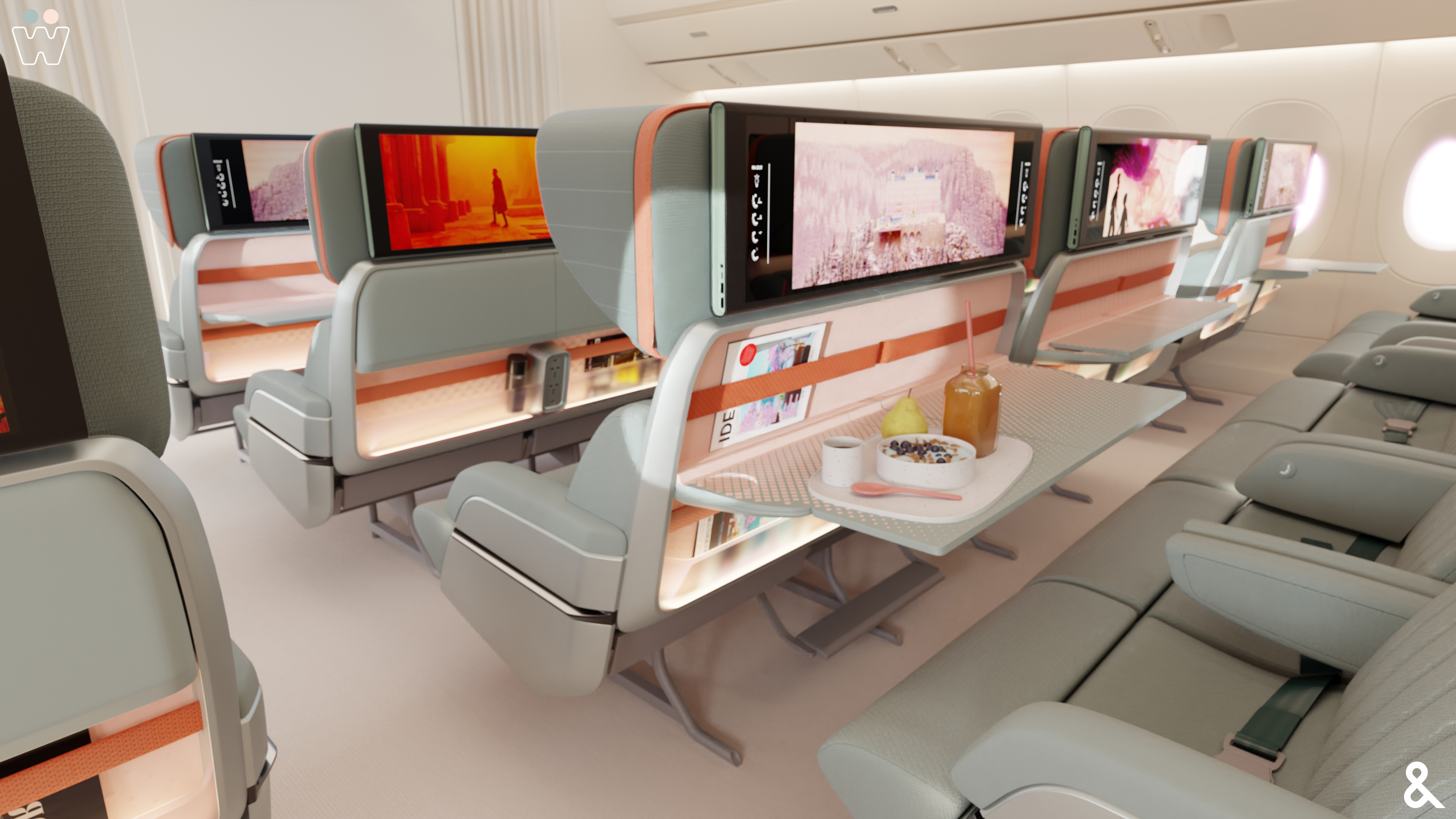 Another seat innovation which caught my attention was the Style and Design group with their upgrade of the "Switch" concept seat, a premium-economy product that can become a lie-down couch by lifting the middle armrest. They also developed their own IFE technology by providing a unique in-seat video experience, turning the seatback screen into a full sole HD display.
I also took note of the products from seatbelt manufacturer that which is already well established in the automotive industry and specially in the world of Formula 1 – literally like holding a feather!
Because of the lingering effects of the pandemic, I didn't see the same level of public attendance as at past expos, but still, it was great to meet again with industry colleagues and see how aviation suppliers are again back in the game, with growth plans and in particular focussed on developing sustainability-driven cabins. A good sign for the future of commercial aviation!
Jorge de Luis Sierra  is an aircraft interior-design specialist and aviation-branding expert