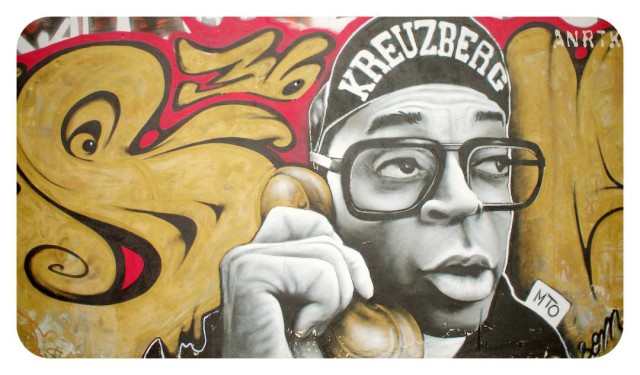 Wow, culture in Berlin – where do I begin? OK, well, I'll point out that there are around 400 galleries, some 20,ooo contemporary artists from all over the world. Germany's capital is truly as major-league as it gets culturally. Beyond the skyline and the grand monuments, Berliners – both German and expatriates – are hard at work creating some of the world's coolest, most groundbreaking art, music, cuisine, and architecture. To prove it, here are several snapshots from the cultural front lines/underground I discovered on my most recent visit.
Alte Börse Marzahn
First of all, I wanted to see what had taken the place of my beloved Kunsthaus Tacheles. From visits before 2012, I fondly recalled the Oranienburger Strasse's building transformed into an art centre by squatting artists, an alt-culture space including a groovy little movie house (beers lined up along the rows of seats); the merrily chaotic bar; the exhilarating, wildly creative exhibitions; the sense of anything possible.
https://youtu.be/_4Fy67ulOd8
Tacheles finally bit the dust beginning in 2012, leaving a creative vacuum and majorly bumming out all of us who loved it. But time marches on, and Berlin has indeed since given rise to successors in a similar vein – and so it was the I discovered Alte Börse Marzahn (Zur Alten Börse 59), in east Berlin a few blocks north of the Tierpark. Marzahn is a gritty neighbourhood known after German reunification for grotty Communist housing estates and neo-Nazis, but lately it's been increasingly on the upswing (you can get a sense of the district's history at the Marzahn District Museum, located in a whitewashed old village school at Alt-Marzahn 51).
The Alte Börse is a good example – a large, rustically-set artists' community set up in 2013 in the huge Magerviehhof, once a farm-animal auction complex, then taken over by the East German army. The scrap-metal artists of Tacheles are a key element here, and you can see their masterful statues here between the red-brick industrial buildings and trees illuminated by colourful lighted cubes. Then, once the sun goes down, attention shifts to an even newer section of the complex, the Club Czar Hagestolz, which specialises in open-air parties and concerts (be sure to order a Bierfabrik Berlín craft beer).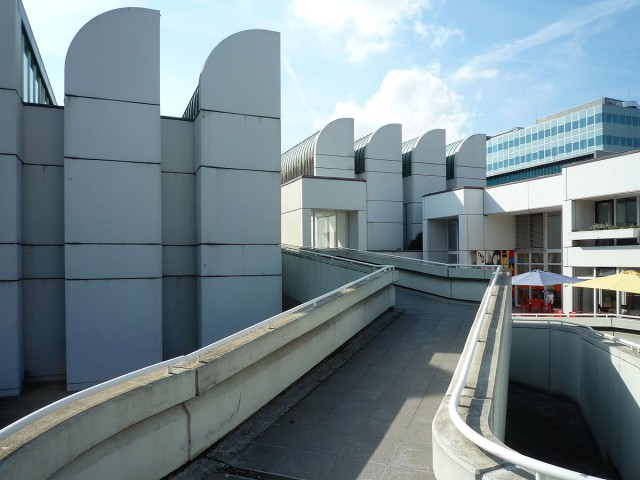 Berlin Design Museums
All tasty indeed, but I was still hungry for more. So since German design has had world-changing influence for at least the past hundred years, I decided a design museum was in order. An obvious choice was the Bauhaus Archiv (Klingelhöfer Strasse 14), housed in a Tiergarten-area building designed by none other than the founder of the influential Bauhaus movement (1919-33), Walter Gropius. Wandering the halls and exhibitions here, I was stunned by how truly visionary this movement was all those decades ago, and how modern its works look even today.
Creative Cookery
I still had plenty of room for "dessert", so moving on from food for the soul to literal palate-pleasers. At the top end of the varied, world-class Berlin dining scene, there are more than two dozen which boast Michelin stars. One great and recently opened example is Nobelhart & Schmutzig in Kreuzberg (Friedrichstrasse 218), whose chef Micha Schäfer at the tender age of 28 works wonders with fresh, locally sourced ingredients (you go, girl!).
Berlin these days is also a major world vegetarian capital, and one innovative new spot worth spotlighting is Kreuzberg's Restlos Glücklich (meaning "totally happy") at Muskauer Strasse 24. This nonprofit is a monument to solidarity and sustainability, with recycled furniture/decor, and tasty, creative dishes created from food market remainders.
After dinner, I decided to toast the end of my creative weekend in Berlin in Kreuzberg's diminutive, retro-speakeasy-feeling Bar Marques at Graefestrasse 92 – with more than 100 gins in stock! And I reflected on how this was all a great start, but really it just scratched the surface of creative Berlin. I have to go back for more soon – and I'll report back to you when I do. Prost!

photos | Robin Robokow, Eisenacher