One of the Caribbean's greatest destinations is a delightful mix of tropical beaches, Spanish colonial architecture, ecotourism and adventure, and charismatic island culture from magnetic music to tasty cuisine. And here are five extra cool things to do in Borínquen (aka Puerto Rico), both on- and offshore!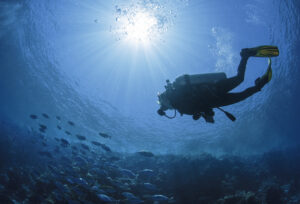 Extraordinary Undersea Options

There's plenty to explore in the crystalline waters off the island's more than 500 kilometres (311 miles) of coast, including coral reefs, shipwrecks, and underwater walls and caves – all inhabited, what's more, by some 700 species of marine life.
You can snorkel a fair bit of it, but to really get down at the good stuff, there are hundreds of options for both experienced and novice scuba divers, including PADI certification, guided diving tours, night dives, and dives with DPVs (diver propulsion vehicles, aka underwater scooters).
The guided tours in particular are great for families or other groups, going at their own pace with the personalised assistance of expert guides.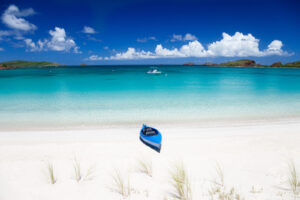 Marvelous Kayaking – and Some with a Twist
There are if anything even more aquatic possibilities above the water, and kayaking is high on that list, with plenty of beaches, bays, lagoons, and mangroves to explore. One of Puerto Ric's top kayaking spots is idyllic La Parguera on the southwest coast, with a plethora of offshore cays and mangroves, where you can rent kayaks to paddle about on your own or take guided kayaking tours.
And one especially cool subset of kayaking is done at night – again, independently or on tours – because Borínquen is fortunate to have not one but three of the world's rare "bioluminescent bays", inhabited by micro-organisms with enzymes that flash light when stimulated by actions like wave motion or paddling. One is La Parguera (where you can also hop on a glass-bottom boat), and the other two are off Fajardo, at the island's northeastern tip (where kayaks are also see-through) and on Vieques island's Mosquito Bay. Truly mágico!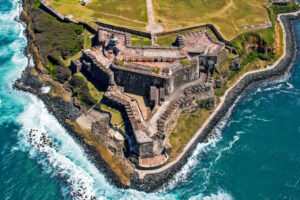 Scintillating San Juan
Puerto Rico's capital is packed with amazing things to do and see, beginning with one of the Americas' most historic colonial quarters, a UNESCO World Heritage Site, and continuing onto various beaches as well as fantastic dining,  shopping, gallery, and nightlife scenes.
Having marked its 500th anniversary in 2021, Old San Juan is truly the star of the show, with landmarks such as the mighty fortresses of El Morro and La Fortaleza, the Cathedral of San Juan, majestic city walls, grand plazas, the waterfront Paseo de la Princesa promenade, and of course a bevy of cobblestone streets lined with lovely balconies and home to hidden patios as well as a wide variety of appealing shops, galleries, eateries, and more.
Meanwhile, the newer districts a bit farther east such as Condado, Isla Verde, and Ocean Park are the places to go for great beaches, fine accommodation from guesthouses to five-star resorts; restaurants both plain and fancy; nightspots from neighbourhood bars to big boom-boom clubs;  and a wide variety of shops from humble handicrafts to international chic.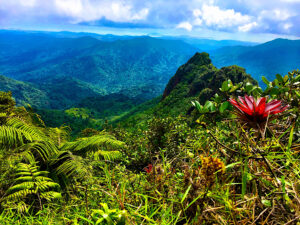 Exotic Tropical Rainforest
Just a 45-minute drive east of San Juan, El Yunque National Forest is the only tropical rainforest in the United States, a swath of 28,000 acres with a fantastic network of hiking trails – from easy to challenging – through its densely wooded mountains and hills, past waterfalls (at one of which, La Mina, you can swim), rivers, and streams. It's a birdwatchers' paradise, and also home to various other animals, most famously Puerto Rico's famous coquí frog. Other activities including ziplining, rappelling, rock climbing, and horseback riding. There's a visitor's centre and Taíno petroglyphs, and guided tours and overnight camping are also available.
The Luxury Resorts of Río Grande
A half hour from San Juan, this town of nearly 48,000 is these days especially known for its upmarket hotels and resorts, championship golf courses, iconic restaurants and the nearby El Yunque rainforest, is your best bet to completely disconnect from the world – and in grand style, thanks to its incredible luxury accommodations. Here we recommend three options guaranteed to please:
Up first, the St. Regis Bahía Beach Resort will make your stay a (literal) breeze with its services, in a setting of astounding beauty, full of dreamy natural landscapes and impressive ocean views.
Listed as one of Time Magazine's "Greatest Places" of 2018, the Wyndham Grand Rio Mar Puerto Rico Golf & Beach Resort is without a doubt the greatest retreat you'll find on the island. Golden sands, turquoise waters and three sparkling oceanfront pools, nine restaurants and lounges, a casino, the relaxing Mandara Spa and several majestic golf courses.
And our last and great recommendation is the Hyatt Regency Grand Reserve, where you will enjoy incredible beachfront villas, exotic restaurants, and massages or spa treatments. And if you are traveling with the little ones, there's also a kid's club so that they can enjoy this great experience just as much.
How's all that for a fantastic holiday menu? Come enjoy it this spring by booking a flight to San Juan and letting yourself in for a holiday you'll never forget!