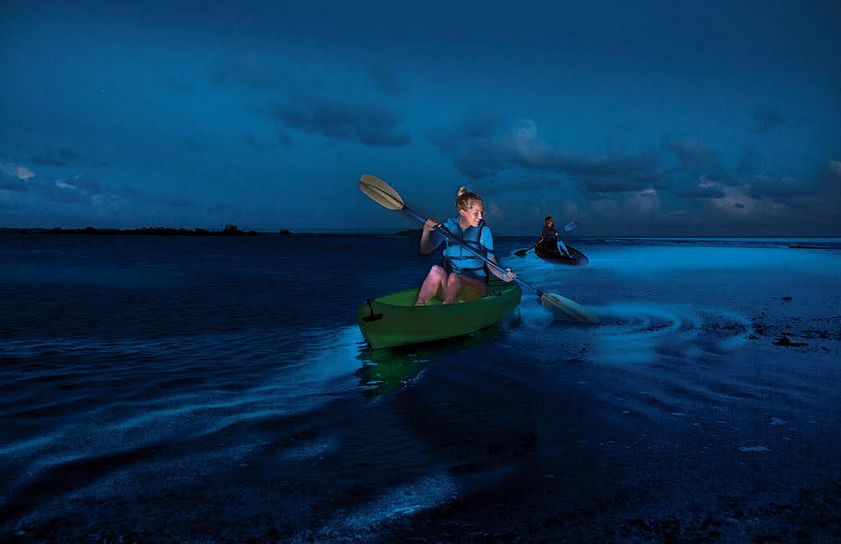 Bioluminescence – the production and emission of light by a living creature – is one of nature's more weird and wonderful phenomena, whether in fireflies, glow worms, or deep-sea anglerfish. And in a very select few spots in the world, entire bays of water are teeming with many millions of single-cell marine plankton called dinoflagellates – up to around 600,000 per litre (34 ounces).
And in this blog we've highlighted aplenty Puerto Rico's singular appeal as a nature and adventure destination – for example its remarkable ecotourism, manatees, and attractions such as the world's longest zipline – but here I want to focus on the fact that it has three of the world's five existing bioluminescent bays, including one that's the world's brightest – certified as such by the Guinness Book of World Records.
Out on the southern shore of Vieques, one of Puerto Rico's two main inhabited offshore islands, just an hour's boat ride off its east coast, Puerto Mosquito is a bay in which any boat or body in motion excites these tiny critters and gets them to glow blue-green around it, producing a magical effect – sometimes bright enough even to read by!
The reason it's so bright is that the bay's narrow mouth keeps the dinos from being washed out to sea, and the red mangrove swamps along the shore provide them with abundant nutrients as well as shielding from storms and tides. And measures have been in place for years to protect and preserve this remarkable natural environment.
The way visitors – adults and kids alike – often experience this amazing bay is via leisurely kayaking by night (no motorised craft are permitted) through the placid waters whilst marvelling at the interplay of their hands and paddles lighting up the waters around them. Kayak tours – usually around two hours long – are offered by various local outfitters, and they're definitely a must for fans of the wonders of Mother Nature. (Just one caveat, though: there's a reason it's called Mosquito Bay, so be sure not to forget a good dose of repellent!)
More information: Vieques.com.