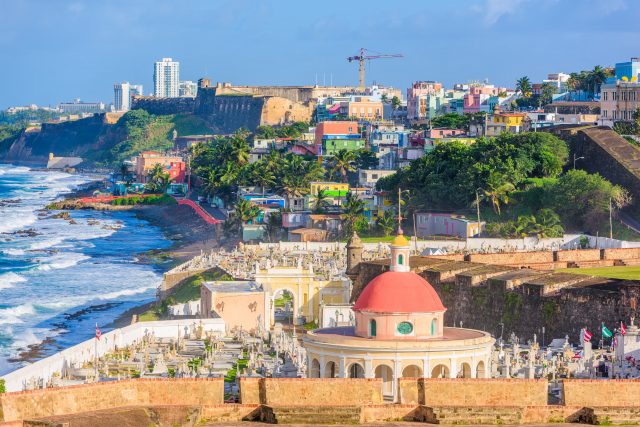 The colonial quarter of Puerto Rico's capital is one of those utterly magical destinations in Latin America that combines a movie-set historical ambiance with world-class dining, shopping, and nightlife to create an unforgettable experience for visitors.
History Front and Centre
It all starts with history, of course. Founded at the beginning of the 16th century, Viejo San Juan is the core of one of the Americas' oldest still existing cities. Its strategic position made it the first stop of many merchant and military ships traveling from Spain to the rest of the empire's colonies. So it's packed not just with the requisite cobblestone streets/plazas and charming Spanish colonial architecture but major military, civil, and ecclesiastical landmarks.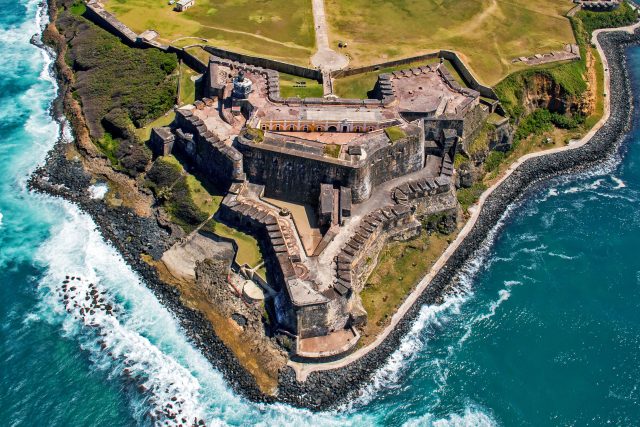 The top of the list is the enormous, imposing Castillo San Felipe del Morro, the fortress occupying the city's northeastern tip, constructed and added to beginning in the mid-16th century. OSJ's second, even larger fortress (the largest Spain ever built in the Americas, in fact) is the nearby 17th-century San Cristóbal, and both are flanked by a doughty wall nearby four kilometres (2½ mile) long and 13 metres (nearly 43 feet) high. The third, called simply La Fortaleza (The Fortress) was San Juan's first defensive fortification, dating to the early 16th century, and since then has also served as the residence of the governor of Puerto Rico, making it the world's oldest executive mansion in continuous use. All of these are part of the city's UNESCO World Heritage Site.
On the ecclesiastical side, the main landmark is the neoclassical San Juan Bautista Cathedral, the current form of which dates back to 1540, making it the Americas' second oldest cathedral (among other things, here you'll find the tomb of Juan Ponce de León, the reknowned conquistador and founder of San Juan). Other noteworthy religious sites include the whitewashed Gothic Church of San José (built 1532 to 1735) and the Monastery of Nuestra Señora del Carmen, founded in 1651 and now housing the luxury hotel El Convento.
Beyond these impressive landmarks, the charm of Old San Juan lies in its colourfully painted colonial architecture, punctuated by lovely balconies and now home to a delightful variety of shops, galleries, cafés, and restaurants.

Cultural Mecca
Apart from tourist tat, these streets are also lined with galleries such as Éxodo, OBRA, and Petrus, which have been boosting this neighbourhood's importance on the international contemporary-art scene – as has the new annual Meca art fair, the second  edition of which will be held 16-19 November at the Ancient Arsenals of the Spanish Navy (built 1800).
OSJ is also full of music, both in the streets and cafés/restaurants, as well as dances and festivals regularly held in some squares and streets. One especially lively example is the longrunning January Calle San Sebastián Festival (in 2019, 17 through 20) – one of the Caribbean's top events, especially notable for its cabezudos (people roaming the streets wearing giant papier-mâché heads).
And of course there are plenty of interesting museums well worth a visit, such as the Museo de las Américas, presenting an overview of culture and ethnography in the Western Hemisphere, including pre-Columbian, African, and European influences. For an examination of maritime history – including cool ship mock-ups and exhibitions about sunken treasure – check out the Museo del Mar.  For an interesting bit of political history, pop into the Casa Museo Felisa Rincón, the house, and now museum of the life and times of the first of the city's three female mayors (plus the longest serving of all, 1947-1968).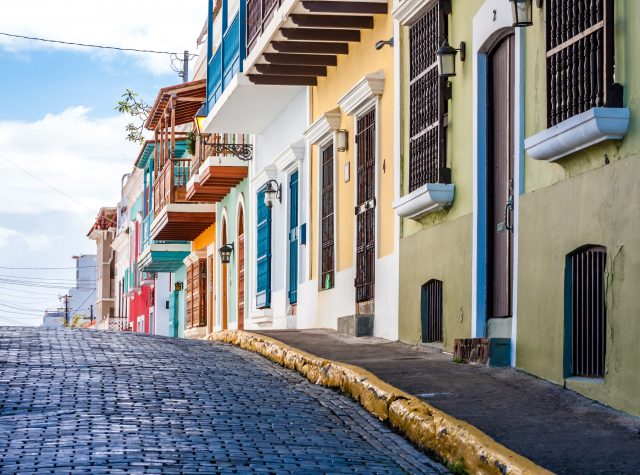 Tasty Table Treats
All this touring and shopping can obviously work up an appetite, and this quarter's many restaurants and cafés more than rise to the challenge, bringing a variety of cultural influences to bear in dishes such as mofongo, a ball of mashed green plantains bathed in broth and bits of beef, chicken, or shrimp. Another local star is sancocho, a hearty meat-and-veg stew with several versions that can involve chicken, smoked ham, top-round beef, beef short ribs, chorizo, and pork trotters. Also be on the lookout for alcapurrias, deep-fried fritters with dough made of green plantains or cassava and filling of spicy ground beef, chicken, or crab. And to wash it all down, fresh tropical fruit juices or excellent island rum! You can go street food or full-bore elaborate, traditional (such as the historic La Mallorquina, at 260 years the island's oldest still existing eatery) or cutting edge contemporary, whether Latin-fusion or world cuisine.
And finally, don't forget another of this island's prides: Puerto Rico coffee culture. You can go right to the source in day trips or overnighters at traditional coffee-producing estates within an hour or two of San Juan. Or if you prefer to stay in town, maybe get some coffee education and/or barista training (courses range from two to eight hours) at the Escuela de Café y Baristas de Puerto Rico (actually not in Old San Juan but in the southern suburb of Rio Piedras). And of course there are also tons of cracking fine cafés pouring cracking fine café throughout the city; in this neighbourhood, I particularly recommend the ones on 17th-century Plaza Colón, right at the cruise port.
More info: DiscoverPuertoRico.com.