Spain's immediate neighbour to the south – just 14 kilometres (less than nine miles) across the Strait of Gibraltar – is a world away, and both exotic and welcoming. It's a land of tradition as well as amazing sights, and sounds, tastes, and activities, from its nature on land and sea to its atmospheric cities and the ancient walled medinas at their cores. Morocco is truly one of those "bucket-list" destinations which all travellers should experience at once in their lives (plus there's plenty of fascinating stuff here for several repeat visits). And here are some reasons why:

A Gem of Morocco: Its Nature
This country's natural environments are more varied than you might suspect – including, for example, green valleys and snow-capped mountains. But more reknowned (as well as typical) are the dunes and flats of the immense Sahara Desert which covers most of North Africa – including, of course, Morocco. In its cities, towns, oases, and open spaces, you'll feel like Indiana Jones – and in fact Morocco's Sahara region has been the backdrop for many a big- and small-screen extravaganza, from The Last Days of Sodom and Gemorrah to Game of Thrones.
Some Sahara highlights include the towering dunes of a zone called Erg Chebbi, near the village of Merzouga (a daylong drive east of Marrakesh), which you can explore hiking or on camelback or quad, and also offers cool activities such as sandboarding the dunes. Or a little closer (some 6½ hours), near the city of Zagora, go overnight glamping in style under jawdroppingly star-spangled skies. Closer still (just 40 minutes away), amid the lunar landscapes and dunes of Agafay, activities include touring on camelback, horseback, and quad, as well as glamping, desert banquets, and shows of traditional Berber music and dance.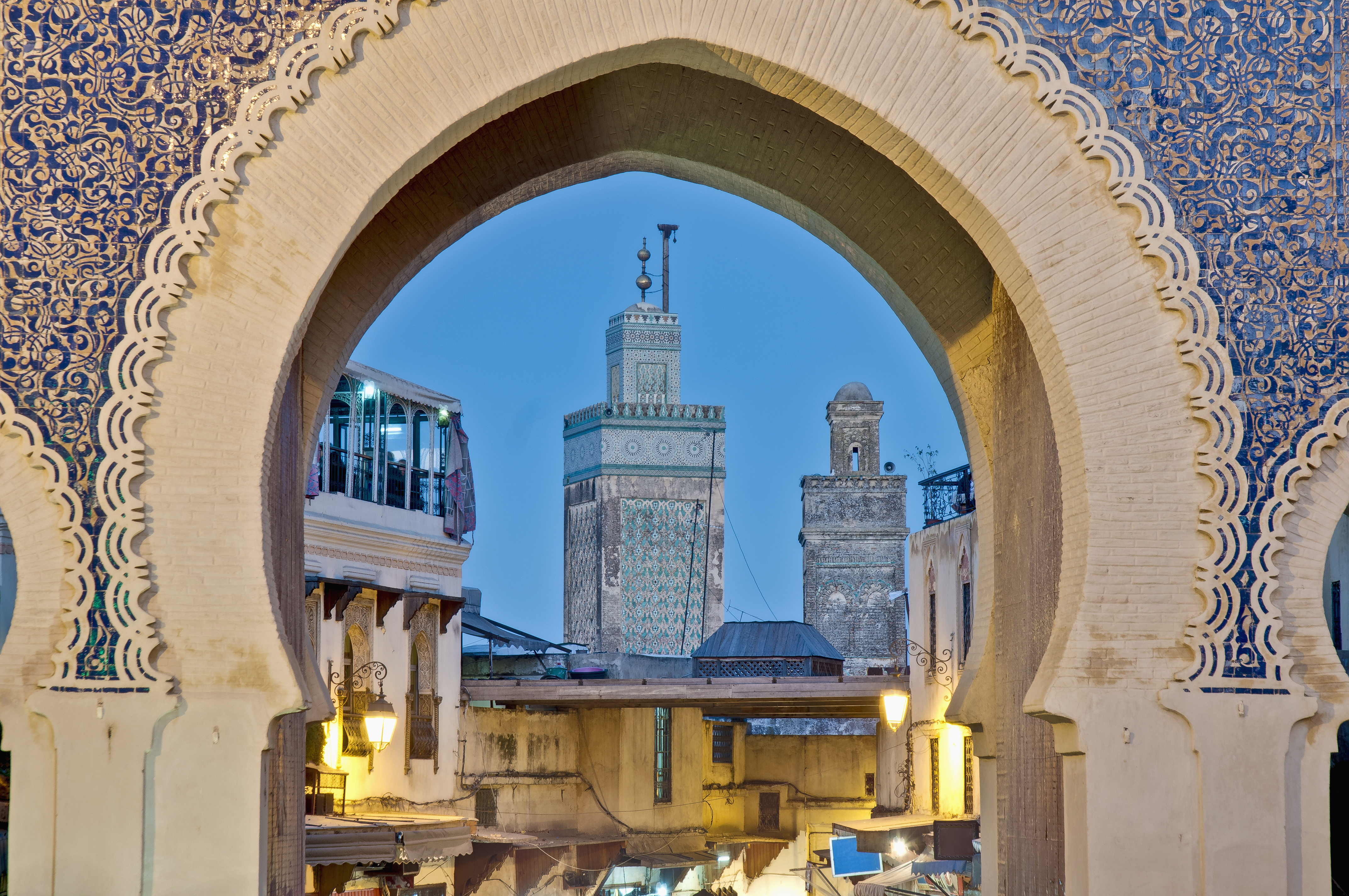 Fascinating Cities & their Walled Medinas
Many of Morocco's cities as well as some smaller towns have at their cores medinas, mazes – walled for protection against attacks – of narrow, pedestrian-only streets, shops and marketplaces, restaurants, mosques, fountains, and riads (townhouses with courtyards). They're all absolutely mesmerising for strolling, shopping, and dining, and here are four of the most compelling (three of which – those of Fez, Marrakesh, and Tetouan – are inscribed as UNESCO World Heritage Sites):
Chefchaouen: Rhapsody in Blue
Yes, its name is a bit of a mouthful (you can also call it simply Chaouen), but this town of some 43,000 at the foot of the Rif Mountains of northwest Morocco about two hours south of Tangier, is especially famous for one reason: the colour blue. The 16th-century medina here is awash in various shades of it, and it's a dream to wander its steep cobblestone lanes; luxuriate in its secret gardens; browse its souks and shops for lovely local products such as exquisite wood carvings, leather goods, woolen clothing, and woven blankets; sip aromatic mint tea at sidewalk cafés; visit a hammam (traditional sauna); stay in its picturesque riad guesthouses; and savour a delicious tagine in one of its many restaurants.
Fez: The Oldest, Largest, & Best Preserved
One of Morocco's four "Imperial Cities" and considered the country's cultural and spiritual centre, Fez El-Bali (above) dates back to the 9th century and is packed with amazing sights and experiences, from the world's oldest university to an eye-popping leather tannery (producing, among other products, the distinct babouche slippers). That includes, too, many memorable spots to eat (such as its palace restaurants, laying down lavish Moroccan banquets) and overnight (converted riads that let you sleep amid 1,001 Nights splendour). If you experience only one medina, let it be this one.
Marrakesh: The Heart of the 'Red City'
Morocco's bustling, fourth largest city (top) is also its most visited in good part thanks to the fascinating 11th-century maze at its centre, anchored by the enormous Djemaa El-Fna square – especially its fascinating, exotic market stalls, divided by types of merchandise (spices, metal, wood, clothing/fabric, leather, carpets/kilims, etc.) but also sites such as the Koutoubia Mosque, the Saadian Tombs, and the El-Badi Palace.
Tétuoan: Echoes of Al-Andalus
Just over an hour's drive east of Tangier, this Mediterranean port of 381,000 has a medina founded in the late 13th century and rebuilt in the late 14th and early 15th in the image of Granada, which from 1236 to 1492 was the last remaining Moorish redoubt in Iberia; after its fall, many Andalusian Moors took refuge here in Tétouan and essentially remade the city. Its medina of low-slung, whitewashed buildings is relatively small but well preserved and refreshingly untouristy.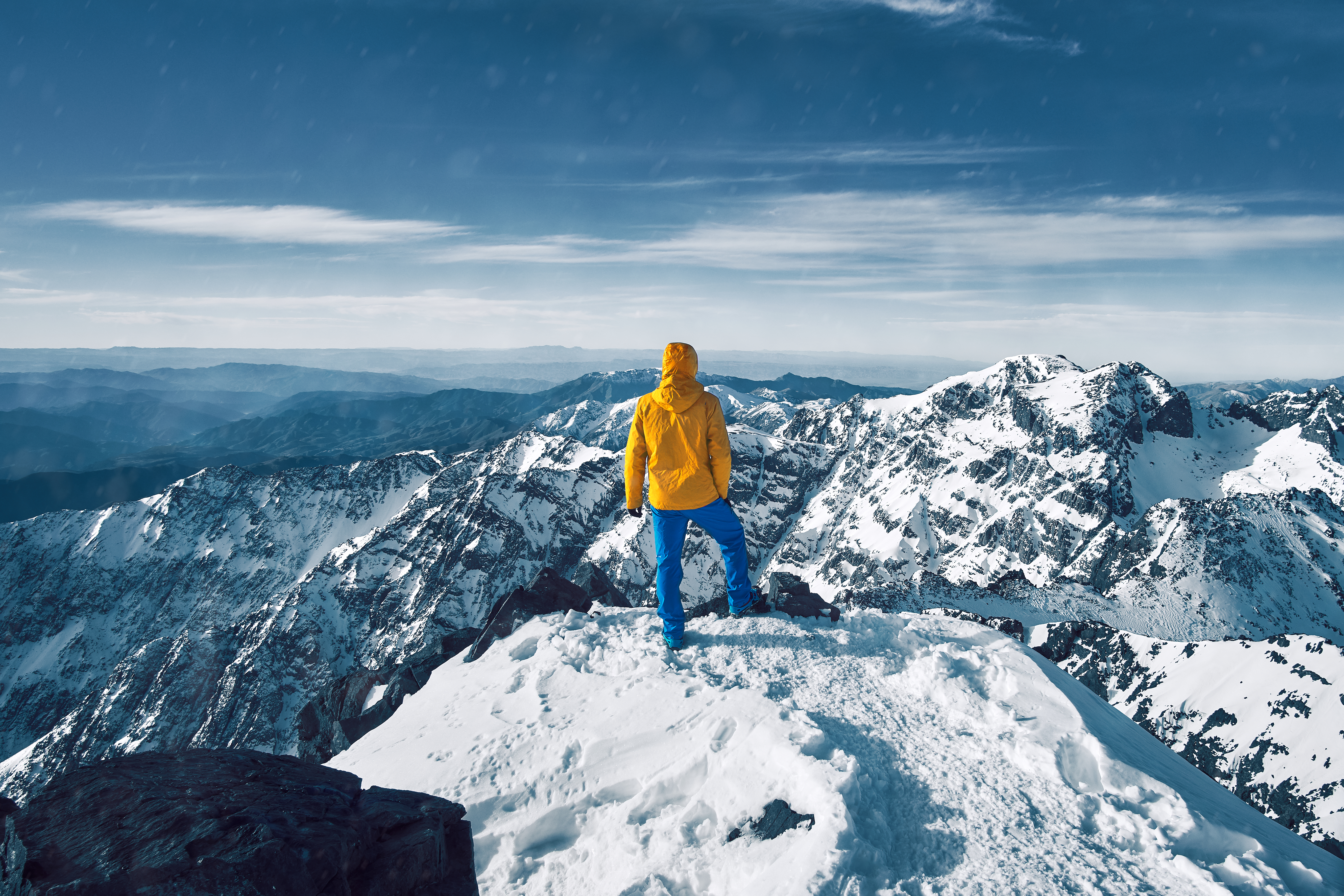 Sports & the Great Outdoors
A much less well known side of Morocco is the range of outdoor activities it has to offer amid varied landscapes. And here are the top three:  
Hiking
A varied landscape beyond deserts is crisscrossed by numerous trails, with top spots such as Akchour Waterfalls (in the Rif Mountains a 45-minute drive from Chefchaouen), Lake Ifni (near Morocco's highest peak, Toubkal, in the Atlas Mountains four hours south of Marrakesh), and Tislit Lake (seven hours northeast of Marrakesh).
Horseback Riding
Horses have always played a significant role in Moroccan history, and today visitors have the opportunity to visit much of it on horseback, including getting to lesser known areas of Morocco.  One of the best known route runs through the Drâa Valley, following the river of the same name running from the High Atlas near Ouarzazate to the Atlantic coast in the far south. Along the way, riders will pass through spectacular scenery as well as various kasbahs, clay fortresses, and ksur (fortified towns).
Golf
Morocco is home to more than a hundred high-quality courses, with the best known including 18-hole Cabo Negro on the Mediterranean Sea coast between Tétouan and Ceuta; Agadir's 36-hole Golf du Soleil; 18-hole Royal Golf Fès; and Royal Golf Marrakech with a pair of courses totalling 27 holes.
Skiing/Snowboarding
Bet you didn't see that one coming, eh? But naturally, since Morocco is home to the Atlas and Rif mountains, it stands to reason that some of them are pretty good for winter sports. And just over an hour from Fez, the country's "little Switzerland" is Ifrane, built by the French in the late 1920s and early 1930s as a "hill station" for the colonial occupiers to beat the heat. the luxury resort Michlifen Ifrane (michiflen means "snowflake") offers just a kilometre (2/3 mile) of skiing/snowboarding, between 1,800 and 2,060 m up (6,168-6,759 ft.), with a pair of drag lifts.
The country's other main winter resort is Oukaïmeden, Africa's highest ski resort – between 2,600 and 3,268 metres (10,722 feet), with a vertical drop of around 1,000 m (3,280 ft.). Located in the Toubkal massif about an hour 45 minutes south of Marrakesh, centred around the peak of Jebel Attar, it was also built by the French, in the 1940s. It hasn't changed significantly since then; you can expect to see sheep and goats roaming the piste, as well as donkeys transporting skiers/snowboarders around the place and giving rides to those not schussing the slopes.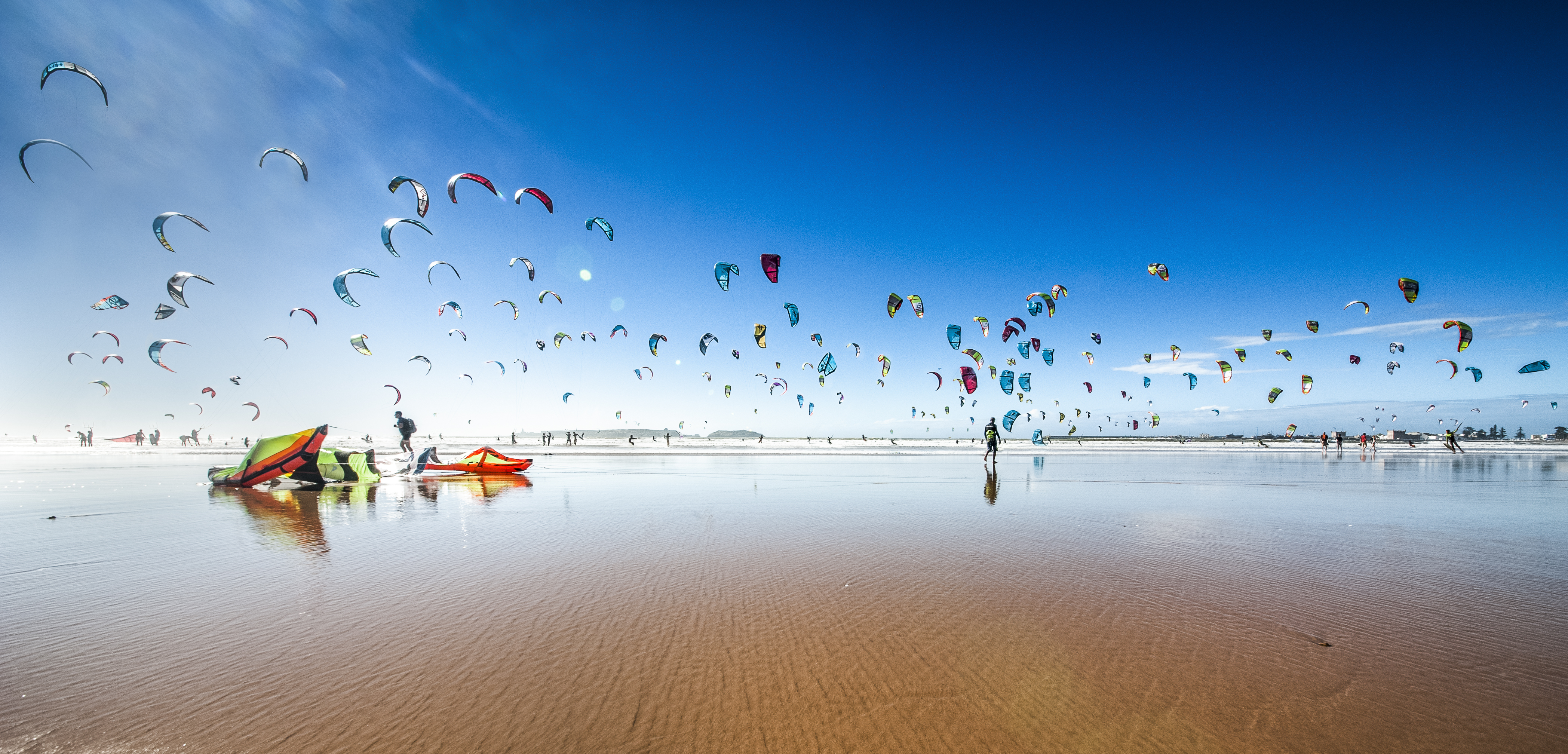 From Sea to Shining Sea
With more than 3,000km (1,864 mi.) of coast on both the wild Atlantic Ocean and the calmer Mediterranean Sea, Morocco also offers an alluring array of beaches for all tastes – whether you're looking for mild or wild, castaway or buzzing – and increasingly popular with Spaniards, the French, and other Europeans.
Surfers will definitely want to check out the gnarly Atlantic waves of Dakhla, Essaouira, Safi, and Taghazout, whilst for kitesurfing and windsurfing the Mediterranean still offers more than enough action to keep it plenty interesting. Off these Med beaches you'll also find coral reefs well worth exploring.
Get the full Morocco experience by booking a flight to Marrakesh or Morocco's capital Rabat, and before you go, check out VisitMorocco.com.  Bon voyage and رحلة سعيدة!