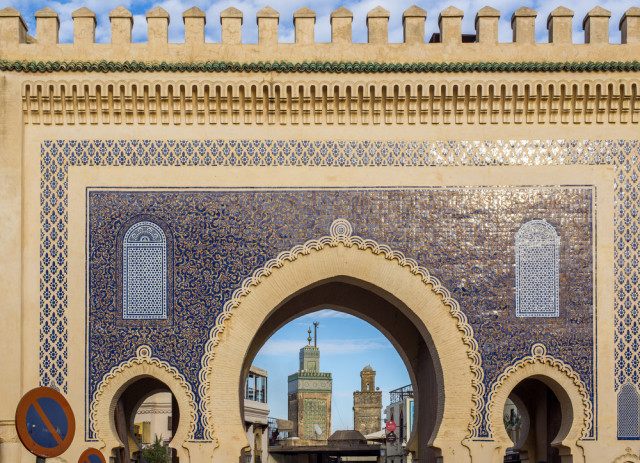 As a Westerner, this country at the western end of North Africa remains one of the most memorable I have ever visited, due in no small part to its "Imperial Cities" – Marrakesh, Rabat, Meknes, and Fez – so called because each was the capital of one or more of this land's ruling dynasties over the centuries. And while Rabat is the current capital, if I absolutely were forced to choose my favourite, it might well be Morocco's first and most frequent capital, Fez, in the country's north. Let me tell you why.
Founded at the end of the 8th century, this town grew from a dusty desert settlement as it served various ruling dynasties as their capital throughout much of the Middle Ages and most recently from 1727 to 1925 (when the mantle was passed to Rabat by the French colonisers). Today it's the country's second largest city (pop. 1.1 million) after Casablanca, and considered the country's cultural and spiritual centre. Its two adjacent medinas (mediaeval quarters) are among the most atmospheric you can imagine, and less touristy-feeling than Marrakesh.
The larger of the two, Fès el-Bali, is a UNESCO World Heritage Site that dates back to the very origin of the city, and it's as much a proverbial time capsule as any place I've ever been. There are no motor vehicles (it's said, in fact, that this is the world's largest car-free urban area as well as the Arab world's best preserved old city). You can wander this maze on your own (yes, you'll probably get lost, but generally not for too long) or hire a guide through your hotel or the tourist office (avoid the freelancers hanging out at entrances like the main gate Bab Boujeloud; they're largely touts who'll do little but steer you to endless shops of their cronies).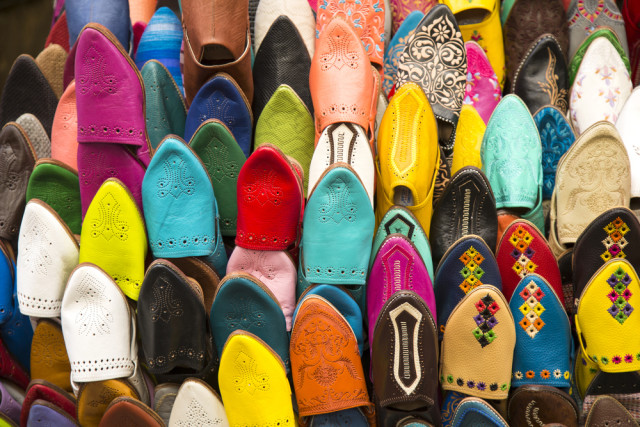 Besides just browsing the many street food vendors and market stalls and shops with exotic spices; tagine dishes; and various interesting goods made of copper, brass, and leather goods (most distinctively babouches, the distinctive local slippers, above), three highlights of the medina include:
Kairouine Mosque/University  One of this continent's largest mosques (20,000 worshippers) and by some reckonings the world's oldest still operating university (859 AD), this enormous complex can be be appreciated from surrounding rooftops – the front entrance is fairly unpreposessing (plus unless you're a Muslim you can't go in, so have to content yourself with peeking through the front gate.
Bou Inania Madrasa  A religious college dating back to the mid-14th century, with lovely Islamic architecture; stone, wood and plaster work; and calligraphic details. This one is open to all visitors.
Chaouwara Tanneries  There's nothing quite like the sight (below) of this traditional leather tanning and dying operation – a series of pits filled with various colours of dyes, visible from the back terraces of various leather shops surrounding it. Best to go in the morning.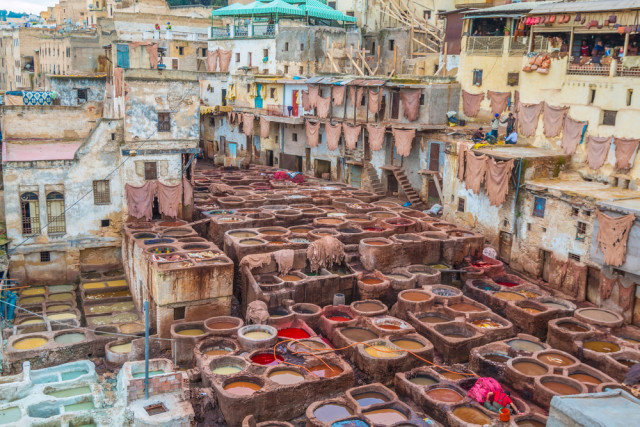 Other tip-top medina experiences include a Moroccan banquet in one of the converted riads (townhouses) or converted palaces. Another is a visit to a traditional hammam (sex-segregated, of course), with steam rooms of varying heat, pools, and masseurs who will pummel you properly.
Outside the medina, the Ville Nouvelle (New Town) has its fine points, too. Dating from the 19 century, it's a mix of French colonial and modern, post-colonial architecture, and its main thoroughfare is Avénue Hassan II. Your hotel or hostel may well be in this area (unless you opt for a riad in the medina), and there are myriad dining and nightlife options, as well. A pleasant enough district, for sure – but when in Fez, what you'll really want more than anything else is to come souk up this extraordinary atmosphere, and have some medina, m'dear.
More information: MuchMorocco.com.
Best Iberia fares to Fez from the USA, from Spain.
https://youtu.be/i8ZzYbGIflc


photos | Alvaro German Vilela, Goran Bogicevic, Pocholo Calapre