Down near the bottom of South America, this small, welcoming country especially lures visitors during its balmy summer (the northern hemisphere's winter with, average temperatures here around an average in January of 23⁰ Celsius/73-74⁰ Fahrenheit). Above all they tend to flock to its 650 kilometres (404 miles) of fetching Atlantic Ocean beaches with both calm and wilder waters, punctuated by sand dunes and rocky bluffs, and served by a variety of places to stay and play, from luxurious resort areas to unpretentious small towns and unspoiled nature reserves. This coast is also home to nearly 70 percent of Uruguay's population and generates some 40 percent of its wealth – which for visitors means there's a lot to do down here besides just beaching, including adventure and eco activities, culture, dining, shopping, and much more.
Today we're heading from capital Montevideo just a half hour's drive down to Ciudad de la Costa and then 20 minutes east to the so-called Costa de Oro (Gold Coast), where the great Río de la Plata (River Plate) meets the Atlantic and become bluer and saltier. All along this stretch you'll find various balnearios (beach-resort towns) such as Atlántida (pop. around 6,000), where quite a few Montevideo residents have holiday homes, so there's always a lot going on, and especially in these next 2-3 months, during the local summer. One nearby landmark worth a visit is the El Águila overlook, a building built in the form of an eagle's head constructed in 1945 for Italian-born Argentine businessman Natalio Michelizzi and used as a hangout for himself and his friends. When Michelizzi died in 1953, the place stared falling apart, and all sort of rumours abounded about it being used as a hideout for "Nazi spies" – even though World War II ended in 1945 – as a centre of "cosmic energy", and an alchemy laboratory (none of which was ever proven). Restored and declared a national landmark, these days it's mostly a tourist attraction.
Just under an hour east of Atlántida, Piriápolis (pop. 9,000) is a comely town built in the late 19th and early 20th century, with a marked Mediterranean flavour and surrounded by hills which are great for hiking as well as 25km (nearly 16 mi.) of beautiful beaches. Here you'll also find opulent hotels (both of historic vintage and newer), large casinos, a hopping nightlife, and plenty of public parks.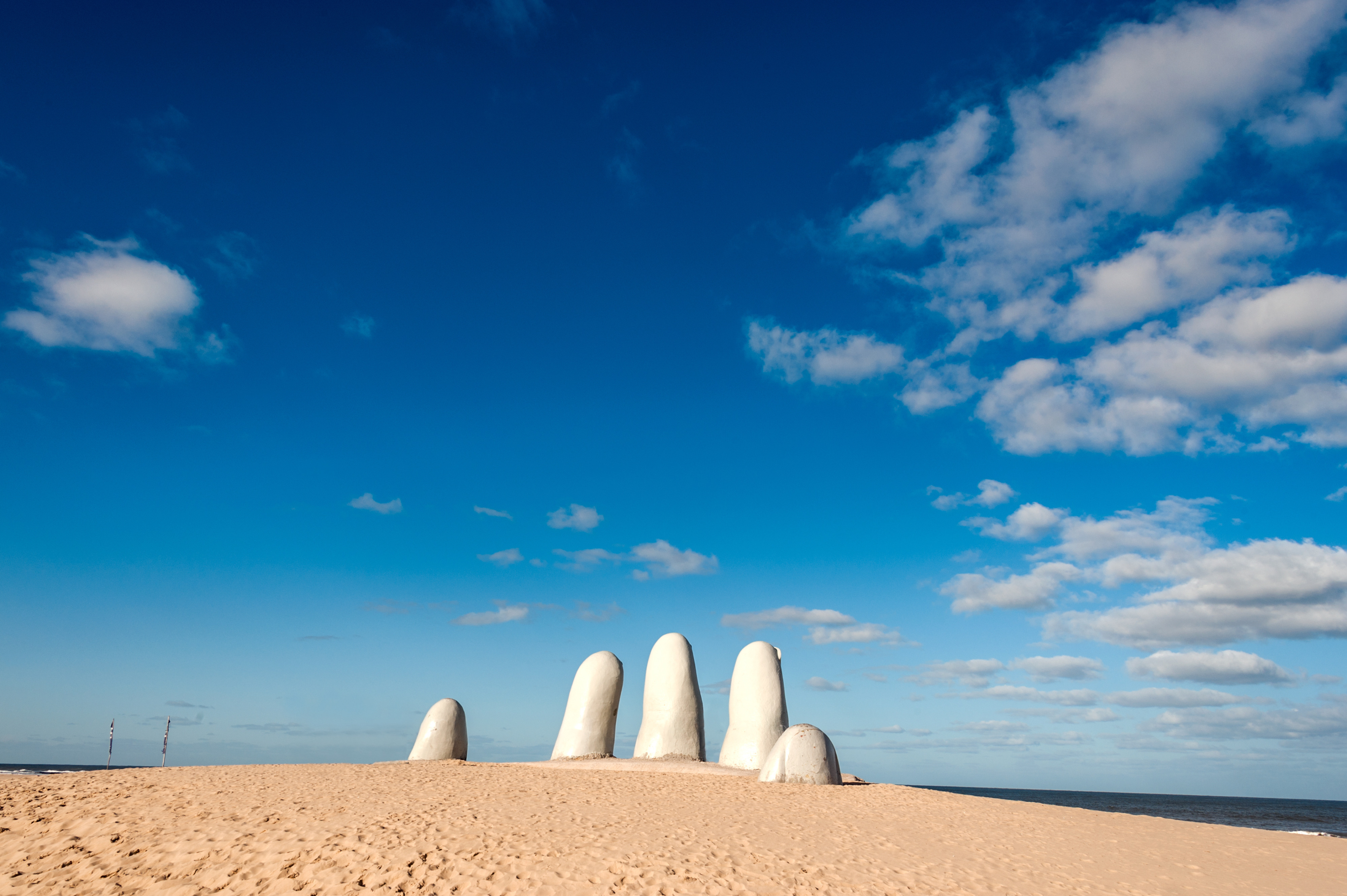 Punta del Este, Uruguay's Answer to Saint-Tropez
Then about 40 minutes east of Piriápolis, this peninsula-based city of over 12,000 is of course an absolute must on the Gold Coast, South America's most internationally famous – and upmarket – beach-resort mecca, with a huge diversity of hotels, resorts, and lower-end lodgings along with thriving dining, nightlife, entertainment, and shopping scenes. Its population of around 9,000 surges in summer with visitors – especially Argentines and Brazilians, but also from around the world.
Among its myriad beaches, one that particularly stands out is Playa Brava ("Wild Beach"), facing the open ocean and so named for its kicky surf (thus also magnet for surfers); it's also where you'll find the famous (and Instagrammer-favourite) cement fingers reaching upward from the sand (above) and built in 1982. Another is Playa Mansa ("Gentle Beach"), located on the side of the peninsula facing away from the ocean and named for its calmer waters.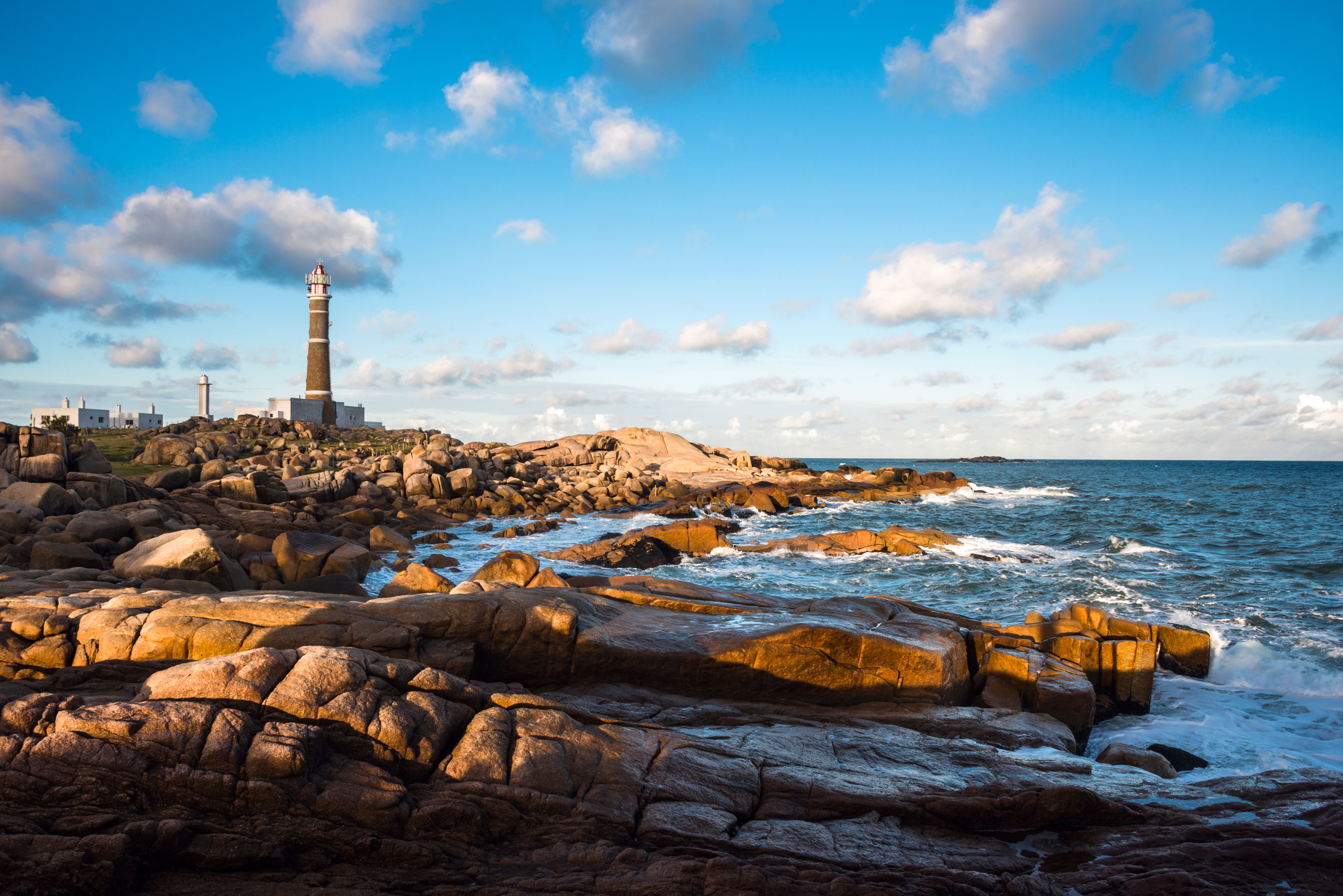 Costa de Rocha – An Ode to Nature
Then about an hour and a half yet farther east comes a 180km (112-mi.) stretch of coast lined with a string of delightful towns. The largest is La Paloma (pop. 3,500), founded in 1874; known for its lighthouse and traditional architecture; and popular with families and seniors though also offering plenty to do for holidaymakers of all ages, and a lagoon just off the beach that's wonderful for birding and other ecotourism.
Another very worthwhile stop along here is a magical cape called Cabo Polonio, prized for its tranquility, golden sands, deep-blue waters, and Latin America's most important sea lion reserve. There are no roads in – you get here through the shifting sand dunes on foot, horseback, or 4×4.  Development is minimal – just a village of barely 100 residents with a few cabins, guesthouses, and a grocery store or two, with the highest construction being its 142-year-old brown-brick lighthouse, whose 136 steps can be climbed by visitors for great views over the village and coastline.
There's also plenty to see and do farther inland, including the charming capital town, also named Rocha, a palm forest, and low-lying hills great for hiking and ecotourism.
Uruguay's beautiful Costa de Oro can be enjoyed year round – even during the coldest month, July, temperatures don't drop below 10⁰C (50⁰F) – and there are options for all budgets, from luxury down to backpackers. And while you're here, try to make time to visit gracious Montevideo and historic colonial UNESCO World Heritage Site Colonia del Sacramento.
So what are you waiting for? Check out flights to Uruguay, now from 956 euros return.