The fourth largest and easternmost of the Canary Islands is known for its starkly beautiful semi-desert landscape including volcanic cones; the innovative  works of native-son architect/environmentalist César Manrique; and perhaps most of all for visitors, its fantastic beaches. Here's a quick rundown of some of the top strands which lure beach bunnies from the rest of Spain, Europe, and beyond:
Beaches Both Black and White
First off, you might expect that being volcanic in origin, Lanzarote is full of black-sand beaches. And you'd be right, with examples including Playa Quemada, Janubio, and Las Malvas. But there are also plenty of ravishing stretches of powdery white sand as well.
An excellent place to start ison the island's northwestern Teguise coast, a half hour from capital Arrecife. Here at a small, whitewashed fishing village, below the the island's highest point Peñas del Chache and within the Chinijo Archipelago Nature Reserve, the Caleta de Famara stretches six glorious kilometres (3¾ miles). The surf here is kicky and thus attracts surfers and kitesurfers, whilst on land the Peñas are something of a magnet for hang gliders.
For a bit more of an urban experience, head down to the south coast and Playa Blanca – Lanzarote's southernmost town and the island's newest resort area – and next door Playa Dorada. Both have not only fine white sand but also calmer waters and offer plenty of amenities, from umbrellas and beach chairs to a wide menu of water sports, restaurants/bars, and places to stay. It's an especially great option for families.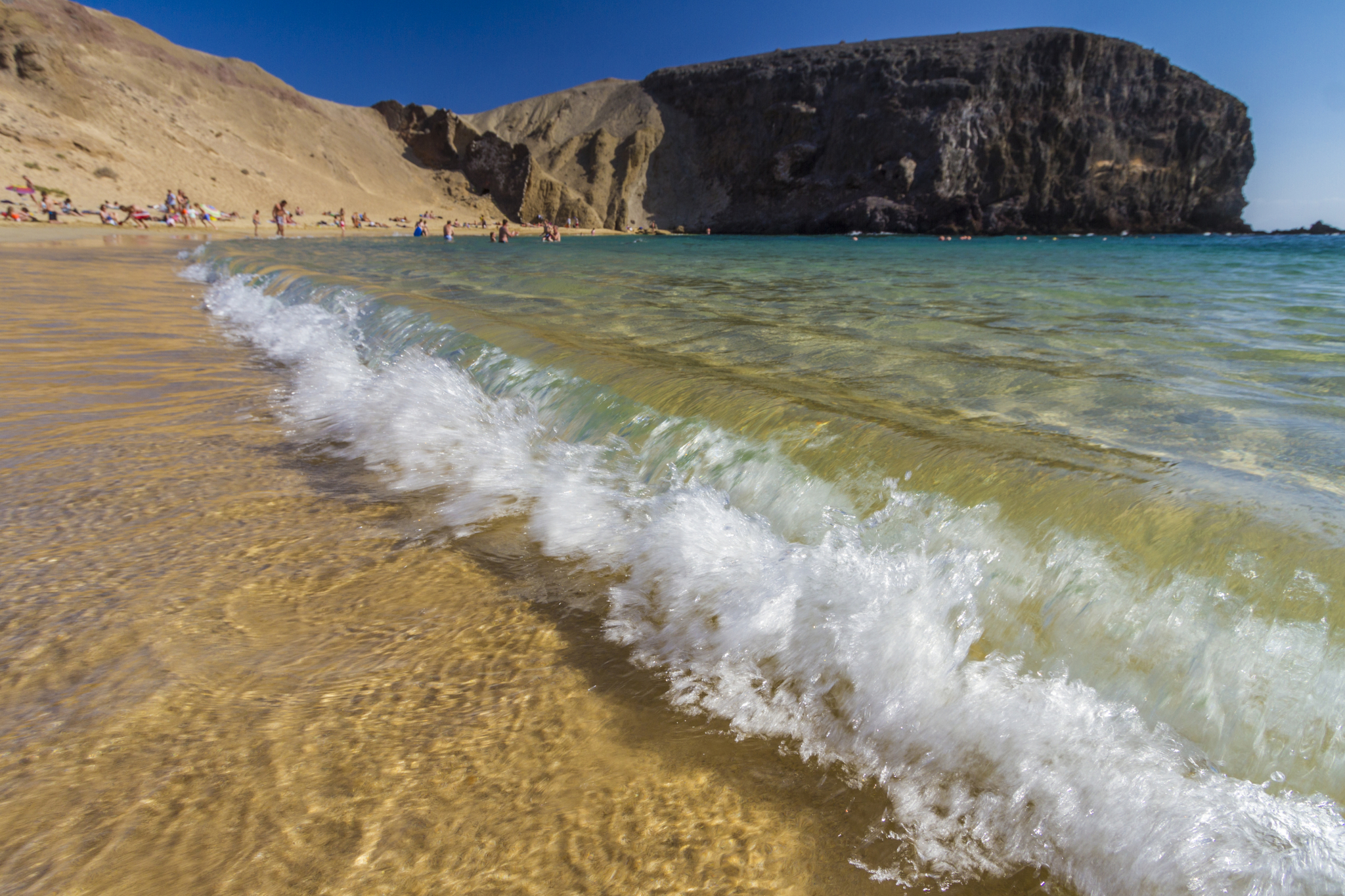 In addition, nearby you'll find an extra special, 2km (2¼-mi.) string of beaches called the Playas del Papagayo, consisting of seven sweet little coves: Cala Papagayo itself, Puerto Muelas, Caleta del Congrio, Playa de la Acera, Playa del Pozo, Playa Mujeres, and Calentón de San Marcial. In fact, in 2019 the readers of Condé Nast Traveller España chose Cala Papagayo as Spain's best beach – quite a distinction in a country packed with amazing beaches – for its sand, crystalline waters, and surroundings.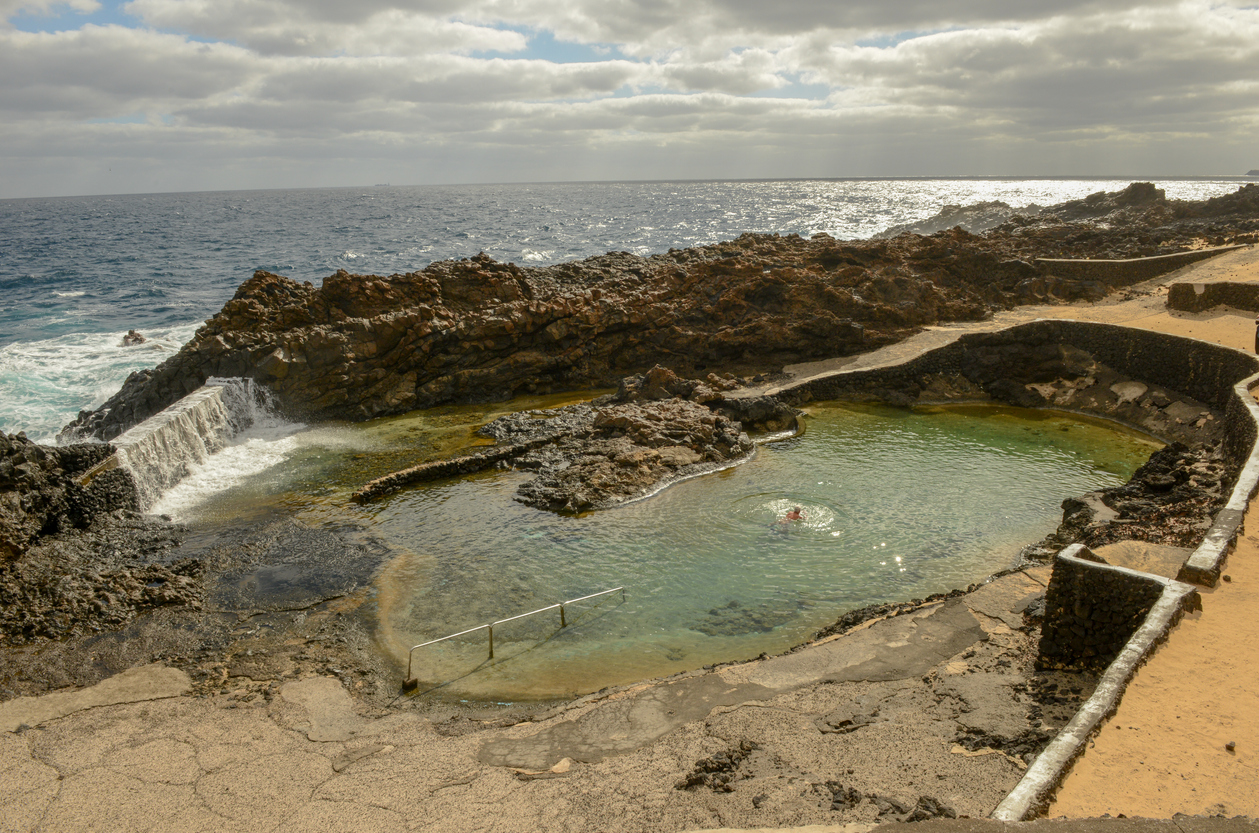 Another very cool feature of the Lanzarote coast are a handful of saltwater-filled hollows – some shallow, others deep enough for diving – found between the sands and the volcanic rocks just beyond. These natural pools are splendid for a bit of refreshing splashing around.
With a diametre of ten metres (33 feet) the largest is Cueva del Agua, located near the village of Guatiza, like Famara on the northwestern Costa Teguise. It can be a little tricky and slippery to get to (and be sure to wear appropriate shoes and not merely flimsy thongs), but well worth it. Another appealing example is Los Charcones down in Playa Blanca. Meanwhile, 20 minuts north of Costa Teguise, at the nudist resort town of Charco del Palo there are a trio of natural pools where you can let it all hang out and another several ten minutes north in the fishing village of Punta Mujeres., accessible via steps.
And keep in mind that the average temperature on Lanzarote in autumn is around 23⁰ Celsius (73⁰ Fahrenheit and in winter 17-18⁰C (63-64⁰F) – making it a balmy  beach getaway in the coming months. Book now, starting at 76 euros.
Photos | ©Turismo Lanzarote; fotoember