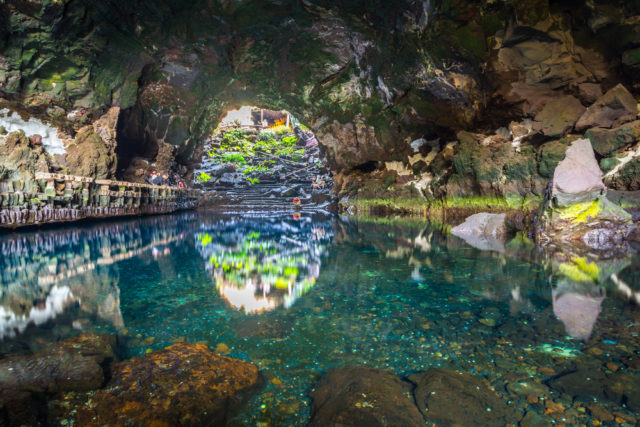 In Spain these days, it would be hard to imagine Barcelona without Antoni Gaudí and Valencia without Santiago Calatrava. And similarly, the Canary Islands have been marked by the legacy of one of its most beloved native sons, the architect, artist, and conservationist César Manrique (1919-1992), who in addition to creating some marvelous buildings and structures throughout his native Lanzarote as well as the other islands also was a major force in keeping Lanzarote free of the reckless, high-rise development that has marred many holiday destinations.   
Though imperfect like all of us (with youthful mistakes including volunteering to fight for the fascist rebels in the Spanish Civil War of the 1930s), Manrique from a young age was in the vanguard of Europe not just artistically but also in terms of protecting the environment. Furthermore, his creations were an unprecedented revolution in Canarian art and architecture, with fanciful, masterful lines and forms mingling evoking native flora in structures of steel and glass, with spaces shaped carefully to maximise the splendour of the brilliant Canarian sunlight. It's a legacy showered over the years with myriad international awards and prizes, including the 1978 World Ecology and Tourism Award, Spain's Fine Arts Gold Medal, and others.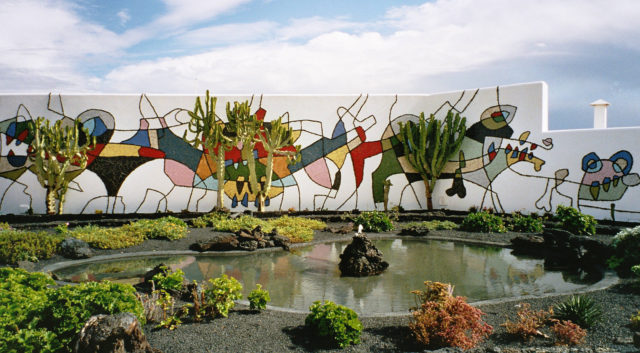 And though Manrique works can be found on other islands including Tenerife, Fuerteventura, La Gomera, and El Hierro, it's of course on Lanzarote that you'll find most of them. High on the list is his first and perhaps still most important effort, Jameos del Agua (top), a perfect melding of nature and architecture built within a volcanic lava tube, taking advantage of the natural space to install passageways and stairs, as well as a museum and an auditorium which can seat more than 500 and features, as you might expect, superb acoustics. The complex is finished off by a palm grove and outdoor lake full of light and colour. Parenthetically, another interesting thing about these caves are the presence of tiny blind albino crabs which are endemic to the island.
Another seminal work is Manrique's house and workshop in the town of Teguise, these days home to the foundation which bears his name – an excellent example of Canarian architecture built over volvanic pockets. Known as Taro de Tahíche, it is also home to an art exhibition and features an iconic outside wall mural (above) as well as interesting interplay with its surrounding vegetation. Manrique spent the last years of his life in the town of Haría, in another traditional house which now operates as a museum where you can see many of his personal effects as well as scale models and a welcoming studio space full of drawings and unfinished canvases – maintained just the way it was on the day he died in an auto accident.
Two more vivid examples of Manrique's imagination are the Cactus Garden (with more than a thousand species) and the Mirador del Río, a clifftop overlook in Risco de Famara where avant-garde architecture, again, blend with the site's natural beauty and the spectacular views out over the Atlantic. But perhaps his most singular design on Lanzarote is the Oven of Timanfaya, a structure which uses underground geothermal energy and heated volcanic rocks to barbecue foods for a restaurant here called El Diablo.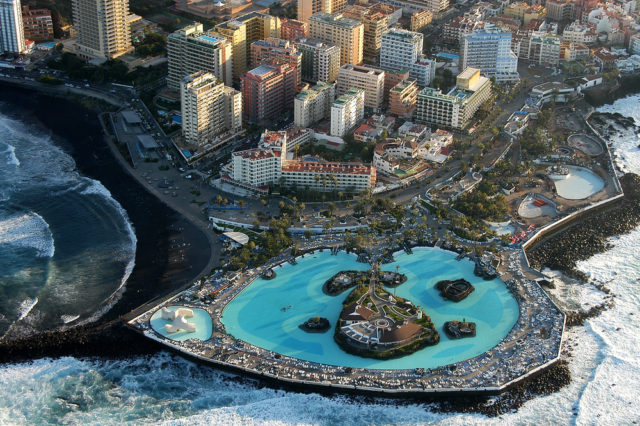 As mentioned above, his influence can also be seen elsewhere on the islands, and one good example is Fuerteventura's Mirador Morro Velosa up in the hills 700 metres (feet) ab0ve sea level, offering impressively sweeping, 360-degree panoramic views of the arid landscape.
Others on Tenerife include Parque Marítimo, a harmonious, parklike complex in Santa Cruz which includes saltwater swimming pools lined with palm trees (more than 300 species) and artificial beaches, and Lago Martiánez in Puerto de la Cruz, an enormous artificial lake, surrounded by pools and sculptures, in which volcanic rock plays a key part.
La Gomera can boast another Manrique overlook, El Palmarejo and El Hierro yet another, the Mirador de la Peña, – again, also products of one of Spain's foremost artists of the 20th century. The values of César Manrique, a pioneer not just artistically bu in the area of sustainable development, are those our planet needs now more than ever, and seeing them in action here on Lanzarote and the Canary Islands is truly a memorable experience.
photos | Fominayaphoto; Alexander Hauck; Salvador Aznar.