The Yuletide season is going full tilt in Spain's capital these days, with festive lighting adorning streets all over the city and various activities and attractions offering abundant holiday cheer. Here are five fab examples:
Goggle at Holiday Lights



Festive lighting and installations hanging above streets, on light poles, and in some cases on sidewalks will be up through 6 January in 21 Madrid districts, with outstanding displays along downtown's main drag Gran Vía; other streets including Fuencarral, Montera, Narváez, and Preciados. Of special note are the gigantic Christmas-tree ornament at the junction of Gran Vía and the Calle de Alcalá (whose theme this year is Madrid's newly designated  UNESCO World Heritage Site); huge Christmas trees in Puerta del Sol, in front of the new Gran Vía metro entrance; on Plaza de España (this last accompanied by a huge Nativity with luminous figures); and on Plaza de San Juan de la Cruz north of the centre (which this year commemorates the 500th anniversary of the first circumnavigation of the earth by the Magellan-Elcano expedition).
All these installations are a lot to take in, so to make it easier, the national bus company Alsa is running a bus route called Naviluz, a 40- to 50-minute tour of some of Madrid's best lighting displays, running through 6 January, departing from Plaza de Colón and finishing up nearby. Departures are frequent and tickets are six euros for adults, three for seniors and kids; buy them and get more details here.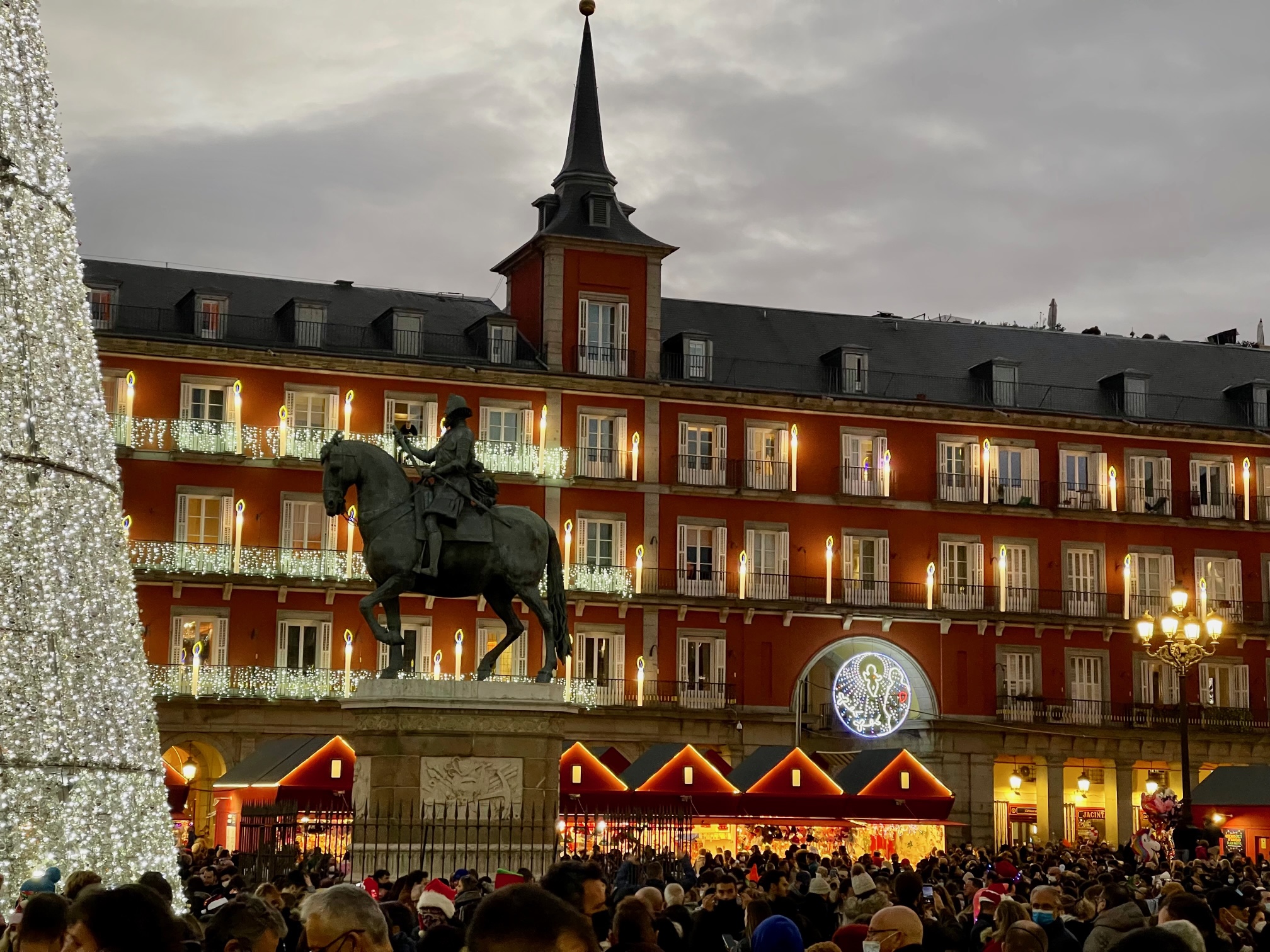 Browse Festive Christmas Markets
Also from the end of November through December and in some cases till early January,  central Madrid hosts a half dozen colourful Christmas markets, where you can browse for all sorts of holiday decorations, toys, jewelry, ceramics, hats, and other items).
The biggest and best known is that of downtown's historic Plaza Mayor (above, till 31 December) but others can be found on Paseo de Recoletos, Plaza Isabel II (near the Oriente Royal Palace and on which the Opera stands), Plaza de Jacinto Benavente (just south of Puerta del Sol), Plaza Juan Goytisolo (in front of the Reina Sofía Museum), Plaza de Callao (right in the heart of Gran Vía, Madrid's Broadway). Check out the dates for each here.

Hit the Ice at Several Skating Rinks



One of Madrid's most iconic landmarks, the Palacio de Cibeles – inuagurated in 1919 as Spain's telecommunications hub – will also from 17 December till 9 January host a skating rink to which you can buy 30-minute passes here. Other seasonal rinks will be open around the same time at the Plaza de Colón,  at the Matedero (above), and in front of the Reina Sofía Museum.

Take in the Big Nativity Scene at City Hall



From 26 November through 5 January, the entrance hall of the Palacio de Cibeles will be hosting an impressive belén (biblical Nativity aka manger scene) composed of some 200 human and animal figures and 20 buildings, all crafted with meticulous attention to detail. Tickets (available at the box office and online) are free of charge, and as of the 23rd, there is also a free audioguide available (in Spanish).
Hop Aboard Fun Holiday Trains
A great one for kids is the pair of special holiday-themed trains in central Madrid. From 26 December through 5 January, the Tren de Navidad (Christmas Train) makes an hourlong run from the Railway Museum to Getafe station and back, with Christmas-themed entertainment aboard. Similarly, from 18 December through 5 January, the Tren de Reyes Magos (Three Kings Train) does a fun loop of an hour and 15 minutes from Príncipe Pío station.
For more on Yuletide in Madrid, click here!