Argentina's capital is a very cosmopolitan city, full of hustle and bustle day and night as well as plenty of cool stuff to keep visitors busy, including its parks, picturesque neighbourhoods, cultural/entertainment offerings, a kicking nightlife, and not least, a world-class foodie scene.
Excellent Open-Air Feeds all around Town




From street food to steak houses (beef is still king hereabouts) to upscale, nouvelle fine dining (a number of which boast Michelin stars), Buenos Aires these days is a tasty playground for gourmands and gourmets alike. In addition, it offers a fun way for both visitors and locals to try out different cuisines by dining patio-style with open-air food stalls. It's an initiative carried out in different neighbourhoods where you can taste everything from its famous grilled meats, pizzas and hamburgers to typical dishes from other countries.
One of them is the Patio Gastronómico de Rodrigo Bueno, straddling the Puerto Madero and La Boca neighbourhoods. It began in 2019 with five chefs who wanted to promote both the local cuisine and lifestyle. They say that here ceviche (tangy lemon/lime-cured seafood) is the most popular dish, but we recommend you also try their hamburgers, pizzas, and tacos, and maybe sample an unusual cuisine or two (Paraguayan, anyone?).
Another is Smart Plaza Patio Parque Patricios (left), in the the working-class neighbourhood of the same name in the south of the city, with a half dozen food stalls and seating for 800. It's billed as "Latin America's "first technological food court", and there's for example a dedicated app for ordering your eats as well as cool extras like visiting a virtual zoo and snapping shots in different Argentine landscapes using augmented reality.
Then over in the Caballito and Flores districts in the centre of B.A. you'll find the Patio de los Lecheros, one of the city's most colourful, and which takes its name from an old railway station where dairy producers (lecheros) used to come to sell to the city's merchants. Sushi, hamburgers, grilled meats, cocktails and tasty pastries are among the treats available, and can also be ordered via dedicated app; it tends to be busier at weekends, but even so, it's worth the wait. 
A fourth similar option, the Patio Costanera Norte, is located along the Avenida Costanera Rafael Obligado, which runs along the Rio de la Plata riverfront of the Recoletos and Pamermo neighbourhoods, and stands out because its two terraces offer great water views. Seating 240, it's got five food stalls plus a bar, where you can savour hamburgers, pizza, Latin American fare, and ceviche.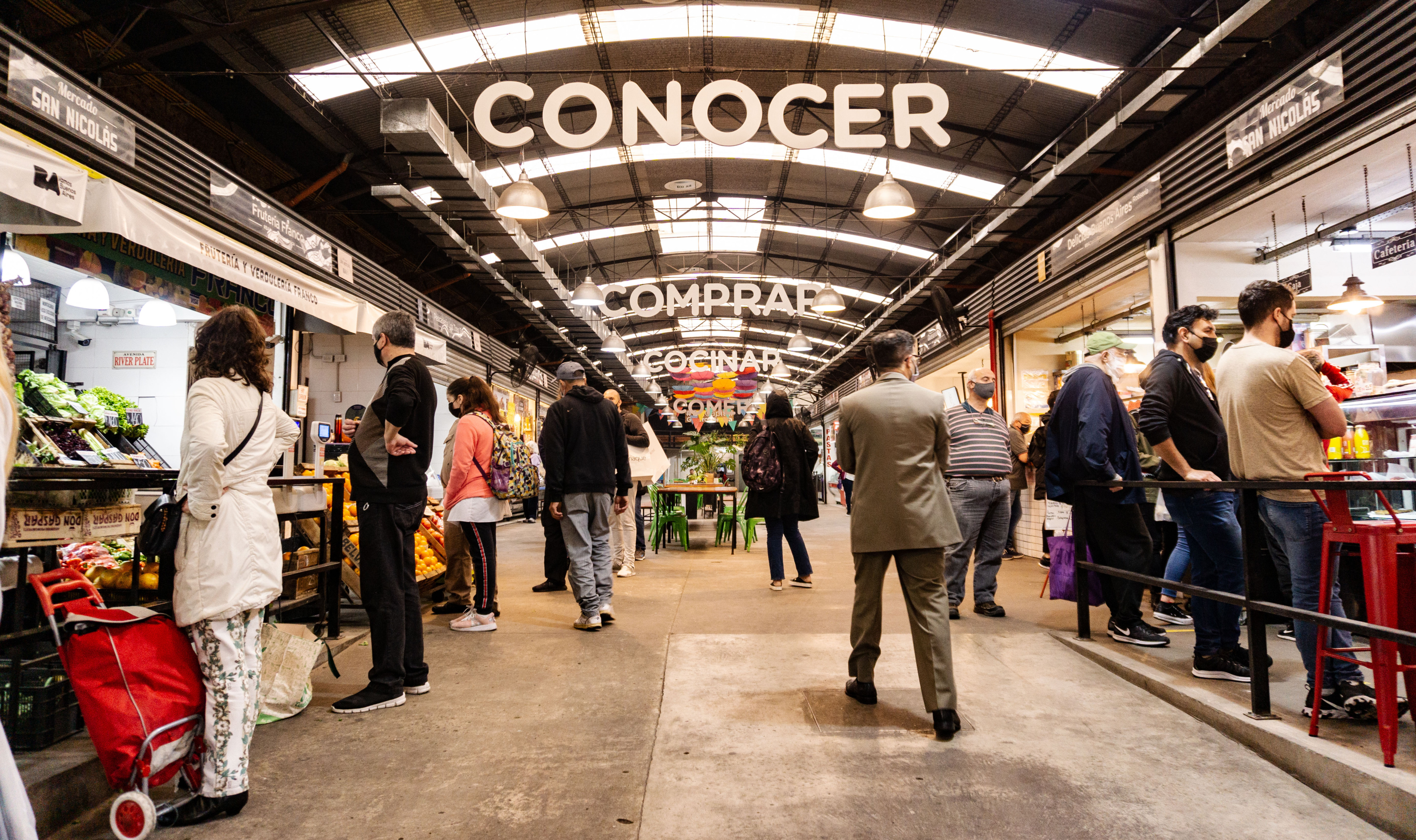 To Market, to Market
Baires is also promoting its goodly number of lively covered food markets – a mix of vendors and eateries – all around the city. Here are seven great examples:
Mercat Villa Crespo – Based on Barcelona's Boqueria (hence the Catalan word mercat instead of Spanish mercado), where you can taste and buy all sorts of yummy, mostly Argentine products. The three-storey former handbag factory located in the eponymous neighbourhood near the centre of the city sports an industrial-shabby-chic vibe along with playful food-themed murals, and also has an auditorium that hosts talks, cooking classes, tastings, and more.
Mercado Soho – Over in Palermo, you'll find two floors with nine bars and eateries featuring food and drink from Argentina and around the world, including Spain, France, Italy, the Middle East, and Japan.
Mercado San Telmo – One of Baires' oldest and most picturesque neighbourhoods is also home to one of its most traditional markets, dating back to 1897. You'll find stalls selling produce, meats, fish, and prepared foods, as well as an area dedicated to antiques, crafts, records, and toys.

Mercado de San Nicolás – Located in the downtown core which includes the financial and central business district, this two-level market (pictured above) is another historic one, and reopened renovated in 2019 with 18 stalls hawking products and prepared foods including pasta, pizza, cheeses, fruit/vegetables, burgers, even vegan foods.
Mercado de los Carruajes – Also two levels, this was once the garage of Argentina's presidents' carriages (carruajes) and the horses that pulled them. and later housed the presidential motorcars. Built in 1900 in the central Retiro district, it now houses more tha 40 food, drink, and flower stalls selling products such as Patagonia vinegars, Mendoza wine, and various fine cheeses, along with gourmet/gourmand delicacies from Argentine barbecu and empanadas to Spanish churros (fried dough) and hot chocolate to Japanese sushi.
Mercado Solidario Bonpland – Established in 2003 on Palermo's Calle Bonpland by a group of cooperatives, NGOs, and small producers' groups, this market focusses on sustainably produced organic meats and produce as well as artisanal products such as beer, jams, herbs, pastas, fiambres (cheeses, salami, cured meats), olives, bread, some items of clothing, and more.
Mercado Belgrano – In the eponymous Belgrano neighbourhood northeast of centre city, this single-storey marketplace dates back to 1891 and its modernised premises today comprises 30 varied food vendors as well as cafés, bakeries, and eateries.
As they say down here, ñam ñam (yum)! Book a flight to Buenos Aires on Iberia – currently from 1,022 euros – and bring your appetite!