Today we're heading to the U.S. commonwealth that's a paradise between the Caribbean Sea and the Atlantic Ocean, with a marvelous menu of history, nature, adventure, and of course beautiful beaches. Also known as Borínquen, it's also a land of kind people, music, and a cuisine can be both plain and fancy, but always mouthwatering. Get ready for a taste of Puerto Rico!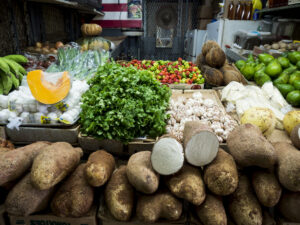 Mofongo: Tradition & Flavour


Something as simple as a plantain (a starchier, unsweet relative of the banana) in the hands of a good Puerto Rican cook can yield a true taste sensation. Mofongo is made of fried green plantains mashed with garlic and pork rinds in a mortar. Simple, right? Well, it's the iconic island dish – now even with its own special day, September 24 – and can be served alongside meat or fish, but can also be a main dish. You don't need to go searching for it, since any food stand or family home in Puerto Rico will have it as one of their most traditional dishes. 
Alcapurrias: A Popular Street Snack
Crunchy fritters made, again, with green plantains, in addition to taro root (a tuber like cassava), and stuffed with meat (the most traditional), fish, or cheese. They're are a real crowd-pleaser down here, and can be easily found at roadside stalls or in cuchifritos, which are restaurants specialising in fried foods, found in pretty much any town. Word is that the origin of alcapurrias dates back to Spanish colonial times – again, to not waste leftover food. But these days they've become a beloved snack and ubiquitous meal starter. Try 'em all and see which you like best!
Tostones: Tasty Plantain Discs
Seeing a pattern here? Yep, plantains are big in Borínquen. And tostones (from the verb tostar, to toast) are perhaps their  simplest preparation, but ubiquitous down here as starter, side dish, and snack. The plantains are sliced usually widthwise and fried at low to medium temperature for several minutes. Then they're drained, mashed, and refried at higher heat. Sprinkle a little salt on them, serve with mojo (a dressing of garlic and olive oil), and you've got a staple of Puerto Rican soul food ready to eat!
Mamposteao: Rice, Rice, Baby


Easy, inexpensive, and so delicious, this is rice with stewed beans, bits of sweet banana, and coriander (an herb the locals say is the essential ingredient). It started out as a way to use up the rice left over from the day before, but has become a favourite dish in its own right. You can find it in the streets of most cities and towns as well as at beachside restaurants. Mamposteao will definitely fill your belly and help give you energy to explore the island to the fullest!
And Wash It all Down with…a Piña Colada, of Course!


With or without rum, this tropical classic is one of the most refreshing you can have during your stay on the island. Fresh pineapple is blended with cream of coconut (along with a tot of white rum, if you're doing the boozy version). Not everyone knows this, but the piña colada was perfected here in 1954 at the Caribe Hilton Hotel by bartender Ramón "Monchito" Marrero. It went on to become one one of the most beloved cocktails on the planet, and for example National Geographic magazine has pegged it as the world's number-one beach drink. And if you can make it down here on July 10th, by all means do – it's National Piña Colada Day!

All of this sound scrummy? Get more info on this fantastic destination at , and book your flight to San Juan on Iberia, now from just 580 euros from Madrid!