Like pretty much every country where it gets nippy at this time of year, Hungary offers its own menu of delights both frosty and toasty. In fact, this central European country is a veritable winter wonderland, whether it's ice-skating in fairytale castle grounds; browsing luminescent Christmas markets; warming your hands and mouth with roasted chestnuts and mulled wine; or bathing in a historic thermal spa. Check out these half dozen options and you'll see what we mean: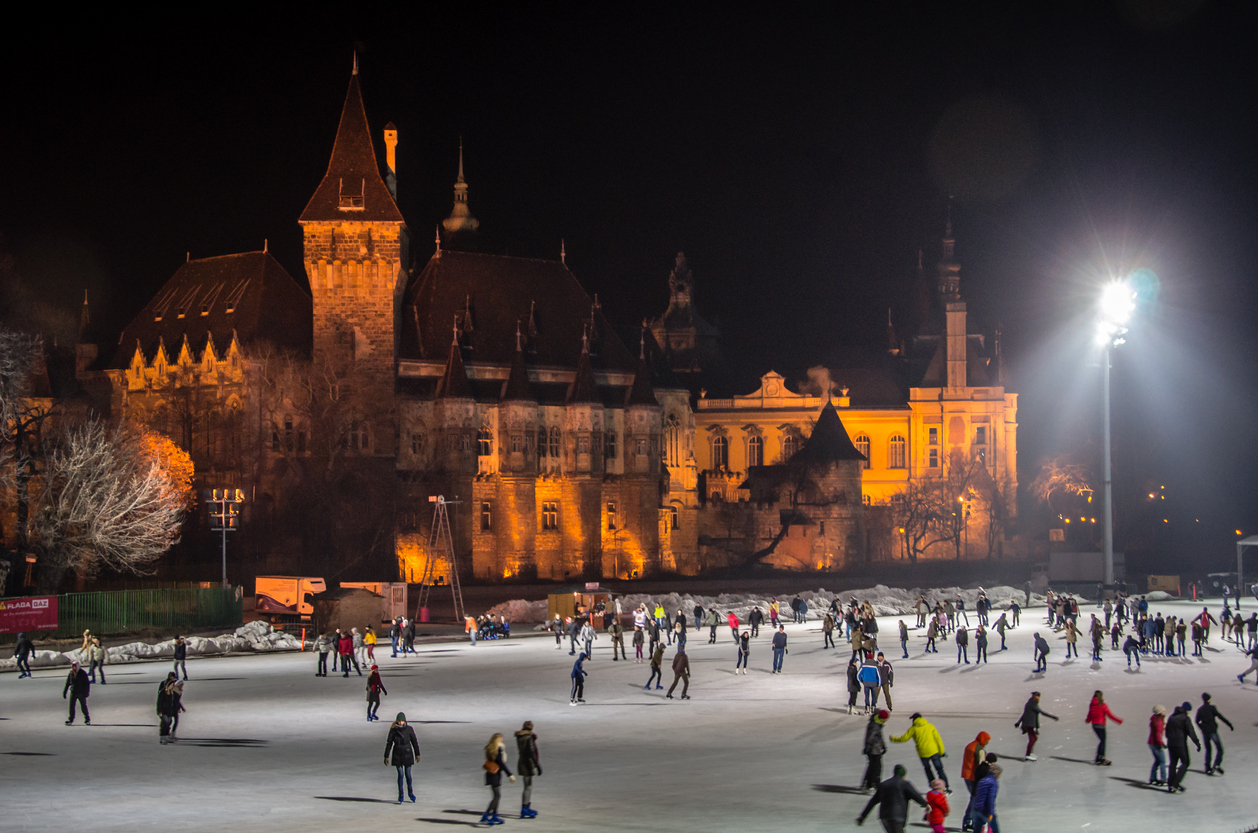 Strap on Your Skates
Who doesn't love to return from a trip boasting about having visited the longest, shortest, tallest or smallest of a city, country or continent? After hitting the ice at Budapest's Vajdahunyad Castle, you can tell your friends and family you've skated at Europe's largest outdoor ice rink. Standing sentinel over the giant rink, with feel good music and ample floodlighting, the majestic castle – built in 1896, with Gothic, Romanesque, and Baroque influences – showcases 21 exact replicas of Hungary's most spectacular and historic buildings. Then après skating, check out another Budapest must see – Heroes' Square, just a pirouette away on Andrássy Avenue. There are of course various other picturesque places to skate in Hungary – and none more than Europe's biggest lake, Balaton, an hour-and-a-half drive from Budapest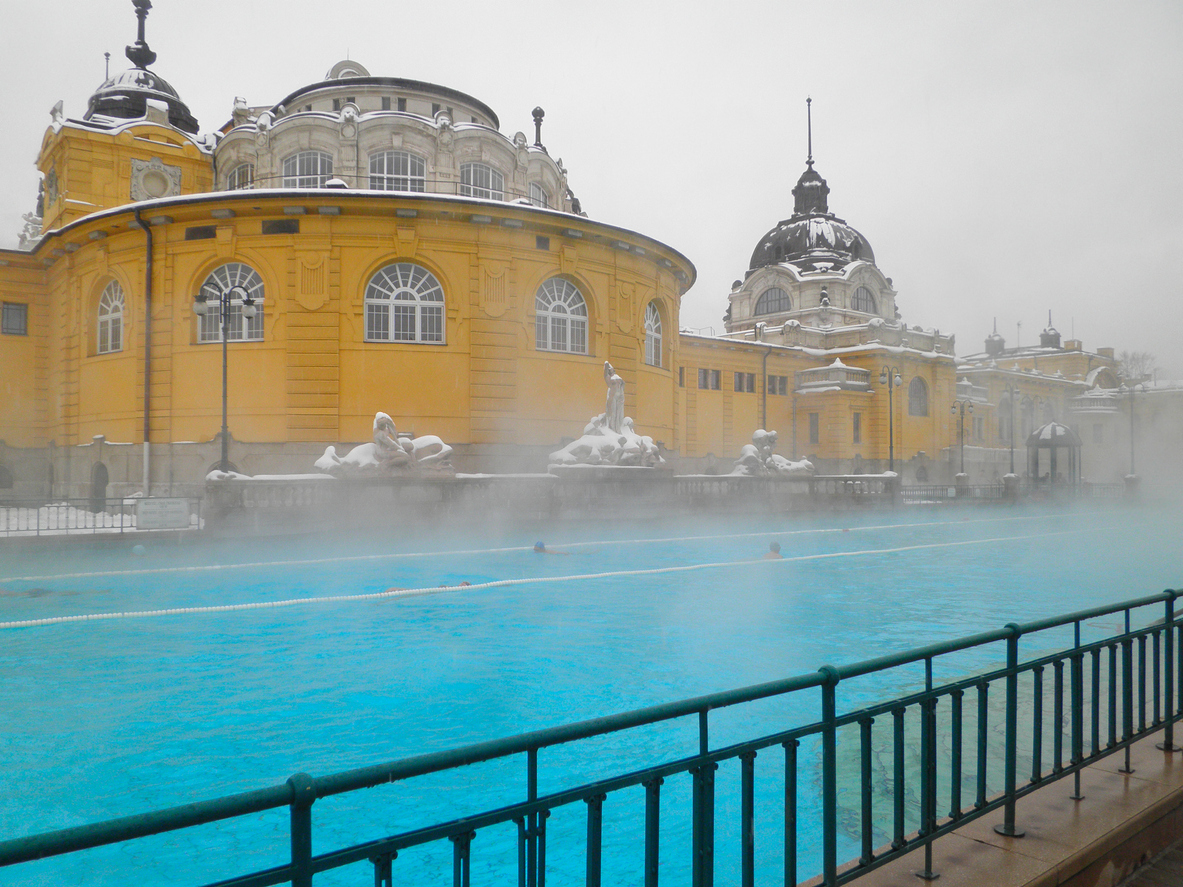 Just imagine… you're admiring a striking mustard Neo-Baroque palace as you lounge in naturally heated geothermic water. As the cold night air kisses your hot face, you watch steam rise and evaporate into the star-spangled Budapest sky.
You can make that steamy dream a reality at Budapest's Széchenyi Thermal Baths. Constructed in 1913, they house 15 indoor and three outdoor natural pools ranging from 30º to 40º Celsius (86º F to 104º Fahrenheit). From time to time in warm weather, it stages huge EDM "Spa-rties"(spa parties), as well.
Budapest is known as "the city of spas" due to the 118 thermal springs bubbling beneath it – harnessed by 15 public bath houses and other thermal spas in various hotels. Another Belle-Époque favourite is the Art-Nouveau-style Gellért, and there are also a handful of incredibly atmospherically medieval-feeling, Turkish-style bath houses such as Rudás, dating back to the 16th century when this land was ruled (for more than 150 years) by the Ottomans.
If you can't get enough of hot water, consider venturing out to Miskolctapolcais, just under two hours northeast of the city, where baths with built-in massage jets wind through natural caves leading to five indoor basins.
Get Café Cosy



You'll find lots of cosy delights in the capital's abundant cafés and coffee/tea houses. The most famous is of course Café Gerbeaud (above), located on the central Pest square Vörösmarty tér since 1870, furnished in elegant antique style and specialising in cakes, pastries, and ice cream as well as light dishes of Hungarian cuisine. Another venerable option is the 120-year-old New York Café with its regal gilded interior, ornate lamps, and mirrored tables fused with plush contemporary furniture (lauded by some publications as "the world's most beautiful café"). There are plenty of more modern options, too, such as Nothing Café, where the hot chocolate has a reputation for being the best in town and all the drinks, pastries and cakes are homemade. (Wherever you head for your caffeine hit, be sure try some flódni, with layers of walnut and poppyseed filling, plum jam, and spiced apples, and wash it down with a bécsi kávé, coffee served with ice cream, chocolate, foamed milk, and whipped cream.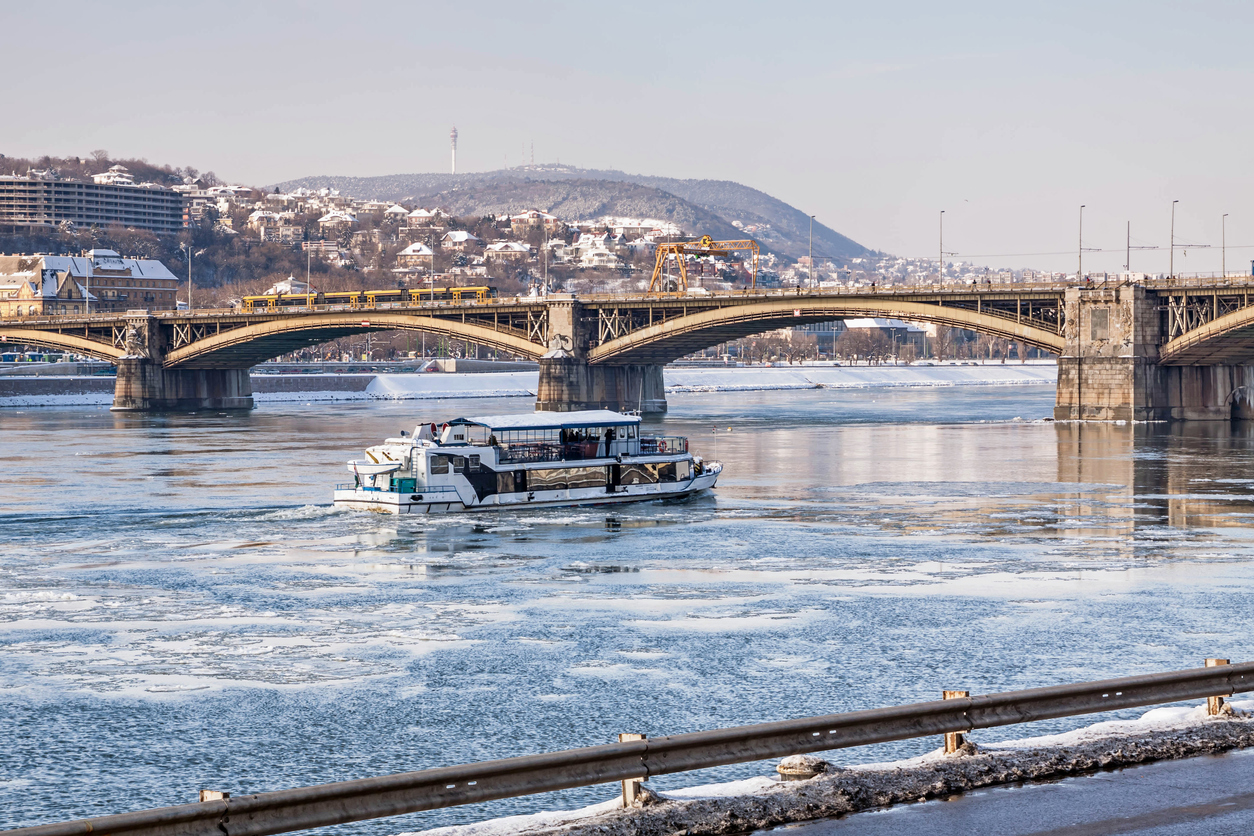 Cruise the Beautiful Blue Danube
Enjoy live folk music and a candlelit three course meal – ghoulash, traditional chicken paprikas with noodles or vegetable lasagne, and a selection of fruit strudels – on a heated cruise along the Danube, whilst you cruise past a number of famous landmarks such as the House of Parliament (top, left), the Buda Castle District, the Chain Bridge (top, right) linking Buda on the west side of river to Pest on the east, and Margaret Island.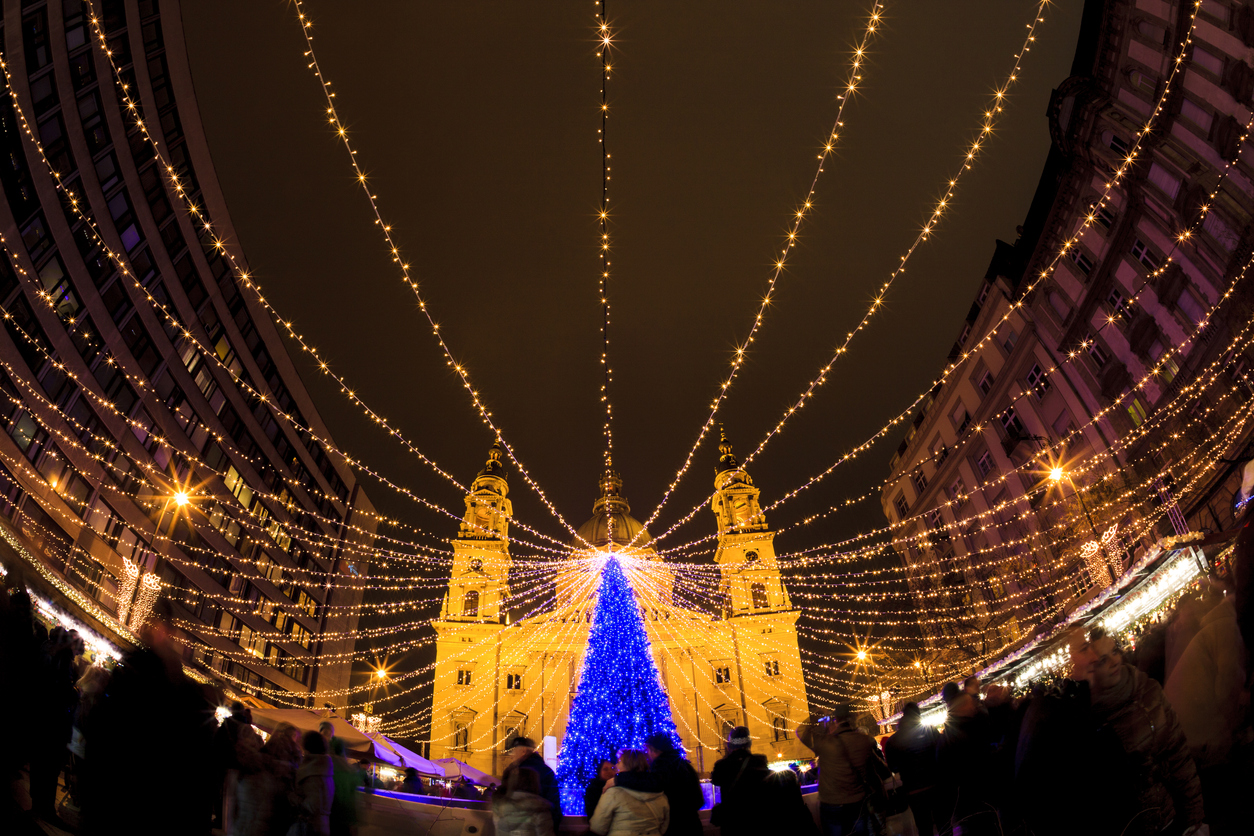 Meander Magical Christmas Markets
Budapest's largest and longest-running Christmas market, with hundreds of stalls, awaits you at Vörösmarty Square. Selling everything from souvenirs, ornaments, toys and sweets, crafted by native artisans, it's the perfect way to get into ye olde Yuletide spirit.
Not far away, the St Stephen's Basilica Christmas Market (above) is smaller but in 2019 was voted Europe's best, including nightly light shows are projected onto the church's façade, synched to emotive music under a glittering canopy of lights.
At both you'll be spoiled for choice with traditional food and drink aplenty: roasted chestnuts (pörkölt gesztenye), mulled wine (forralt bor), apple strudel (almás rétes), potato pancakes (tócsi), stuffed cabbage rolls (töltött káposzta), and fried flatbread (lángos).
Outside the capital, some of the other cities and towns with noted Christmas markets include Győr in northwest Hungary, Pécs in the southwest, and Szentendre just a half hour north of Budapest.
And finally, if you happen to be here in February (specifically, in 2022, the last week of the month), head to the town of Mohács, in the south near the border with Croatia, where the annual Busójárás is held to "chase winter away". The local version of the Catholic pre-Lenten Farsang (carnival) – which a few years ago was added to the list of UNESCO Intangible Cultural Heritage of Humanity – to features surreal male characters called Busós in traditional furry costumes and frightening masks who take the town over by drinking and dancing to folk music – according to an alternate (and more likely) explanation, they stand for resistance figures who drove the Ottoman Turks out of town in the 17th century. They're at their rowdiest in the procession on Farsang Sunday, and the festival closes with the Burial of Farsang, when a huge straw figure is burned in the Mohács' main square.
More seasonal info about Hungary here.