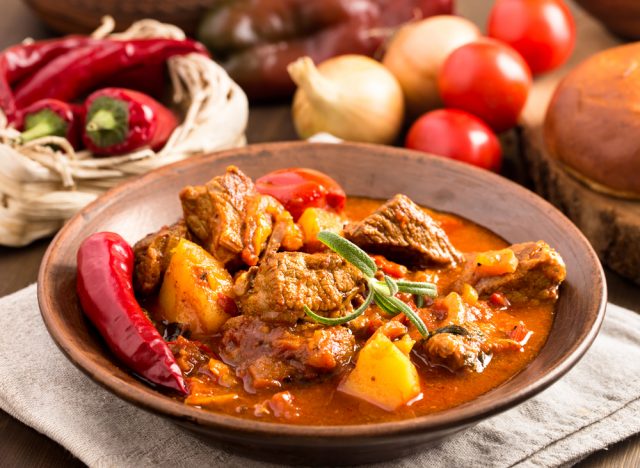 I honestly cannot understand why the cuisine of Hungary isn't better known abroad. Its rich, intensely savoury palate has been influenced by myriad influences, from Germany, Austria, and elsewhere in Central Europe, to the Balkans, to even Turkey, dating from the Ottoman occupation of this country in the 16th and 17th centuries. So here's an introduction to Hungarian heartiness that just might whet your appetite for a visit!
Yes, Goulash Is King
If there's one dish which has traveled well beyond this country's borders, it's gulyásleves (goulash soup, top), a stew based on meat –  often beef, but can also be veal, pork, or lamb. Added to the mix are vegetables such as onions, peppers, potatoes, and tomatoes, sometimes a splash of wine or wine vinegar as well as egg noodles. Also key are a handful of spices – sometimes garlic and caraway seeds but always paprika, derived from dried red peppers. With their characteristic reddish hue, there are thicker and waterier versions, as well as more or less spicy, and all are usually served as a main dish – sometimes family style in a big dish from which diners ladle the savoury, steaming mixture onto their plates.
Beyond goulash, thanks to its bracing climate most of the year, many of Hungary's most characteristic dishes tend to be dense, hearty soups. One excellent example is halászlé, a bright red fisherman's soup which is one of Europe's spiciest dishes; in addition to carp or mixed river fish, veggies also include onion, peppers, and copious paprika. Another is Jókai bableves, named for a distinguished 19th-century novelist, playwright and newspaper editor, Mor Jókai.  Based on pinto beans, it also involves pork, onions, garlic, carrots, celery, sour cream, and often spicy Debrecener sausage. For the warmer months, meggyleves is cold sour-cherry soup, mildly sweet (no sugar added) and including fresh or sour cream and sometimes cinammon and cloves.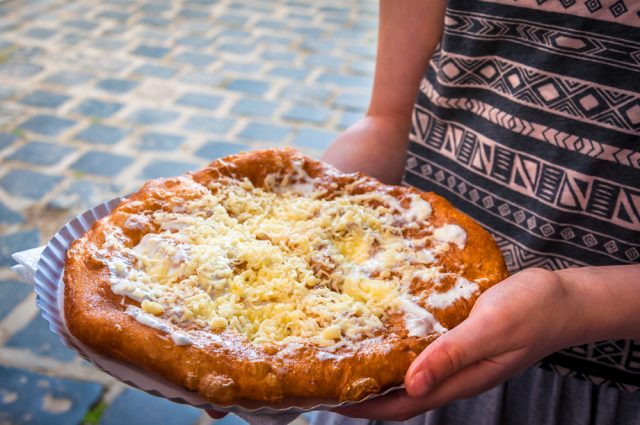 Obviously, many are the restaurants to enjoy these and other delicacies throughout Budapest and other Hungarian cities and towns, but you can also do so at some of the public markets you'll come across, most notably the 121-year-old Great Market Hall, at the end of Budapest's grand shopping boulevard Váci Utca. The ground floor is packed with stalls hawking meat/sausages, fish, produce, paprika and many other spices, and handicrafts, while the upper floor is devoted to eateries where locals and visitors sit side by side to enjoy both the dishes I've described above and "street food" such as lángos (above), a frybread commonly topped with grated cheese, sour cream, bacon, onion, and parsley, but also sometimes in sweet versions with jam or powdered sugar. Speaking of sweets, you'll also want to try kürtöskalács, a tubular pastry dusted with sugar and/or cinnamon.
Finally, continuing in the sweet vein, there's also no shortage of happy endings to a Hungarian meal. Perfect examples include mákos rétes, strudel stuffed with sweet poppy-seed (and sometimes sour-cherry) filling, and palacsinta, delicate crêpes stuffed with fruit jam and dusted with powdered sugar. But my own decadent favourite is Dobos Torte (named after the pastry chef who invented it in 1885), a sponge cake with fine layers of chocolate buttercream and topped with with caramel. To sample all these treats and more, in Budapest I'd recommend a pair of historic cafés: grand Gerbeaud (dating back to 1858) on Pest's Vörösmarty Square, and across the Danube River up in the Buda castle district, the even more historic Ruszwurm (est. 1827). The charming vintage atmosphere of both is perfect for enjoying these exquisite flavours.
Did any of that make you Hungary – I mean hungry?  Book a flight to this remarkable country, and jó étvágyat (bon appétit)!