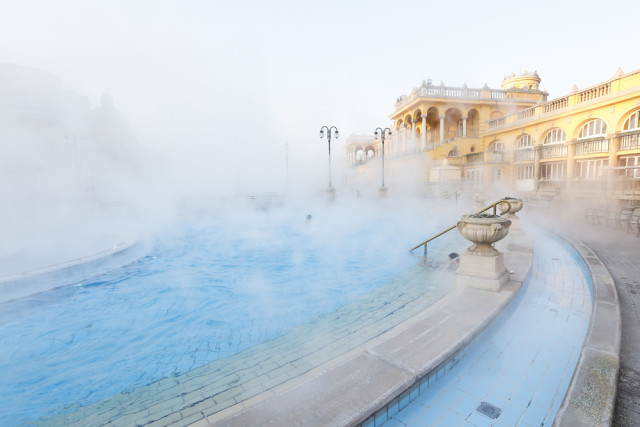 One of my very favorite things to do in Budapest when I spent some time there a few years ago was to spend a nice, soothing afternoon at a wonderful old fürdő (bath house). In the day and age of the elaborate luxury spa, old-fashioned bath houses are no longer exactly common outside the Arab world – especially in large cities. 
Ancient Yet Popular Baths of Budapest
But here in the capital of Hungary, the oldies are still goodies – and encouragingly for the future, have even developed a certain following among the young, and the reason has to do with an abundance of caves and geothermal springs beneath the city.
Some of these baths date back more than 500 years, to a time when Hungary was a part of Europe that was occupied by Ottoman Turks. If you've been to Istanbul, you might've noticed bath houses all over town, some quite breathtakingly beautiful. The handful still in operation in Budapest are pretty special, too. The most famous is one at the very popular Gellért Hotel (top), built in 1918 in a gracious Art Nouveau style.
But my favorites are the ones that evoke that medieval Ottoman period, such as Rudas (above), built on at the foot of Géllert Hill on the Buda side of town in 1550 and last renovated in 2006. At its center there's an octagonal pool under a stone dome, perforated by a number of round holes through which daylight streams down, creating mesmerising interplays of light and shadow. Side pools offer water naturally heated to temperatures between 16° and a practically parboiling 42° Celsius (60°-108° Fahrendheit), and there are other areas for tub baths, massages, sauna, and so forth. Clad only in a linen loincloth, I'd lounge around these pools with a variety of other dudes ranging from young Japanese tourists to Hungarian grandpas (why dudes? Some days are segregated by sex, while on co-ed days you have to wear a swimsuit.).
This is a social as much as a bathing experience, and I actually made a couple of good pals at Rudas that summer, a Hungarian chap named Atila (yes, as in the Hun – very common name here), as well as Stasys from Lithuania. So whether it's at Rudas, Gellért, or other historic bath houses such as Király, Lukacs, and Szechenyi. It's a memory likely to soak into your very soul.
More informati0n: BudapestInfo.hu.
Best Iberia fares to Budapest from the USA, from Spain.