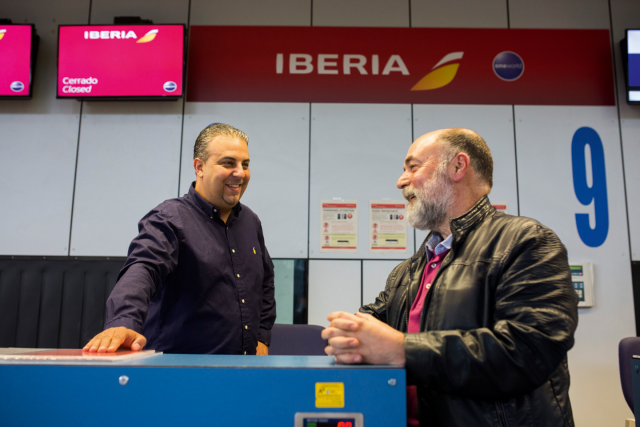 As you might expect, being an airline's airport station manager is a busy, complex job indeed, overseeing ground operations including ticketing, check-in, baggage, cargo services, and gate operations. And Iberia has been proud to have some of the world's best, such as David Martínez (top left) and Avelino Gallardo (right), past and present managers of our operations at A Coruña Airport in the northwestern Spanish region of Galicia.
And as part of Iberia's 90th-anniversary series of Ronda magazine conversations with employees past and present from various parts of the company, we asked Avelino, Coruña station chief for 14 years, as well as serving in Santiago de Compostela, Almería, and Tel Aviv, to reflect on his career along with his successor David (whom he actually trained).
As he did David, Avelino has trained many other Iberia airport operations personnel, not just in Spain but elsewhere in Europe, the USA, and Latin America. And he says it's a job he has found it extremely rewarding – and finally retired with the sense of a job well done. For his part, David started with us in 1999 as a university student in León, and in the years since has found the work similarly rewarding.
Learn more about these two gentlemen and what station managers do here – you'll find it an eye-opener!