Here at Iberia, we're very well acquainted with Spain's next door neighbour – indeed, we go back a long way together, to our very early years when in 1939 Lisbon became our first international route. More than eight decades later, Portugal remains well served by daily flights – most quite short and affordable – which let our passengers explore the beaches, history, culture, and other riches of the fascinating nation with which we share our Iberian Peninsula. Here's a quick rundown of Iberia's five Portuguese gateways; we heartily encourage you to visit them all!
Spread across seven hills, the national capital is a romantic mix of old and new, traditional and hip, with major districts starting with the medieval Alfama, whose steep cobbled streets are crowned by the spectacular Castle of São Jorge. On another hill is the 16th-century Bairro Alto, Lisbon's first "planned" neighbourhood and for some years now a hotbed of partying and alternative scenes. Down below, La Baixa is the heart of Lisbon, with neoclassical architecture dating largely from the 18th century, and home to some of the city's most distinctive landmarks/sights as well as commercial activity. Out on the Tagus River waterfront, Belém is notable for its two UNESCO World Heritage Sites, the 16th-century Belém Tower and 15th-century Jerônimos Monastery, as well as the nearby 20th-century Monument to the Discoverers. A little farther afield, the hypermodern Parque das Nações (Park of the Nations) was the site of the 1998 World's Fair, and was subsequently redeveloped into a district full of futuristic architecture as well as plenty of shops, dining, nightlife, hotels, and attractions such as one of the world's biggest aquariums.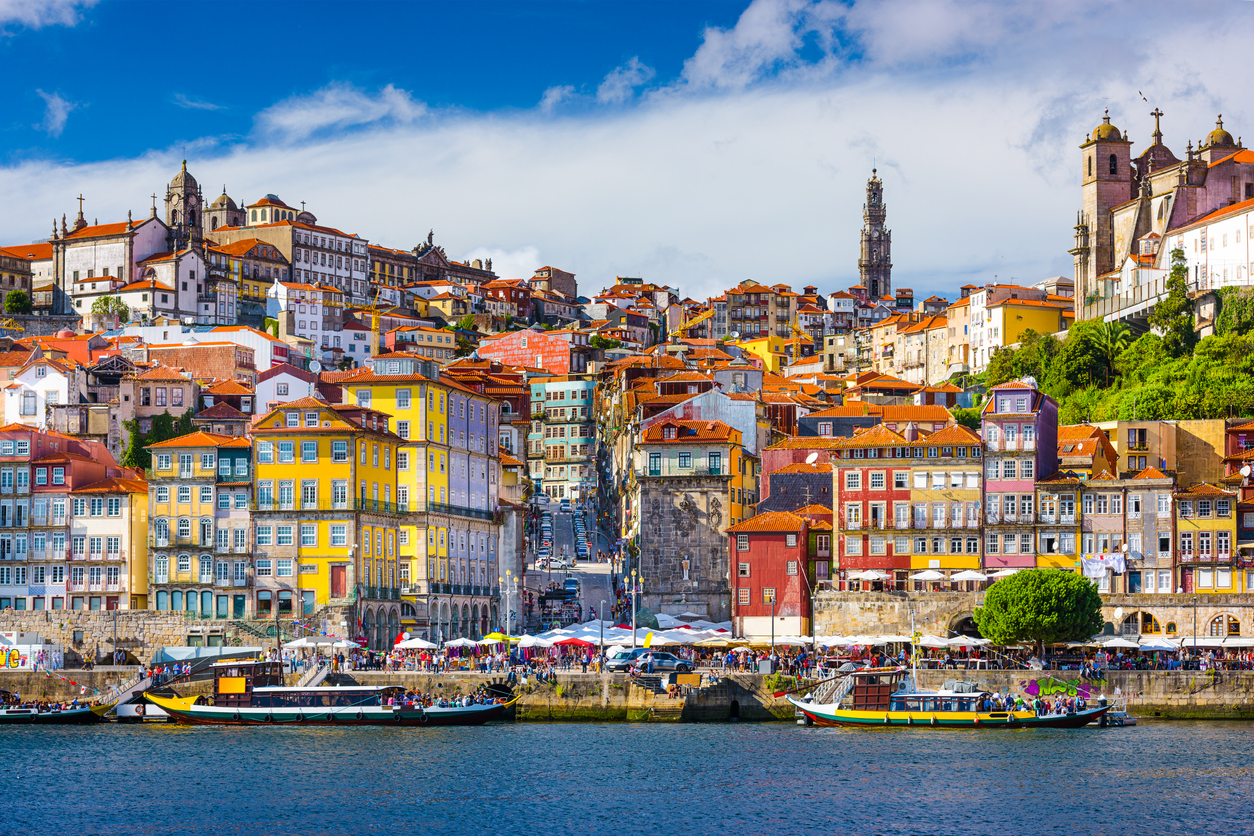 In the north of the country with a dramatic hillside setting at the mouth of the Douro River, Portugal's second largest city is also its wine capital (centre of the port wine trade and gateway to the lovely Douro Valley wine region). Considered down to earth and possessed of a laid back charm with a bit of an edge to it, Porto has a history stretching back to Roman times. Its historic centre Ribeira is itself another UNESCO World Heritage Site thanks to landmarks like the 12th-century Sé (cathedral), 15th-century Church of Santa Clara, and opulent 19th-century Palácio da Bolsa (stock exchange). You can visit and enjoy tastings at the port wine houses, and there are excellent beaches nearby. In addition to wine, Porto built its fortunes on shipbuilding and maritime trade, and it shows in the impressive historic architecture. Yet there's a cool modern side to the city, as well, exemplified by the minimalist Museu de Arte Contemporânea and the daring Casa da Música concert hall, designed by Dutch starchitect Rem Koolhaas. A heady mix indeed!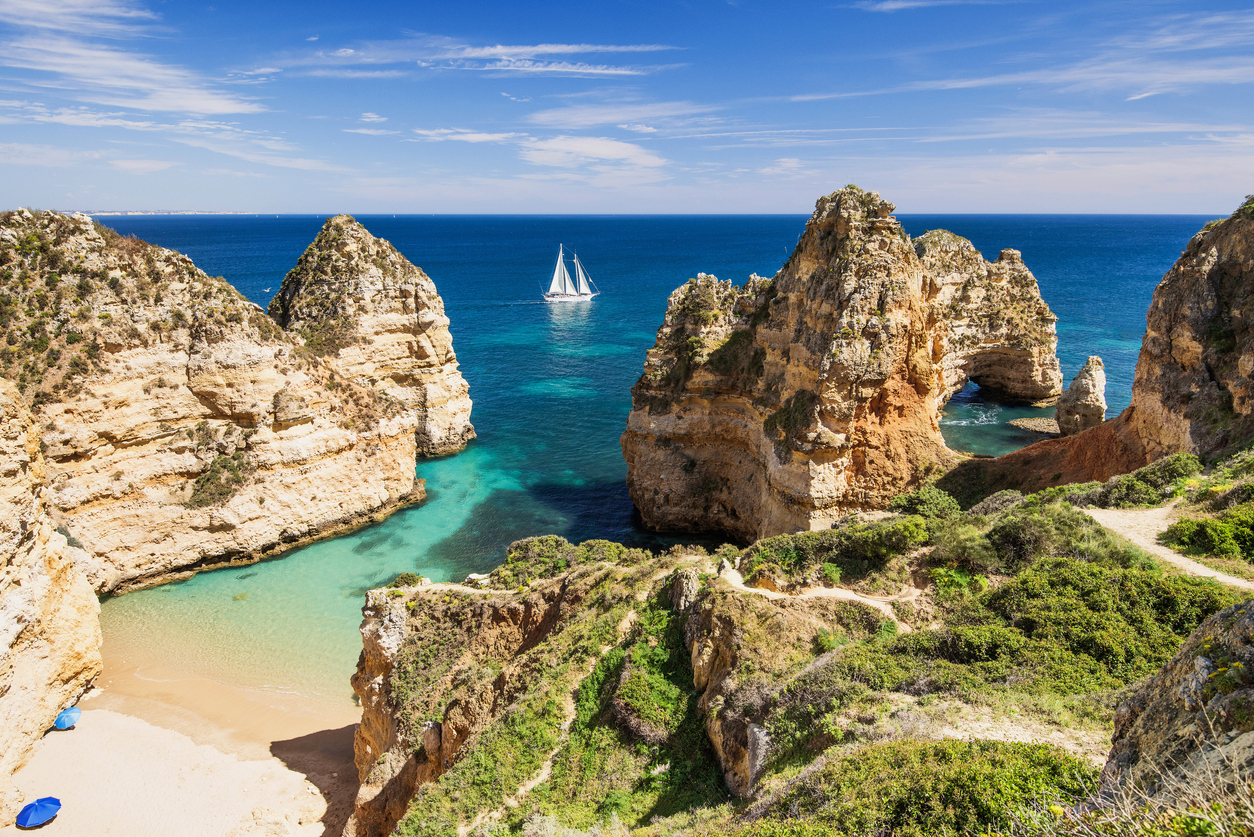 Portugal's single biggest tourism draw is the remarkable Atlantic Ocean beaches and resort scenes that have sprung up all along its southern and southeastern coasts, and to get here you'll fly into the Algarve's capital. Faro has its own cool local beaches which bring summertime crowds and a party atmosphere, but its Cidade Velha (historic core) also offers some great atmosphere and culture, including the 13th-century cathedral; a city museum including Roman artifacts from the nearby ruins of a villa called Milreu (which can also be visited 10 km/seven mi. out of town); even a Jewish museum and cemetery. There are also several other attractions including a science and maritime museum, and great golf courses and ecotourism options nearby (as well as along this entire coast).
As for the rest of the Algarve, fishing villages turned resort towns abound and boom every summer (though expat communities keep them active at other times of year as well), such as Albufeira, Lagoa, Lagos, Portimão, and Sagres, with beach scenes ranging from buzzy and wall-to-wall to laid back and nearly pristine. And it's not just the coast – the inland Algarve is where the rhythms of life are closer to the traditional past in pretty little towns like Loulé, Monchique, Silves, and Tavira. Some of the highlights up here can be done as day trips from the coastal resorts, or you could take an overnight or two and explore more at length.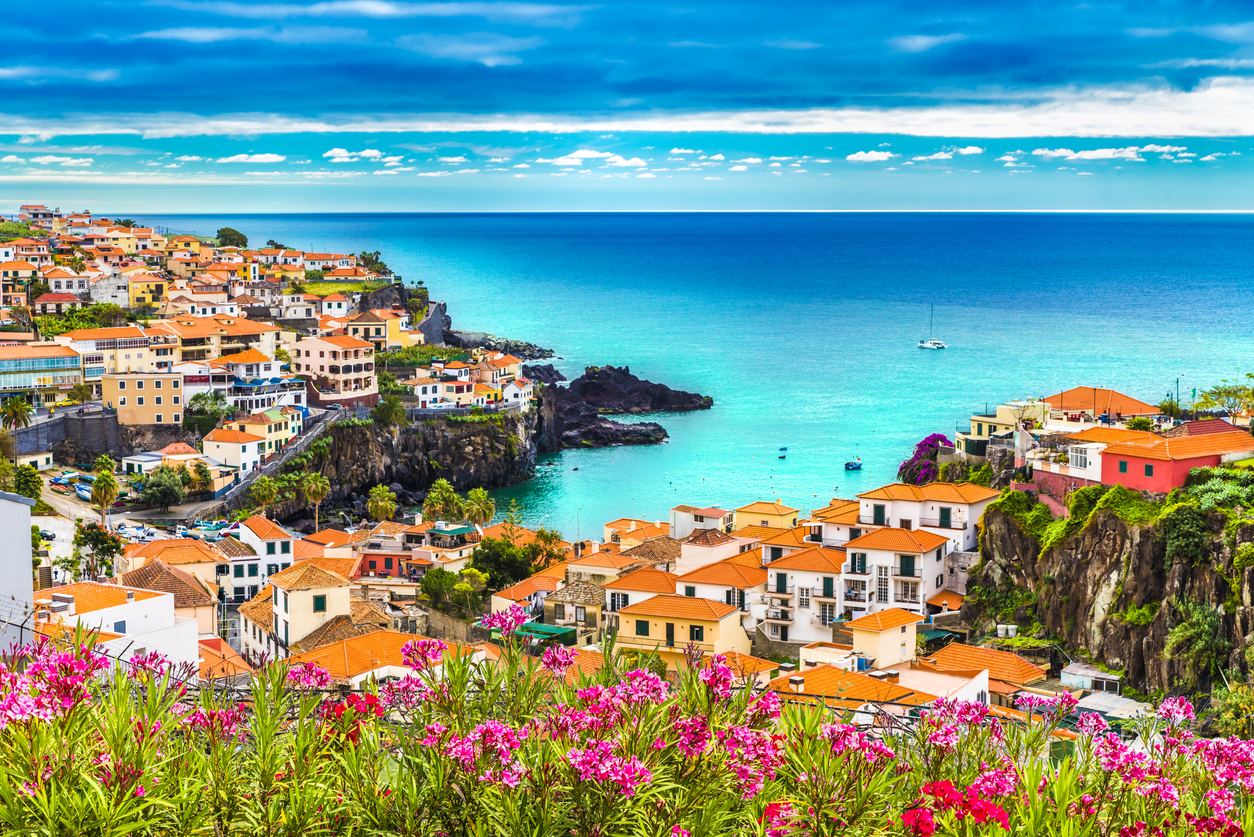 This three-island Atlantic archipelago just over a thousand kilometres (some 670 miles) southeast of mainland Portugal offers a a balmy,  subtropical climate (averaging 25º Celsius/77º Fahrenheit in summertime and 17ºC/63ºF in winter); dramatic, craggy landscapes that are among Europe's loveliest; charming villages; vineyards producing the famous fortified wine of the same name; dreamy beaches; and exuberant nature (most notably a swath of 150 square km (58 sq. mi.) of laurisilva (laurel) forest – around 20 percent of its territory – which has been declared a UNESCO World Heritage Site because it's one of the last remnants of Europe's ancient primeval forests. It's all an amazing backdrop for adventure and ecotourism (including hiking along another remarkable local feature, the irrigation channels known as levadas).
Meanwhile, capital Funchal has much of Madeira island's population and businesses and is a city with charming historic architecture; great restaurants; and landmarks such as the 16th-century Sé and the Fortaleza do Pico, a fort built in the 17th century to defend against pirates. And don't forget to head up to the highest point in town, Monte, where after checking out the view, the 18th-century church, and impressive tropical gardens, the best part is whooshing back down the hill along the steep streets in a wood-and-wicker "toboggan" guided by swift-footed locals. Whee!
Check Funchal/Madeira fares here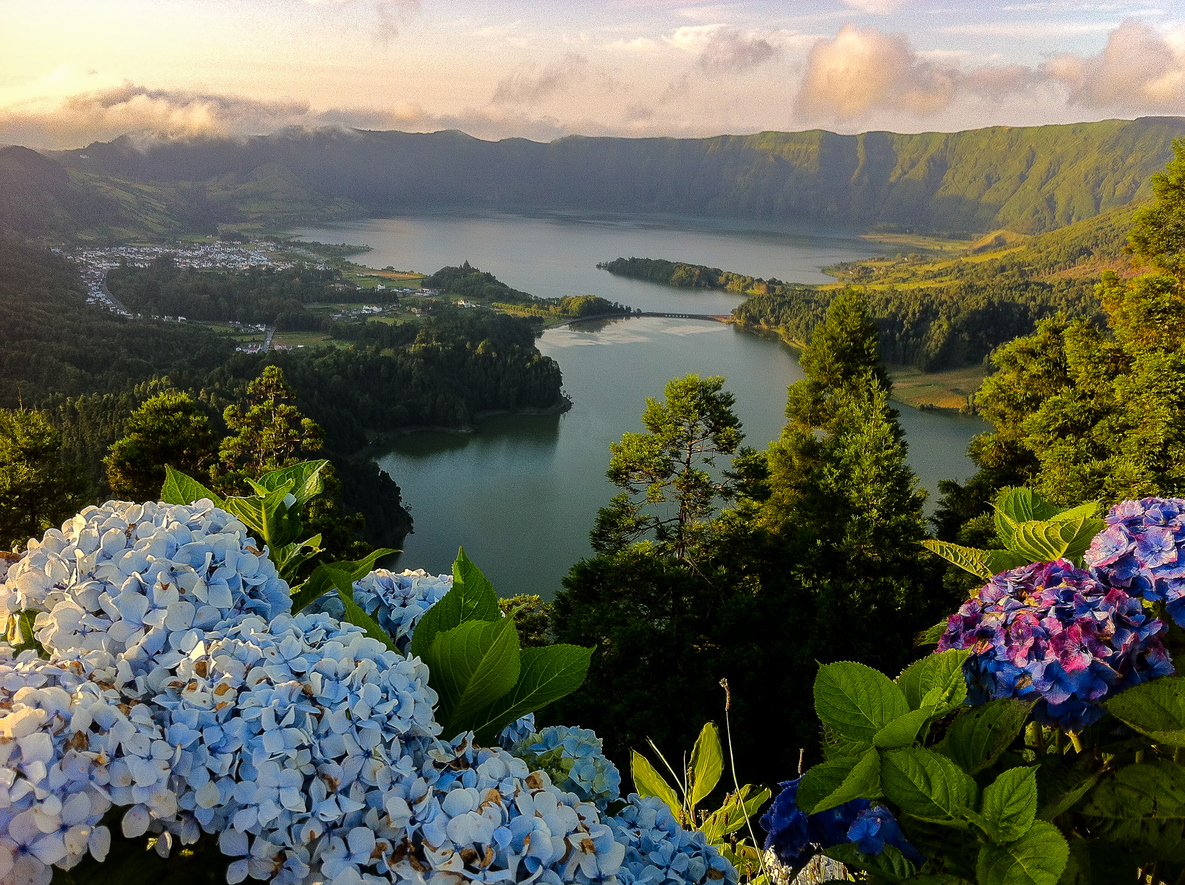 Just under a 1,000km (600 mi.) northwest of Madeira, this nine-island archipelago is Portugal's answer to Spain's Canary Islands. You fly into the capital Ponta Delgada, a charming town of whitewashed façades framed by dark volcanic stone with a number of interesting attractions. Then it's on to one or more of the lush Azores, beginning with main island São Miguel (above), home to a spectacular volcanic but verdant landscape including towering cliffs and ancient laurel forests – a truly splendid playground for nature and adventure lovers, with activities including hiking, biking, snorkelling/diving, paragliding, canyoning, as well as just sitting back and enjoying the thermal hot springs that are a part of the Azores' volcanic legacy. You'll find myriad other allures (some quite distinctive) on the eight other islands, Faial, Graciosa, Ilha de Corvo, Ilha de Flores, Ilha do Pico, Santa María, São Jorge, and Terceira (get the rundown on each here!).
Check Ponta Delgada/Azores fares here
Images Ι KavalenkavaVolha, SeanPavonePhoto, Poike, Balate Dorin, MrbluejeansPt