This vast country is of course packed with fascinating, often beautiful sights and experiences. But few are more lovely than this pocket of southernmost China, two hours 45 minutes by air or 90-minute bullet-train ride from Shanghai. This northern corner of the humid, subtropical Guanxi region is, in fact, where many Chinese go on their domestic holidays – so what is it that so attracts them? I found out on a recent visit, and I was so bowled over, it has me wanting to return as soon as possible.
Let me start out by introducing the city of Guilin itself. Astride the Li River, it's fairly small by Chinese standards – a bit under 5 million people – and traces its origins to a 4th-century BC settlement. Today there's not all that much left that's truly old in this bustling, sprawling urb, but exceptions include the 14th-century walled Jingjiang Princes' City, dating back to the Ming Dynasty. These days it's occupied by the regional university, but visitors can still wander among its 20 hectares (49 acres), including dozens of traditional temples, pavillions, gates, and other structures, along with an outcropping which provides a scenic view over the city and distinctive surrounding karst hills. Right nearby, part of the mediaeval old quarter (below) has been restored and in many cases reconstructed, offering an atmospheric place for both locals and tourists to go shopping, dining, and drinking.
The other most charming thing to do in Guilin city is stroll along the Li riverfront promenade, past locals doing tai chi, stopping to take pictures across the water of the towering Sun and Moon Pagodas (above) and having a wander through a riverside park whose highlight is a view of Elephant Trunk Hill, a hill whose natural arch (reminding many of an elephant's trunk) has become a symbol of the city.
There are a couple of museums here, as well, if you're interested. The Guilin Art Museum on Longchuanping Road showcases artists from the region and the rest of China, while the Guilin Museum in West Hill Park (in the west of the city, with a lake, temples and hundreds of Buddhist statues, as well as a cave-ridden hill) displays some 20,000 artifacts illustrating the history, archaeology, and ethnography of the area.
Right outside the city, you should also not miss the Reed Flute Cave, full of impressive limestone stalactites, stalagmites, and other formations, many of them lit in various colours, and visitable on your own or by tour. Nearby you'll also find the Li River Folk Customs Center, which exhibits folk art, handicrafts, architecture, food and culture of various local ethnic groups, as well as staging folk music and dance shows (it's currently closed for renovation, however).
But what truly makes Guilin and the surrounding area stand out most of all in China is the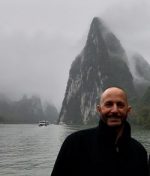 unique landscape. The limestone karst hills – the enchantingly jagged landscape I alluded to above – are pointier than most I've seen elsewhere in the world, and they're are best appreciated by taking a cruise on the Li River. The indoor-outdoor cruise ships meander through this majestic scenery (top) for some four hours – you'll recognize it immediately from any number of traditional-style Chinese paintings you may have seen (both vintage and modern, like the one above) – and the time is up before you know it. The boats leave you at the small city of Yangshuo, from which you can also visit ancient nearby villages such as Xingping, Liugong, and Cuiping (another Guanxi town well worth a visit, by the way, is thousand-year-old Daxu, three to four hours southeast of Guilin).
Another quite distinctive feature of this city is that it's home to a number of China's 56 recognised ethnic minorities (as opposed to the majority Han Chinese). The largest is the Zhuang (above), but others include Dong, Hui, Miao, and Yao, each with their own languages and customs (the Zhuang, for example, is part of a linguistic family that includes Thai and Lao). In everyday contemporary garb, you won't notice them standing out among the local population, but there are various venues besides the aforementioned Li River Folk Customs Centre to watch folkloric performances in costume, such as Jingjiang Princes' City and others (ask at your hotel what's on while you're in town).
This ethnic heritage is otherwise most noticeably reflected in the local cuisine, which has similarities to Cantonese but is also distinctive on several fronts, with influences from the local Zhuang people. Especially notable local foods include chili sauce with garlic and fermented soybeans; pickled tofu, a type of potent rice baijiu (liquor), delicate rice noodles (especially made with horsemeat, but you can get them with other kinds of meat, as well), and dumplings made from rice and mung bean paste. Sadly, by the way, dog meat is also common around here (I spotted butchered carcasses along with a couple of live ones being sold for meat in the Yangshuo market). If you're interested, several local tour operators run food tours specializing in Guanxi cuisine.
There's plenty more to see and do in Guilin and the surrounding area, For more information, check out VisitGuilin.
https://youtu.be/cvUTLK1gEHQ