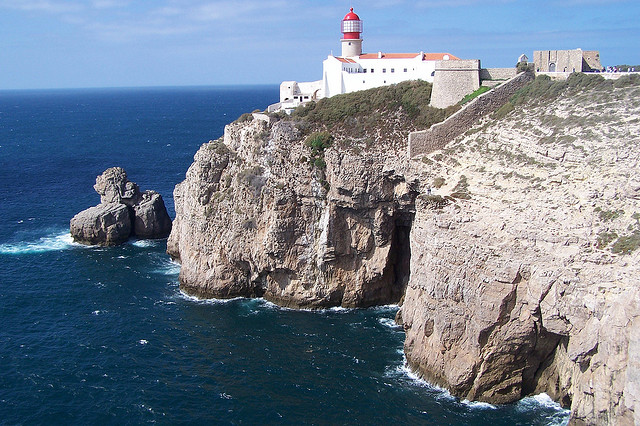 photo | enversevilla
As we pointed out in our survey of Portugal's Algarve region recently, this sweet, 200-kilometre (167-mile) stretch of Atlantic Ocean coastline is packed with all manner of amazing beaches, from buzzing to nearly deserted. And Cape St. Vincent, out at the region's (and country's – indeed, all of Europe's) southwesternmost tip, is a fabulous example of the latter.
The sands out here are soft, powdery, and delightfully uncrowded – no sign of the mass tourism fairly common elsewhere along the Algarve coast. The nearest town is Sagres (below), with around just 2,000 inhabitants but important in world history, for it was here that Prince Henry the Navigator founded his famous school of sailoring in the 15th century, which helped fuel Portugal's campaign of exploration and colonisation in Africa, the Americas, and Asia.
Out here, Nature makes its presence strongly felt, with colours mixing from the vegetation, the Atlantic, and the variegated cliffs.  As surfers scale the waves, the winds blow as if across the end of the world.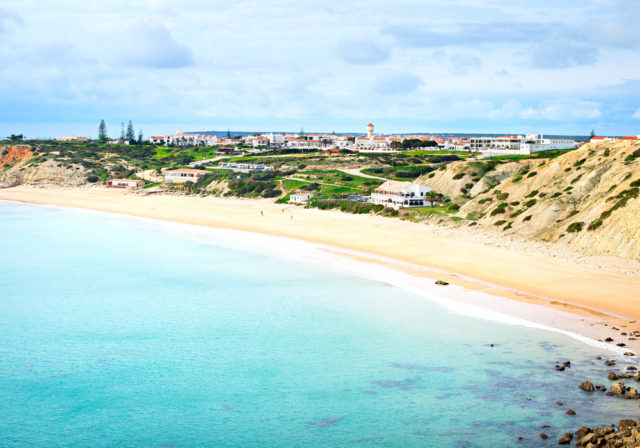 Perhaps the best way to get to know this impressive little corner of Portugal is by bicycle. Along the way you'll pass verdant pine groves; clifftops offering spectacular views out over the wild Atlantic; and lovely little hideaway coves and beaches such as Engrina, Rebolinhos, Martinhal, Tonel, and Beliche (this last also the site of an impressive fortress, seemingly teetering on the edge of one of these great cliffs).
A bit farther west is where you'll find the cape itself (top), with its recently renovated lighthouse, where young people especially like to come and hang out to watch the sun set – a show so spectacular it often inspires literal applause.
This area is also aces for seafood, as you would expect. One of the most typical local dishes – available in any eatery in Sagres or along this bit of coast –  is cataplana, with seafood or sometimes beef cooked in a copper or aluminum contraption that looks a bit like a clamshell wok. And one very recommendable resort near town is Martinhal Sagres Beach Family Resort Hotel, with various eateries, a gym, heated pools, and a splendid spa that will leave you feeling like new.
More information in English: VisitaAlgarve.pt.
Best fares to Lisbon from the USA, from Spain.