Lisbon and the rest of Portugal are definitely romantic, but none more than its second largest city, Porto, up north at the mouth of the Douro River. And amongst its bridges and landmarks; its characteristic Portuguese azulejos (tiles); its colourful, flower-bedecked balconies; and the narrow streets of its UNESCO World Heritage old quarter you'll discover the true essence of this venerable and very atmospheric city.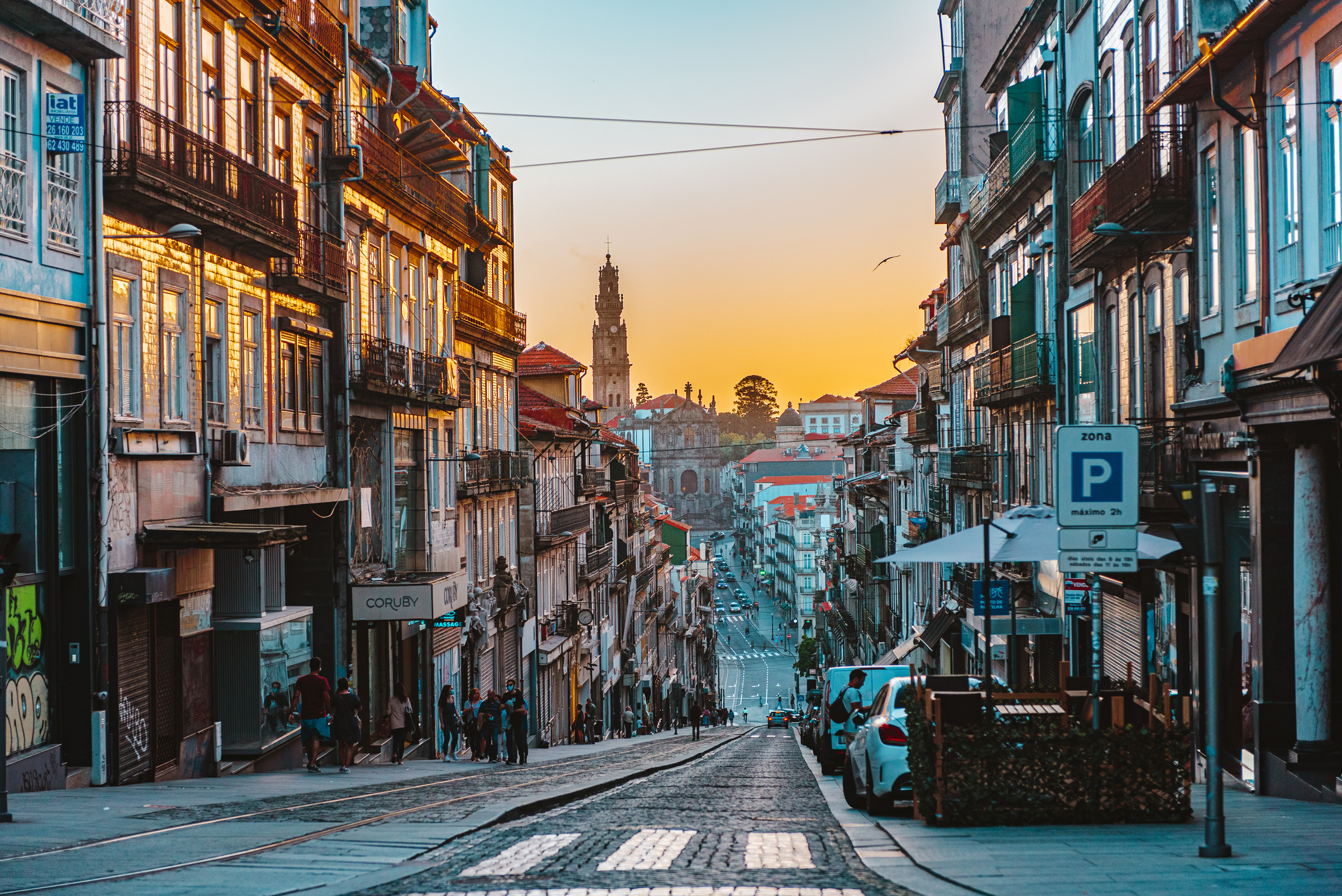 Top Spots Not to Miss

A really good place to start is the city's main train station, São Bento – widely considered Portugal's most beautiful; completed in 1903, its neo-Renaissance façade is particularly notable for featuring more than 20,000 azulejos depicting key moment's in the country's history. Just a two-minute stroll down the street, the city cathedral, the Se do Porto, was built mostly in the 12th and 13th centuries and stylistically a mix of Romanesque and Gothic, with some Baroque elements added in later years; from here you can also get a panoramic view over the city and Douro River.
Continue on from here another several minutes down to the riverside Praça Ribeira. One of the city's oldest squares, much of its architecture remodelled in the 18th century, the hub of Porto's historic centre is surrounded by façades painted in yellow, red, or white, or blue azulejos. The many cafés here mean the square is usually buzzing both day and night. From here you can also get a good eyeful of the Luíz I Bridge, built in 1886 to connect Porto with Vila Nova de Gaia, home to many of the region's port wine houses, and board the 50-minute boat excursion Cruzeiro das Seis Pontes (Six-Bridge Cruise), referring to this and the five other bridges spanning the Douro, and covering much of the historic quarter from the perspective of the river. 

For an excellent land-based tour, hop on tram no. 1 – a vintage 1930s affairs – from Praça Ribeira along the Douro to the Foz district, where the river actually meets the Atlantic. Have a look at the low-slung 16th-century fort of São João Baptista da Foz and a stroll along some of the five-kilometre (three-mile) length of its high street, Avenida da Boavista, home to a pair of Porto's top contemporary cultural landmarks, the Rem Koolhaas-designed Casa da Música concert hall (tours available) and the nearby Fundação Serralves complex, home to a contemporary art museum; the Art Deco Casa de Serralves (housing a collection of Joan Miró); a cinema centre screening vintage and art films; and beautifully landscaped gardens full of fountains and sculptures.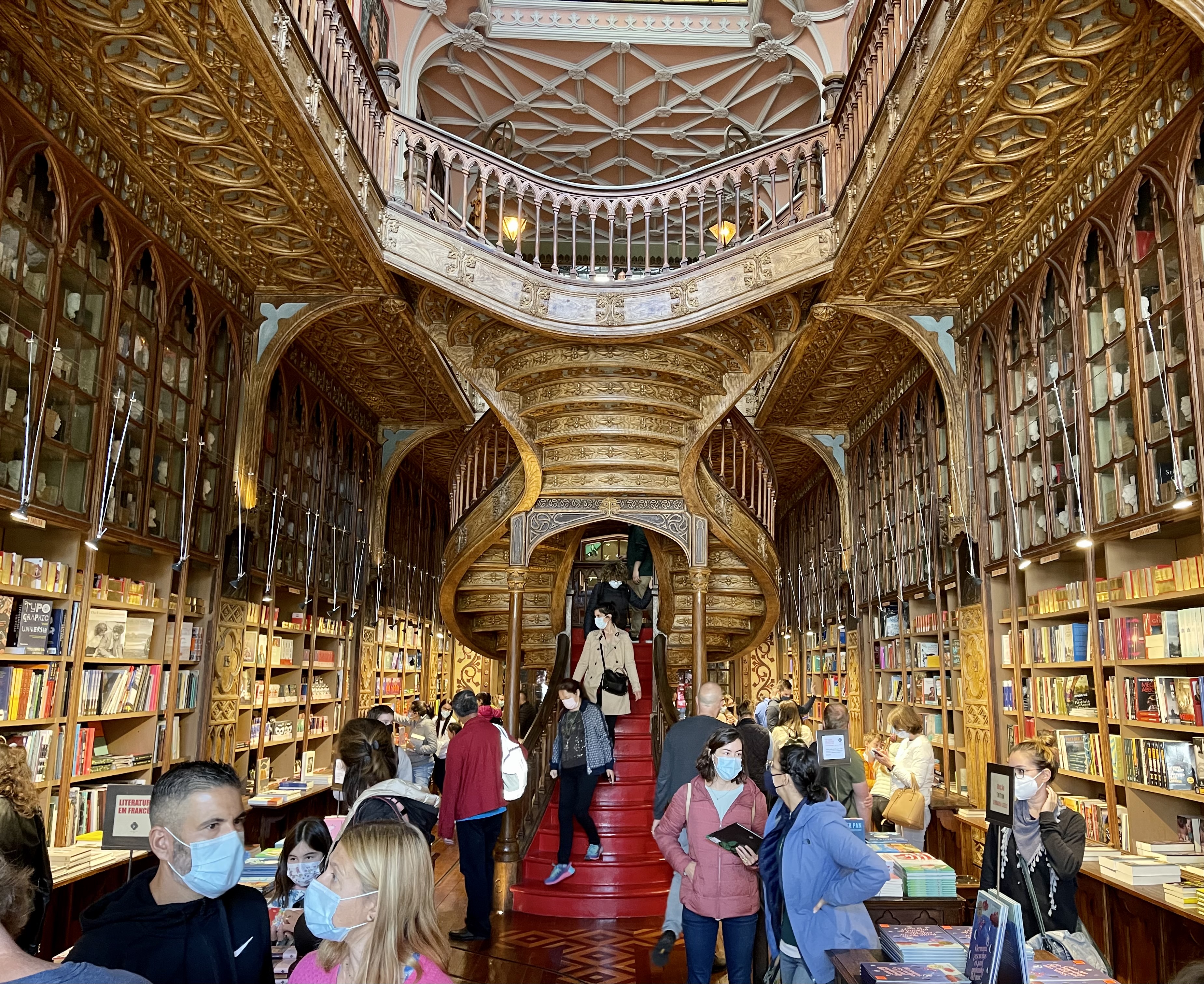 Other landmarks worth a look include, of course, churches, headed by the Sé cathedral high above the old quarter – it's actually quite modest for a major metropolitcan cathedral, but has an interesting cloister lined with blue azulejos. A trio of thers of note: 18th-century Igreja dos Clérigos (Church of the Brotherhood of the Clerics), with a distinctive tower whose 225 steps can be climbed for a spectacular view over the city; the 17th-century Igreja dos Grilos (Church of the Crickets), one of Portugal's earliest Baroque buildings; and the 14th-century Gothic Igreja de São Francisco (Church of St. Francis), whose sobre façade masks a later Baroque interior that's positively riotous with gilded woodwork.
Another don't-miss is a book shop – very near the Igreja dos Clérigos – that is considered among the world's most beautiful. Founded in 1881, the two-storey Livraria Lello (above) is reknowned for its fine woodwork, elaborate skylight, and most especially its dramatic forked staircase; the story arose that J.K. Rowling – who once lived in Porto and was married to a Portuguese bloke here – may have used Lello as an inspiration for her Harry Potter bookseller Flourish and Blotts. Be that as it may, it's extremely popular with visitors, and wait times can exceed one hour even if you pay the five-euro entry fee (if you pay 15€ for priority entry, though you get right in, and for that they'll even toss in a book in English).
Museum aficionados, meanwhile, beyond the Serralves Foundation may want to carve out time for the Museu Nacional Soares dos Reis – the country's oldest, founded in 1847 in the 18th-century neoclassical Carrancas Palace – with a fine collection of paintings, sculpture, prints, antiques, ceramics, and glassware. Another interesting spot is the Museu do Carro Elétrico, housed in a onetime power station on the riverfront a bit west of the historic centre, where you can see a number of vintage trams (the oldest dating back to 1872) and get a ticket to ride on one of several still plying Porto's streets – including one that passes right out front).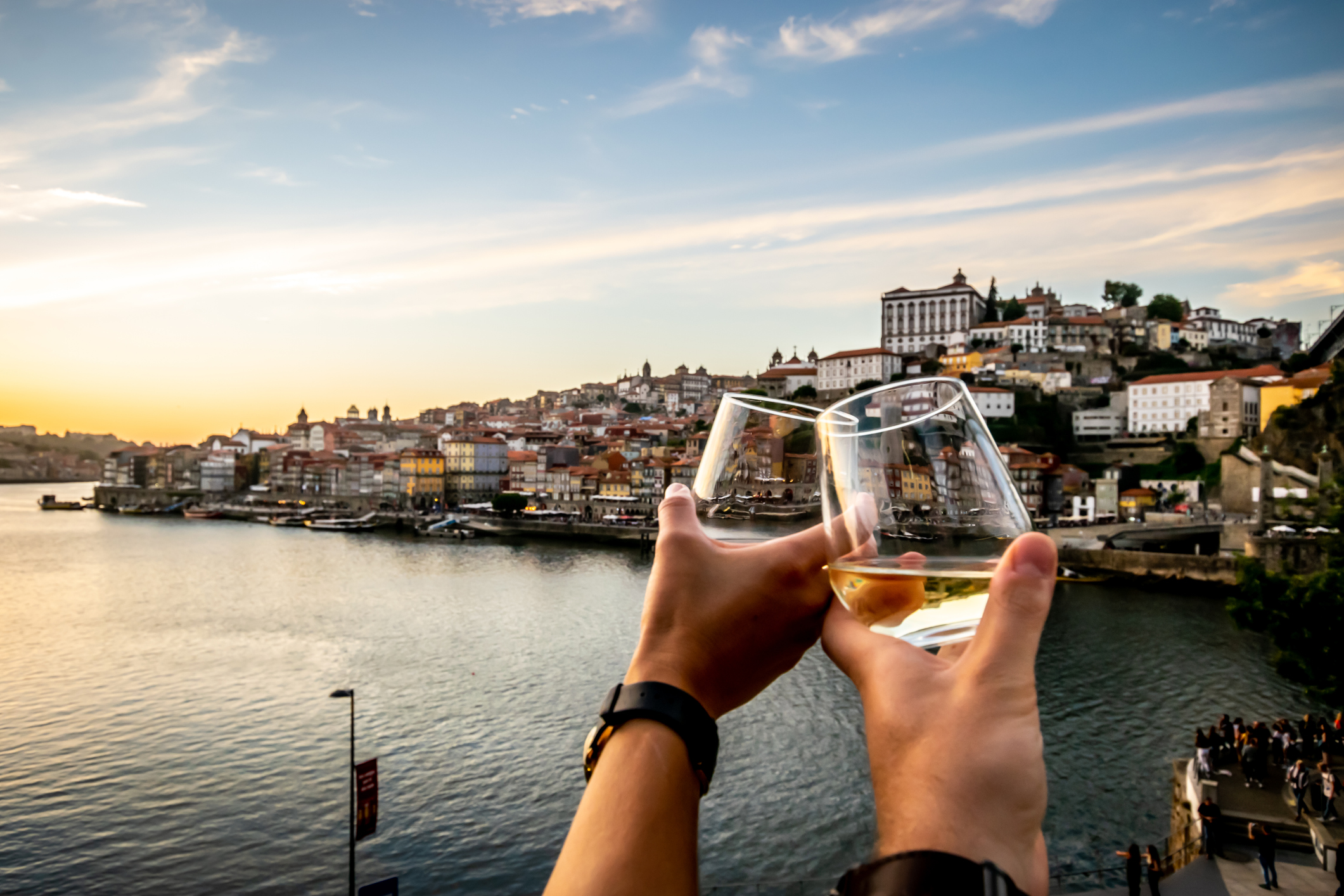 Raise a Glass of Port Wine
You definitely not want to leave town without crossing the Dom Luís I Bridge to the aforementioned Vila Nova de Gaia, home to more than a dozen caves  (lodges) producing fortified port wine, with top choices for tours and tastings including Graham's, Sandeman, Taylor´s, and Wiese & Krohn. You can get down to them from the bridge via the Teleférico de Gaia cable car, and down here also don't miss a chance to raise a class of the stuff and have a bite to go along with it – especially around sunset – against a panoramic backdrop at one of the outdoor cafés lining the riverside promenade (one particularly good choice being Mi Porto Cruz).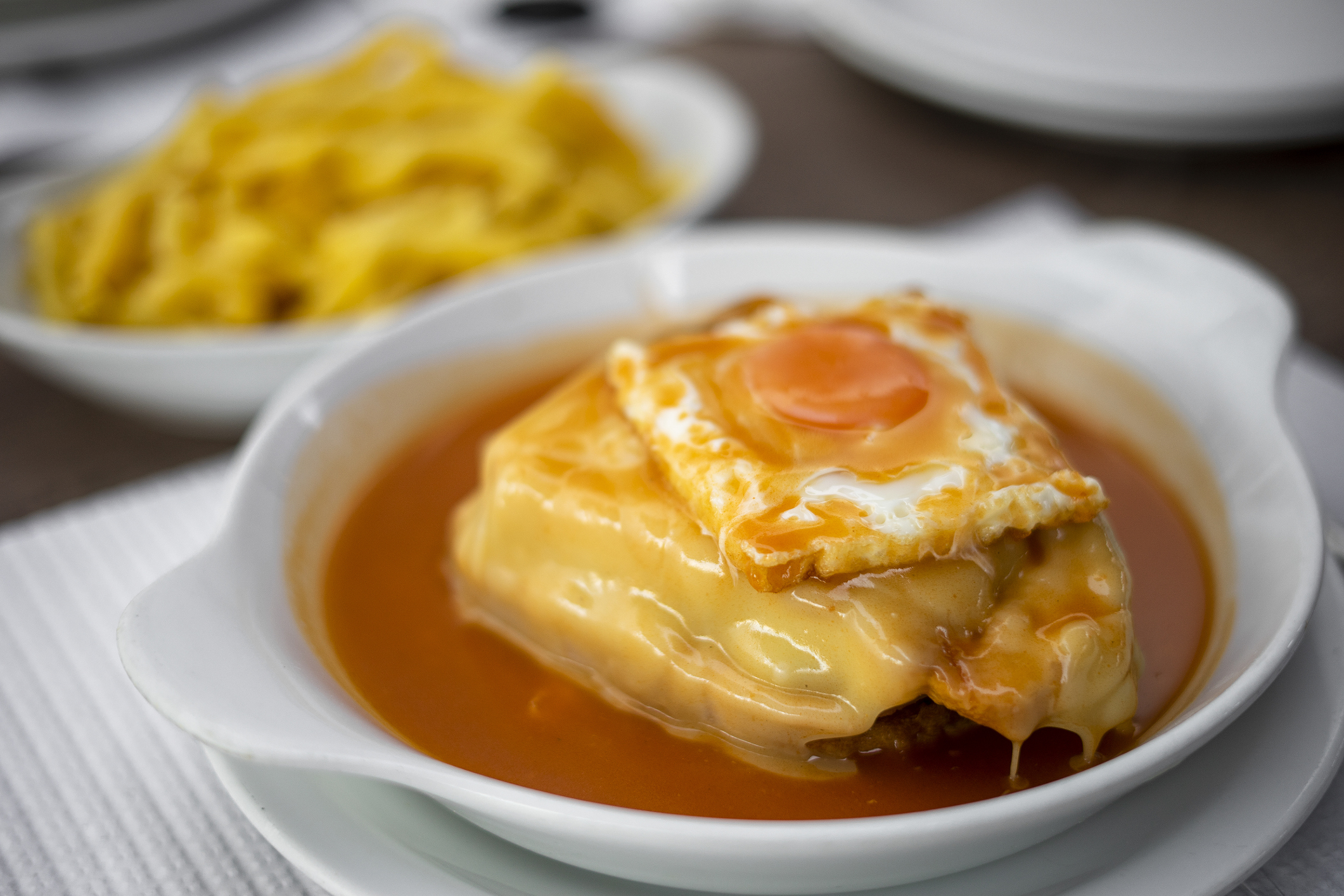 Peckish in Porto
This is also a city known for its excellent eating, with myriad restaurants to choose from – many specialising in fresh seafood and shellish (top dishes would have to be grilled sardines and the cod fritters pastéis de bacalhau), with sweet standouts including pastéis de nata (custard tarts) and jesuitas (puff pastry coated in egg custard and topped with meringue). And don't leave without at least once sampling the local speciality par excellence, a glorious sandwich called the francesinha (above), which is essentially a more elaborate Portuguese take on the French croque monsieur. It involves thick slices of bread loaded with sliced ham, linguiça cured sausage), and steak or roast beef, all drenched in melted cheese and a special tomato-and-beer sauce, then crowned with a fried egg on top and served with french fries – a symphony of gooey goodness you won't soon forget!
All sound enticing? Book a flight to Porto and get ready for a fine romance on the Douro!
And for more info: VisitPortugal.com.