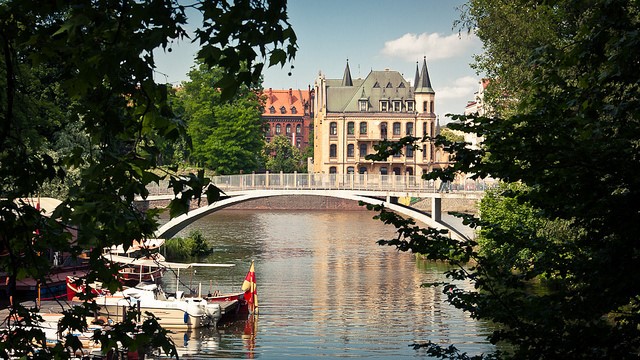 Wroclaw is one of those European cities with a strategic geographical position that gives it a priceless extra. Located a four-hour drive from capital Warsaw as well as 180 kilometres from Prague, 150 km from Dresden, Germany, the city was an object of desire by various European powers throughout the centuries, changing hands between the Germans, Czechs, Hungarians, Poles, and Austrians. Today Wroclaw is the capital of Poland's Lower Silesia, and a truly lovely place to visit.
Its physical appearance is surprising. Like Venice and other aquatic cities, it's located on 12 islands joined to one another by 112 bridges crossing the Oder River. Countless gardens bring nature nature front and centre, but that's far from its only attraction. All those occupations and invasions have left Wroclaw with a rich cultural, historical, and architectural legacy (of the latter, with Gothic and Renaissance styles the real kings of the castle). One of the city's must-visits is the magical and bustling Rynek we Wrocławiu (Market Square), among other things a lively meeting place for the thousands of students who study here.
Wroclaw's plan as a 2016 European Capital of Culture revolves around the slogan "Spaces for Beauty", and its objective is to proclaim the increased human desire to live harmoniously together with works of art and culture. A butterfly symbolizes this desire, and is also the Wroclaw's logo for the occasion. When you think about it, the symbol totally fits the bill, embodying the idea of metamorphosis. For it certainly does seem like times of change and metamorphosis are more relevant than ever in this Europe of ours today.
More information: www.Wroclaw.pl.
photo | Esteban Sanín Ángel