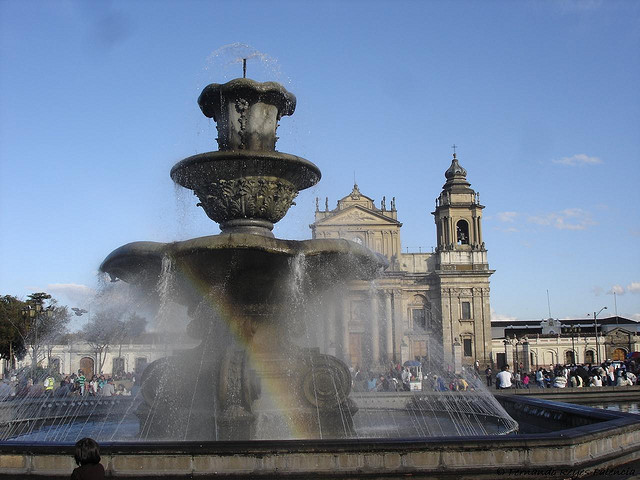 I confess, I do especially love Guatemala. In many ways, it's the country of Central America which more than any other truly "has it all". That includes breathtaking Mayan archaeological sites (Exhibit A: Tikal), lovely Spanish colonial architecture (Antigua), exciting Guatemala ecotourism; alluring Guatemala beaches (near Livingston, for example); modern Mayan culture (Chichicastenango, Lake Atitlán, etc.); and quite stimulating museums throughout the country.
But the country's capital – and Central America's largest city – often gets relatively less attention than the above, and that's kind of a pity. On my visits I have always come away well pleased with its exciting menu of culture, historic sites, dining, and nightlife, all amid a year-round springlike climate.
The epicentre of it all remains the core of Guatemala City's historic centre, the large and grandiose Plaza de la Constitución (commonly called Parque Central, Central Park) with the National Palace of Culture on one side and the Metropolitan Cathedral nearby on another. Built in the mid-20th century, the former is a palatial neo-Baroque landmark which marks kilometre zero of all roads leading out to Guatemala's provincial capitals, while the latter is an imposing, also neo-Baroque bit of business built in the late 18th to mid-19th century.
Several blocks away, the colourful covered public market, the Mercado Central, is a huge and quite colourful warren of market stalls where not only can you watch the locals in action shopping for exotic fruits and other foodstuffs, scoring some great photo ops in the process, but also pick up some excellent quality souvenirs – primarily handicrafts and artworks.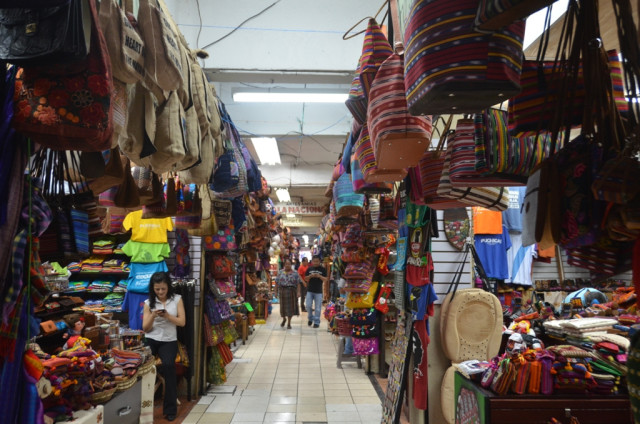 Up until not so long ago, downtown ("Zone 1") used to be pretty much no-go due to crime and neglect. Now it has been invigorated both by a mix of measures including better security and urban renewal such as the Paseo de la Sexta, a stretch of Sexta Avenida (Sixth Avenue) in Zone 1 that has been pedestriansed, its façades renovated, and its businesses, from Central Park/Constitution Square to Calle 18; the Paseo is now also a venue for buskers as well as open-air exhibitions and performances.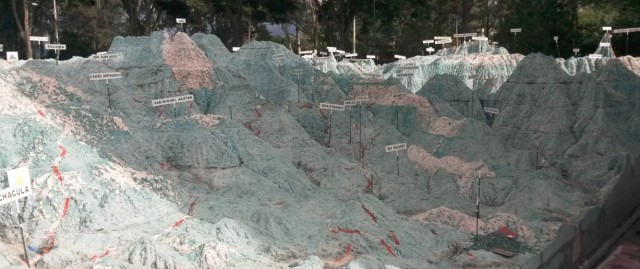 Other musts near the centre of the city include an unusual one called the Guatemala Relief Map, it is in fact a huge three-dimensional representation of Guatemala geography created way back in 1905 as the result of an engineer criss-crossing the territory on a donkey (OMG, can you imagine??).
More conventionally, there are a clutch of museums – not huge, but high quality – as well, starting with the National History Museum, covering Guatemala's post-independence history in the historic centre's Zona 1 at Calle 9 and Avenida 10. South of the city centre out toward the airport, the National Museum of Archaeology and Ethnology includes the country's largest collection of Mayan artifacts, and is a good place to visit before heading out to archaeological sites such as Tikal. You'll also want to check out the Mayan collection a short drive away on the campus of Francisco Marroquín University at the Popol Vuh Museum of Archaeology, which includes some prize ceramics and colonial-era art. Right next door on campus is the Ixchel Museum of Indigenous Clothing, a colourful look at Mayan culture with a special emphasis on textiles and attire.
More information: VisitGuatemala.com.

images | Fernando Reyes Palencia, Antoine 49, Nerdoguate