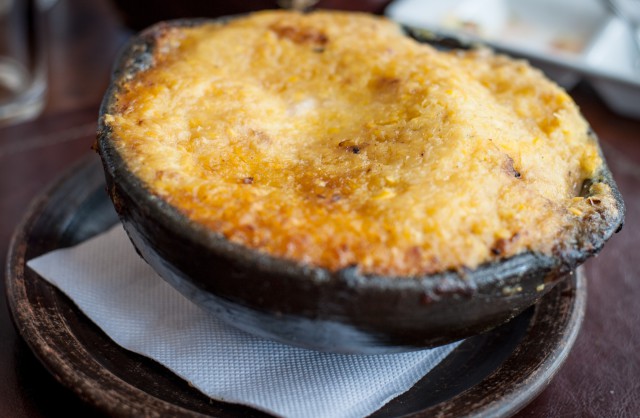 Less familiar to many than other Latin American cuisines such as Mexican, Peruvian, and Cuban, Chilean cuisine has always been considered one of those that best blend the traditions of the Spaniards and the pre-Columbian people of the Americas, and drawing from the bounty of fertile agricultural lands, highlands, and thousands of kilometres of coastline. Here they call it sazón chilena (Chilean seasoning), and it imbues all of this country's most beloved dishes. Come with me on a tasty little tour: 
One top symbol of Chilean cookery is the empanada de pino, a baked empanada stuffed with ground beef, onion, egg, and raisins, all seasoned with ají (a slightly spicy sauce). Also extremely typical are another doughy delight, sopaipillas, chewy discs of leavened wheat flour mixed with pumpkin and fried in butter – you'll find them, for example, sold at street stands all over this country. They're mostly a winter thing (meaning June through August), and can be sweet or savoury; if the latter, often accompanied by classically Chilean pebre sauce, a mix of garlic, pepper, parsely, and vinegar (it's also popular for use in soups and meat dishes).
Other popular Chilean street food includes the completo, like an oversize hot dog with dressings such as  chopped tomatoes, avocadoes, mayonnaise, and sauerkraut, and the chacarero, a lovely sandwich composed of slices of steak or pork with tomateoes, green beans, and chilis (Time magazine once even included it on a list of the world's most amazing sandwiches).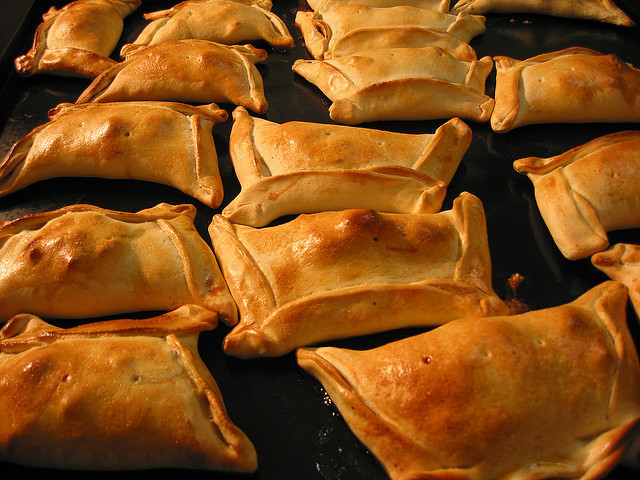 Visitors who are after an authentic taste of this country need to get themselves to some of the homely traditional restaurants known as picadas, where you'll find hearty portions at appealing prices of dishes like porotos con riendas, made up of white beans (porotos) and noodles (which give the dish its name, apparently resembling riendas – horses' reins); oftentimes this is served with sausages and a fried egg.
One delicacy that has more than most received some attention outside the country is pastel de choclo (corn pie, top), made with ground corn and also containing beef, chicken, egg and olives, all baked to a golden brown.
Another, of prehispanic origin, locro is a hearty stew which among other ingredients combines corn, beans, pumpkin, pork, and beef in a mix that's out of this world. So, too, are Chile's various cazuelas (casseroles) of pork, chicken, and beef with veggies.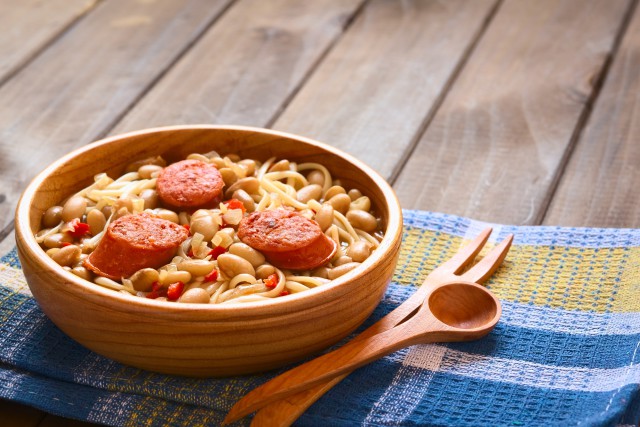 Next up: seafood! Chile is an unusually long, skinny country, no part of which is more than about 240 kilometres (150 miles) from its enormous (4,270-km/2,653-mi.) coastline. So unsurprisingly, the sea and its bounty are a significant part of the national character and the national palate.
One of the top marine goodies, especially along the coast itself, is pastel de jaiba (blue crab pie), where the crab is folded into a bready mix with onion, cheese, and heavy cream, sprinkled with parmesan and baked – just wow.
Another briny favourite, paila marina (literally, "marine frying pan") is a kind  of bouillabaisse with a variety of seafood including clams, mussels, conger eels, and a type of mollusk called piures. It's thought to be healthful – and especially great for hangovers.
Probably the most eclectic Chilean dish of all is curanto, combining as it does seafood, meats, and vegetables. Typical of the island of Chiloé, furthermore its traditional manner of preparation is even more dramatic than its appearance: cooked with hot rocks in a hole in the ground.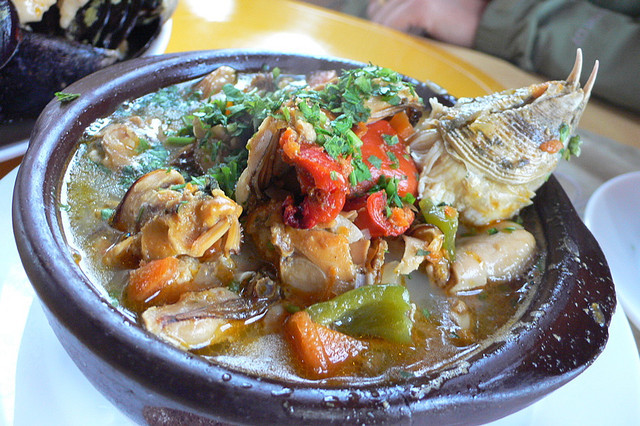 Discerning carnivores will also find Chile delivers in spades. A good example is arrollado de huaso, seasoned pork and bacon wrapped in pork skin, boiled, and served sliced accompanied by potatoes – a real explosion of flavour.
Other dishes typically enjoyed here include roast pork; marinated pigs' trotters; and prieta, blood sausage. As with next-door Argentina, parrilladas are popular, featuring various high-quality cuts of beef as well as sausages and pork ribs.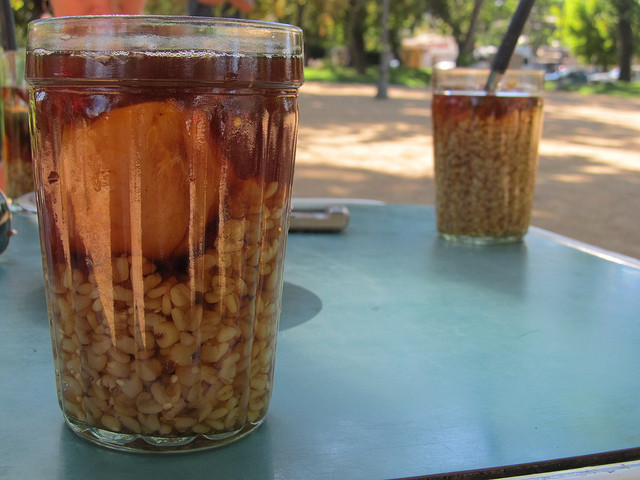 Chilean Wine & More
Fortunately, the country that produces such tasty fare has been also thoughtful enough to have developed some award-winning, world-class, and all-round extraordinary wines to go along with it. Some of the most prominent reds produced here are merlot and cabernet sauvignon, and whites chardonnay and sémillon.
Beyond that, there are plenty of other libations typical of Chile. Some are fermented, like chicha (grape and apple) and pisco grape brandy (the pisco sour is considered the national cocktail).
But another – and non-alcoholic – drink any visitor shouldn't miss is refreshing mote con huesillos (above), a summertime treat found in street stands all over the country. It's made from wheat (mote) and peaches (huesillo). When locals say something is very Chilean, they say it's "more Chilean than mote con huesillos".
It's a culinary legacy which is truly impressive in so many ways. These days, April 15 is marked by chefs and others as the Day of Chilean Cuisine, but frankly, down here, every day is a celebration when it comes to food.
For more on Chilean cooking and restaurants in Santiago, click here.

images | Pablo Rogat, Mabel Flores, Ildi Papp, devinleedrew, Tomás J. Sepúlveda