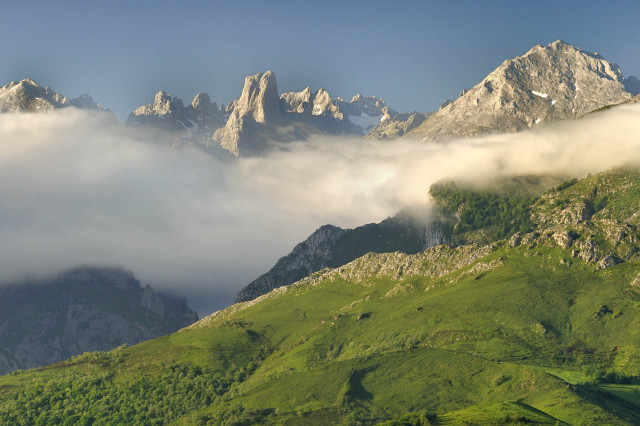 This blog surveyed the impressive diversity of Principality of Asturias, in Spain's green north, not long ago, but this time we'd like to focus especially on the green part – some of its spectacular great outdoors, in the form of the
If there's one thing that most strikes visitors to Asturias, it's the gorgeousness of its scenery and the force and purity of its natural environments. And perhaps not surprisingly, the region has also been a leader in environmental conservation, with a staggering third of its land area under protection. In 1985, the tourism office here decided to market Asturias with the moniker "Paraíso Natural" ("Nature Paradise"), and 30 years later they're still at it. And why not? It's as apt as ever.
For example, within an area smaller than the U.S. state of Connecticut and just half the size of Wales, there are no fewer than a half dozen UNESCO Biosphere Reserves – all of which make remarkable ecotourism destinations for lovers of the great outdoors and great adventures.
Picos de Europa National Park
Astride the Cantabrian Range, the vast expanse of this reserve (a national park since 1995) covers the areas of Amieva, Cangas de Onís, Onís, Cabrales, and Peñamellera Alta y Baja, and includes what was once Spain's first national park, Covadonga Mountain, established in 1918. Scenically, geologically, and ecologically outstanding – for example, it's the biggest limestone formation in Atlantic Europe – it includes major karst formations, chasms that plunge more than 1,000 metres (3,280 feet), extensive glacial erosion, and plenty of crystalline lakes.
Amid its crags live chamois (kind of like goat meets antelope), while its forests lush harbour the likes of roe deer, wolves, and the occasional bear. There are also more than species of birds, such as royal eagles, black woodpeckers, griffon vultures, and capercaillies. Here are centuries of history and lore, as well, inscribed in the villages, the churches, the mountain huts, and the pathways.

Somiedo Natural Park
In western Asturias, around the middle of the Cantabrian Range, this 39,164 hectares (97 acres) are an excellent example of the local ability to understand and adapt to nature to make their way of life sustainable, in traditions that have survived over the course of centuries. Somiedo's landscapes are particularly notable for their lovely lakes, their rugged topography with precipices as high as 2,200 metres (7,218 feet) and karst formations, its pasturelands dotted with characteristic thatch-roof stone cabanas used by mountain shepherds and cattle herders. The area is also a stronghold of Cantabrian brown bears.

Redes Natural Park
A multitude of diverse landscapes a bit west of Picos de Europa, including glacier-created morraines and cirques, now adorned with fields of grass and wooded hills and dales (in fact, forests cover some 40 percent of its 377 hectares/932 acres). Prominent peaks include Pico Torres, Retriñón, Peña del Viento, and Tiatordos.  But of special note here are its mountain passes, impressive mountain-enclosed plains, and forests of beech and sessile oak.
Las Ubiñas-La Mesa Natural Park
Some 35,780 hectares (88 acres) of boundless natural and cultural richness straddling southern-central Asturias along the boundary with the community of León, it's a largely mountainous area of great contrasts, with its centrepiece the Peña Ubiña massif, the principality's second-highest peak, reaching more than 2,400 metres (7,874 feet). It includes the localities of Lena, Quirós, and Teverga.
Muniellos Nature Reserve
Outside the town of Degaña in the south, Muniellos is fairly remote and sparsely populated, its 5,488 hectares (13,560 acres) consisting of three valleys (La Viliella, Valdebois, and Muniellos itself) covered by Spain's mightiest oak forest (and one of the best preserved in Europe). The oaks here are of various species and grow up to six metres (20 feet); also scattered throughout are beeches, birches, hollies and yews, especially resplendent in autum. Hiking up to its pristine lakes is also an absolutely transporting experience.

Río Eo, Ocsco, y Terras de Burón Biosphere Reserve
Out in Oscos-Eo, the westernmost shire of Asturias, dominated by the Eo River, includes 159,000 hectares (614 square miles) of protected countryside dotted with ancient slate villages such as Taramundi and Castropol which are now centres of sustainable rural tourism. It's an area of cliffs, magical forests, lovely river beaches. Interestingly, it's also Spain's only reserve to be shared between two autonomous communities (with Galicia).
As part of the rural tourism experience, many of these reserves, as well as other parts of the principality, offer countless opportunities for not just hiking but a variety of outdoor and soft adventure activities such as canoeing, horseback riding, caving, canyoning, and mountain biking. All excellent ways to plunge into paradise.