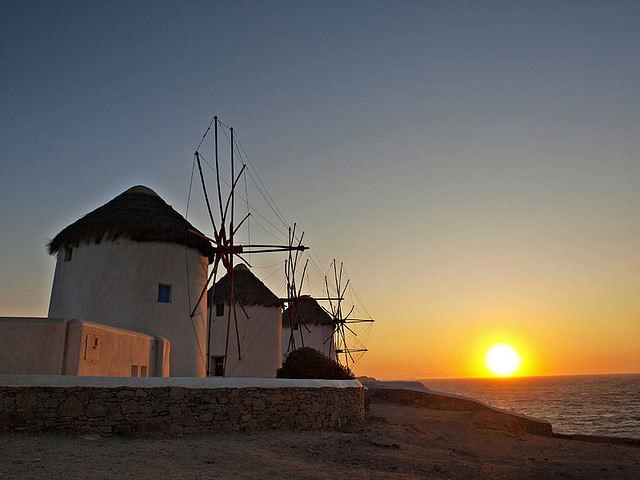 Like Ibiza, the name Mykonos has become a byword, especially among Europeans, for the quintessential picturesque Mediterranean holiday playground: sunwashed; fetching beaches bathed in the crystalline Aegean Sea; a natural landscape dotted with whitewashed houses (and even a few iconic windmills, 16th-century echoes of Spain's own La Mancha); and of course the main town, Chora, offering an international famous (and sometimes infamous) nightlife where everyone is welcome, straight, gay and everything in between.
Certainly, as June and July roll around and Greece's most tourist-popular island kicks into high gear, the local nightlife (some 20 clubs at last count, along with scores of bars and cafés) is one of the higher-profile aspects of the summer scene. But even if you don't step foot in a disco, the sheer charm of the town will win you over, with its warren of whitewashed lanes and neighbourhoods like Kastro and Little Venice, the latter with houses whose balconies hang right over the water; here you'll find a lot of cafés and eateries perfect for sitting with some fresh seafood or a glass of ouzo or retsina wine (especially around sunset).
There are a number of striking landmarks besides the windmills. The so-called "divine route" includes the Greek Orthodox churches of Panagia Paraportiani, Agia Kiriaki, and Agios Nikolakis, as well as the Paleokastro Monastery. There are several museums, as well, such as the Aegean Maritime Museum, Agricultural Museum, and the Archaeological Museum, with pieces from excavations from this island as well as the tiny nearby island of Delos (which by the way is an absolute must, its breaktaking UNESCO World Heritage ruins visitable by boat; an important port, according to Greek mythology it was the birthplace of the gods Apollo and Artemis).
If you're looking for a change of pace, in the village of Ano Mera, about 8 kilometres (5 miles) away, life is slower and more traditional in feel (though no longer completely untouched by tourism).
Then of course there are the beaches – and what beaches! You can try a new one each day; among the best I'd start with the most famous, of course, Paradise Beach, with its mix of relaxation and anything-goes beach parties. But there's also Platys Gyalos, with the most services and the most family-friendly; Agios Sostis, an undeveloped little cove with the occasional white house around (and also clothing-optional, by the way); and Elia, a long stretch with a great restaurant, bar, and a predominantly gay crowd.
I couldn't sign off without mentioning the most famous and quintessential Mykonos club, Cavo Paradiso. On a cliff over Paradise Beach, it sums up the outdoor holiday feel of the island, with dancing and partying to a range of electronic dance music spun by big-name DJs like David Guetta and Armin van Buuren till the sun comes up.
The god Apollo (and certainly Bacchus) would heartily approve.
Useful Facts
Mykonos is 86 square km. (33 sq. mi.) in size and has a normal year-round population of 9.320.
Winters are mild and summers hot, with sunny, dry weather most of the year, though also also a good bit of wind. es como el mediterráneo: suaves inviernos y veranos templados.
The currency is the euro.
More information: Mykonos.gr; flight deals to Athens from the USA, from Spain. 
image | Nick-K (Nikos Koutoulas)