This year we've finally been rolling out the newest generation of uniforms for our cabin crew and airport staff – designed by Teresa Helbig and introduced at Madrid's Mercedes Benz Fashion Week in fall 2020 – but their deployment in May 2021 delayed by the COVID-19 pandemic.
A few years ago this blog ran a series of posts reviewing the history of our uniforms from the mid-1940s through the first two decades of the 21st century, designed by some of the top Spanish designers of their times including couture greats such as Manuel Pertegaz, Elio Berhanyer, and Adolfo Domínguez. Closely linked with the world of Spanish fashion throughout those more than 75 years, that tradition is being admirably carried forward by Helbig, and here we take another look at that distinguished history:
Pedro Rodríguez, Iberia's First Uniforms Designer (1954-1968)
A contemporary of Balenciaga, Valencia-born Rodríguez was the first fashion designer to open a haute couture salon in Barcelona, and for Iberia he designed.four types of uniform. For the flight attendants (at the time all women), for a classic jacket and skirt suit, beret, and cape. This ensemble had a certain military vibe (it was in fact the trend at many Western airlines during this era), and in 1962 it was largely renewed, with several modifications: the cape was replaced by a more feminine coat; the lines of the suit were softened, as were the colours; and the beret gave way to a skullcap (very fashionable at the time). Then in 1966 the coat was swapped for a pale blue trench coat.
The Style Revolution of Manuel Pertegaz (1968-1972)
Considered for decades the leading coutourier in Spain (where he chose to remain instead of becoming the House of Dior's head designer in 1957 as he was offered), and in addition to dressing the country's rich and famous, the late Pertagaz was also a favourite of foreign celebrities including Paulette Goddard, Ava Gardner, Jackie Kennedy, and Audrey Hepburn. More recently, he came to the attention of a new generation when in 2003 he was chosen to design the dress of celebrity television presenter Letizia Ortiz for her wedding to our country's Prince – now King – Felipe.
Anyway, Pertagaz revolutionised our uniforms' aesthetics from top to bottom. For starters, he ditched the blue which had predominated for 22 years and switched to burgundy red. His ensemble consisted of a straight skirt, a sleeveless cape with a train, and a small hood as a coat, a tunic and a skirt. A white blouse replaced the tunic in warmer weather. As accessories, again a cap (very Jackie Kennedy-style, like the rest of the look), a shoulder bag and gloves.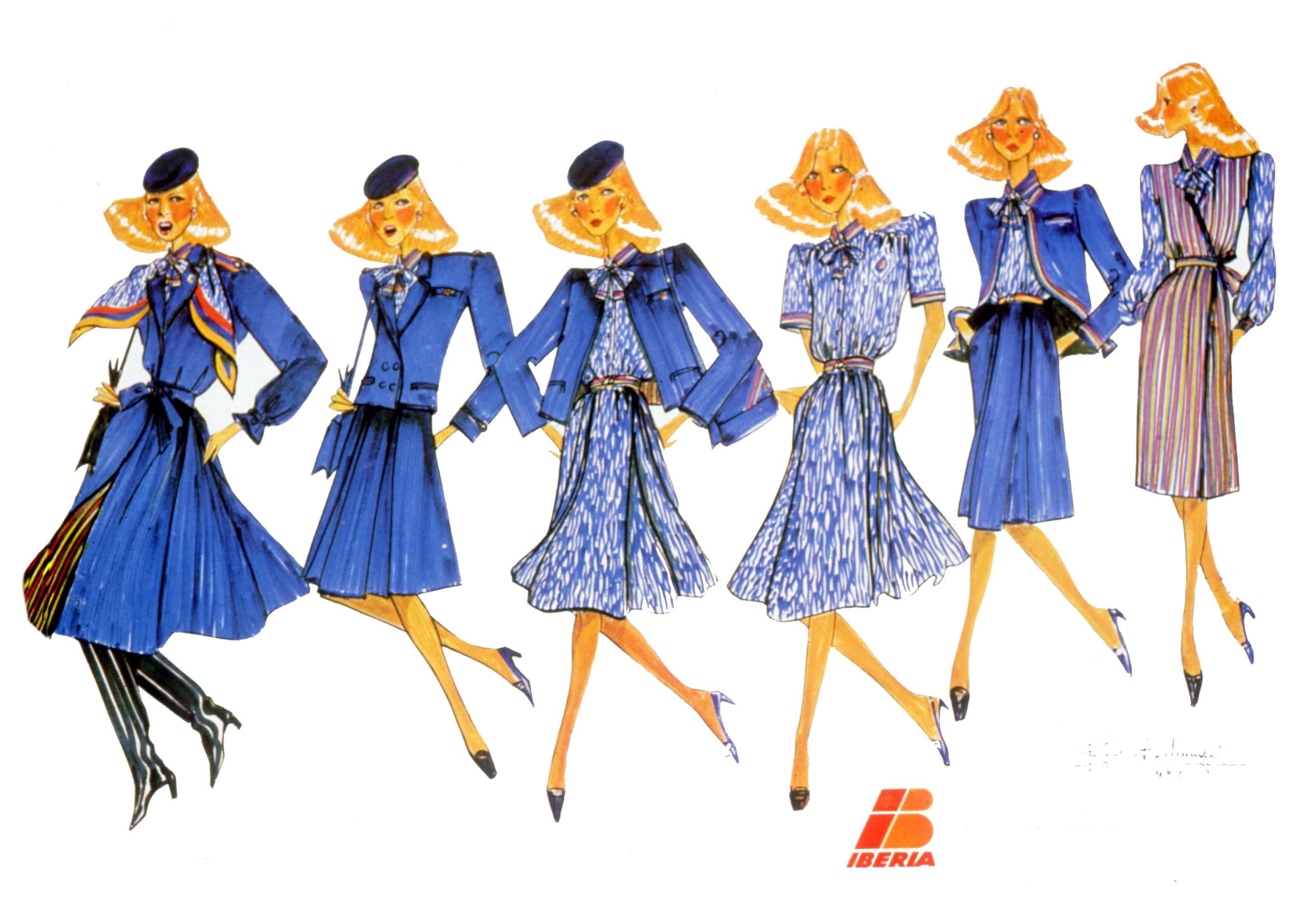 The Three Phases of Elio Berhanyer (1972-1989)
Another top Spanish designer, hailing from Córdoba, had a long and fruitful run which yielded three sets of uniforms:
1972-77  – It was back to the future, as blue was reinstated, this time as part of a more modern image whilst still striving for functionality. A pointed cap was added; the cape was changed for a coat; and a blouse with geometric shapes, together with an overskirt completely changed the look. The ground-staff version had none of this but did soften the blue.
1977-1983 – The overhaul for this half dozen years was very much in tune with the trends of the day, with the uniforms bearing our new colours of earthtones, toasted beige, and reddish hues – though blue was still to be found in the look for our ground staff – and a less rigid, more youthful image. Prints and large bows prevail, with colour added in accessories, as well as a printed silk overskirt for female flight attendants which provided a degree of continuity to the blouse.
1983-1989 – Bertanyer's last phase aimed to highlight to our identification with our home country Spain, with a more classic style but one which also plays with lines and prints which gave it a sometimes more casual air. Elements included a blazer and skirt pleated at the front and straight in the back. The inside of the jacket and trench coat was lined in red, blue, and mustard, a motif repeated on the handkerchief. This time there's a great similarity between the ground and flight uniforms, except that the former was greenish and the latter blue. Bag, beret, and a striped, printed blouse completed the outfit.
Alfredo Caral: Funcionality First (1989-2005)
The late, great, Madrid-born Caral, who passed away just last year and was also especially known for designing eye-catching, flamboyant costumes for several of the films of Pedro Almodóvar, then arrived to reign sartorially with us for 16 years which followed fashion trends but also stressed functionality. One interesting note here is that all the uniforms of personnel working abroad were changed: ultramarine blue was combined with our corporate colours ochre and red. Also, for the first time trousers are included for women and for men the colour their tie was determmined by their job description.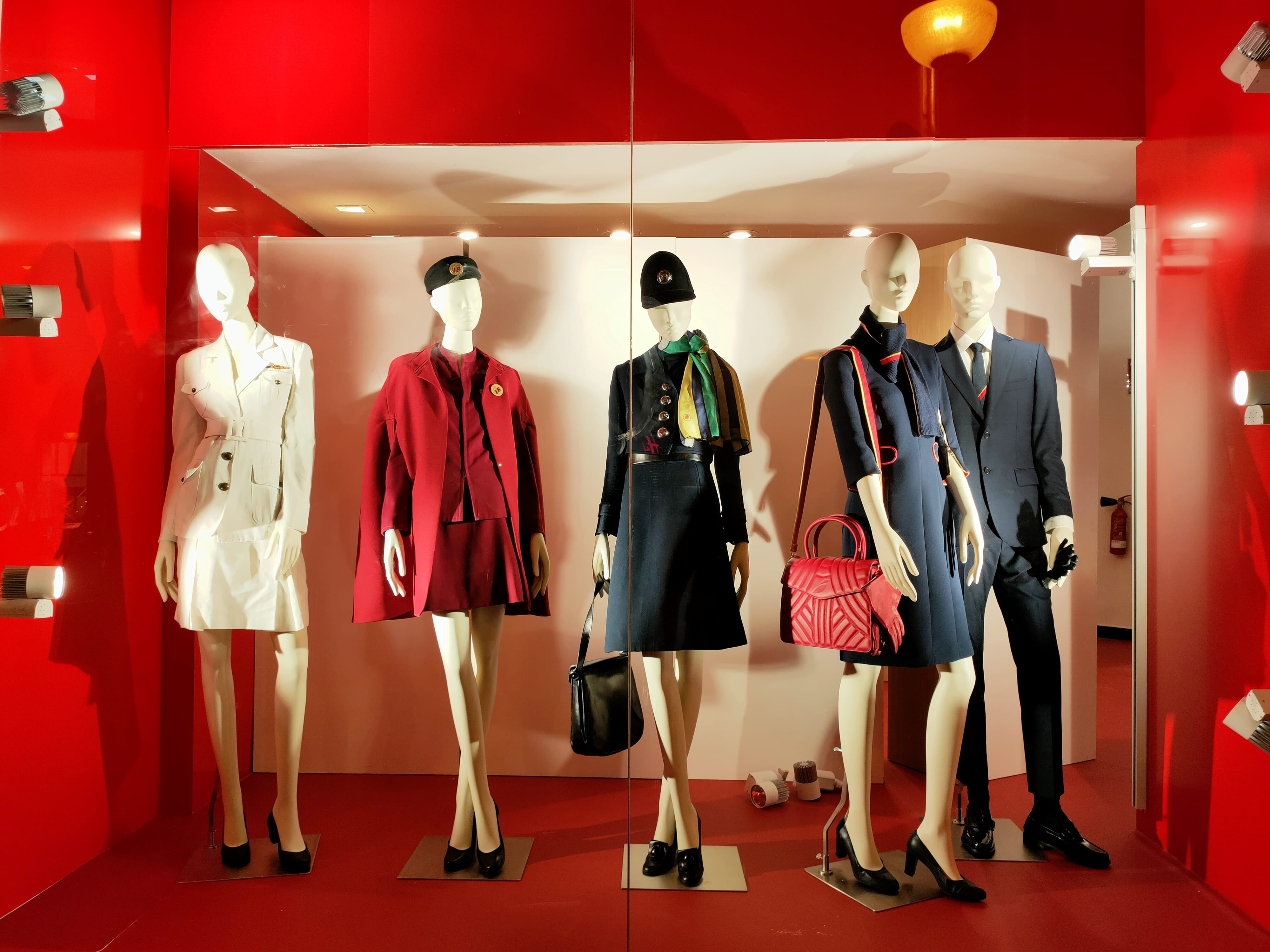 Adolfo Domínguez: Innovation and Elegance (2005-2022)
Hailing from Ourense province, Domínguez is possibly Spain's internationally best known contemporary fashion designers, and once again used blue (darker this time) as the primary colour of our uniforms, supplemented with red and mustard. And he strove to stress comfort above all, including a jacket with a funnel neck for women, along with a white blouse and large stitching on the suits (with skirt or pants) that lends a casual air. Men got a knit jacket or vest (depending on their job description), always with the identifier clearly visible. The colour of the ground personnel's jacket, meanwhile, was changed to red.
Teresa Helbig: Generation Next (2022-)
Barcelona designer Teresa Helbig won out over 29 other contenders with her collection of dresses, suits, skirts, trousers, shirts, blouses, overcoats, handbags, cardigans, blazers, waistcoats, scarves, knitted jumpers, polo shirts, and neckties finally made its inflight debut this spring. It adds ecru, yellow, and red to the traditional eternal blue, adding more dynamism and elegance. In one case, she reinterprets the classic pencil skirt suit, giving it a retro nod and a more unisex feel. It's a look we're proud to show for years to come!