A half dozen years ago, this blog ran a series of posts reviewing the history of Iberia cabin-crew uniforms from 1946 through the first decade and a half of the 21st century. During that time the airline was fortunate to enlist a distinguished series of top Spanish designers of their times in crafting stylish yet eminently practical attire for its inflight and airport personnel – now numbering 6,500 – contributing to the airline's evolving brand.  These have included couture greats such as Manuel Pertegaz, Elio Berhanyer, and Adolfo Domínguez.
Now that eminent list has been joined by its first ever woman, Barcelona designer Teresa Helbig, who last year won a competition over 29 other contenders and whose dresses, suits, skirts, trousers, shirts, blouses, overcoats, handbags, cardigans, blazers, waistcoats, scarves, knitted jumpers, polo shirts, and neckties will debut in airports and on flights on 1 May.
Daughter of a seamstress and today one of Spain's top designers, Helbig's firm, now employing 15, has been in the game for more than 25 years, and her star only continues to rise – for example, in recent years she's dressed some of the country's most popular actresses – and even Queen Letizia, who made a few fashionista waves in 2017 when she appeared in a saucy Helbig "neo-1920s-flapper" frock. And beginning in 2018 Helbig has expanded to the United States market, where her works have been seen on the likes of actresses Angela Bassett, Halle Berry, Emily Blunt, Storm Reid, Daisy Ridley, Saoirse Ronan, and Zendaya.
Elegant but comfortable and utilitarian, these new uniforms embody, according to Iberia, "vitality", "accessibility", and "helpfulness"  – even a touch of "edginess". Adds the designer herself, "the jackets are a touch retro, while there's an attractive unisex flair to the coats, and the women's trousers are anything but rigid –they facilitate women's movements. All are garments that we would be happy to wear every day. There's a reinterpretation of the iconic straight skirt, and we have given special importance to the accessories".
The new collection's predominant hues are red and yellow (of course, being Iberia's longstanding corporate colours), as well as navy blue and beige. Blue symbolises balance, says Helbig, whilst "red embodies passion, drive, and vitality, and yellow is stimulating, youthful, and energetic"; in addition, beige is "genuine, natural, calm, and very elegant".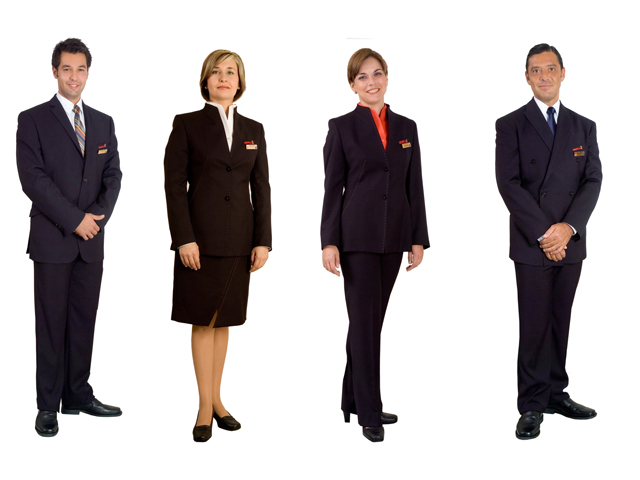 Unsurprisingly, it turns out that airlines are a little like people in some ways: we all need to refresh our wardrobes and change things up every so often, no? And that's not to take away from the wonderful designs of the past. Above, check out the current Adolfo Domínguez uniforms which have served the airline well for the past 15 years. And for a history of Iberia's sartorial evolution, have a look at the following posts:
1946-1954
1954-1966
1968-1972
1972-1977
1977-1983
1983-1989
1989-2005
2005-2020
Finally, for a look at more of Spain's top contemporary fashion designers, click here.