Admittedly, inflight dining has not gotten a lot of love over much of the course of commercial aviation's history. Actually, early in that history, in the 1930s, multi-course meals were cooked onboard. However, as the postwar demand for flights took off in the 1950's and 60's and aircraft sizes (and therefore passenger numbers on each flight) grew, this soon proved impractical, and the complexity of cooking for hundreds of passengers in a tight space within a limited time frame prompted airlines to switch to premade meals, heated in onboard galleys.
Nowadays, inflight meals for all classes of service are prepared in an elaborate process on terra firma according to World Food Safety Guidelines for Airline Catering by a handful of international catering companies, including Gate Gourmet, LSG Sky Chefs, and Austria-based Do & Co, which has operations at 31 sites worldwide, including Madrid and Barcelona airports, where it services Iberia's fleet. The catering chefs meet with airline representatives, with a lot of discussion and debate before a new menu is agreed upon and implemented. Decisions on menus and recipes also vary according to route to cater for international and regional tastes, as well as class of service (premium vs. economy).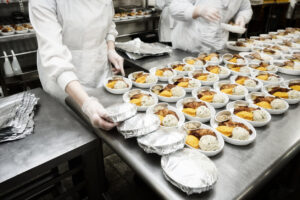 Regardless of all that, another eternal challenge for menu designers  is the fact that high altitudes suppress the functioning of the taste buds and thus our enjoyment of inflight meals. Guillaume de Syon, a history professor at Pennsylvania's Albright College, has studied the history of airline meals, and suggests that pressurisation can make passengers thirsty and food taste "dry and flavourless" as a result. Other studies have shown that perception of saltiness and sweetness drops 30 percent when flying above 31,000 feet, and the pressurisation and resulting low humidity at cruising altitude (12 percent drier than most deserts) is also believed to dry out the nose and desensitise the olfactory sensors essential for tasting the full flavour of dishes. Russ Brown, a director for In-flight Dining & Retail in the USA, says, "proper seasoning is key to ensure food tastes good in the air, to account for the cabin dining atmosphere." Gerry McLoughlin, an executive chef also based Stateside, agrees, saying he has to use "vibrant flavours and spices" to make in-flight meals taste "more robust".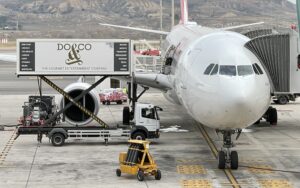 Once the menus are decided, Do & Co's chefs do much of their cooking on various grills that are a metre and a half (five feet) wide, with opposite ends of the grill are used to cook different foods – one end for big batches of vegetables, for example, with sautéd potatoes at the other. And of course different grills and utensils are always used to keep meat and veg options separate. Designed to be served the very same day it's cooked, once the food is prepared for the passengers as well as for the crew, the chefs then clean up again to assemble the dishes on serving trays. The food that needs reheating on the plane is given priority, and ladled into foil containers topped with cardboard lids that have small holes for ventilation.
These packaged meals go onto trolleys which are rolled into special refrigerators, where they are blast chilled and organised according to the flight numbers. The next step is load them onto refrigerated containers (above) for transportation out to the aircraft, where they are transferred and further chilled in the oboard kitchens, known as galleys. On the larger planes there are usually four galleys. One at the back and front and two in the middle of the aircraft. On smaller planes, there are normally two galleys at the front and back. Cleverly fitted into these small galley areas are ovens, refrigerators, cafetières, coffee machines, and hot water dispensers, as well as space to store hundreds of alcoholic beverages, soft drinks, juices, and milk. Prior to takeoff, these galleys are thoroughly cleaned and the meals are prepared for service by the cabin crew, using tongs and other implements.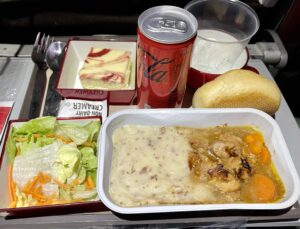 After takeoff and before meal service begins, hot food is the first to be prepared. Meat is heated up in ovens while fish and vegetables are warmed up in steam ovens (microwaves and open flames are not allowed on aircraft for safety reasons). Pre-departure, drinks are teed up too. Alcoholic beverages (obviously recommended in moderation only) are paired with mixers; hot drinks are readied with sugar, milk, and stirrers; and soft drinks are lined up with ice. Ready for showtime!
(Finally, here's an interesting fact: Iberia Airlines are pioneers in the design and adoption of lighter trolleys and galley appliances, modernised equipment designed to be as environmentally friendly as possible. During the last decade we've managed to reduce galley weight by 25 percent, saving millions of euros in fuel and significantly reducing our carbon footprint, as part of our long-term commitment to decarbonisation.)