photos | Rudy Mareel; all others José Balido
On a recent extended swing across the south of France – from Biarritz on the Atlantic coast over here to Nice – I had the great pleasure of visiting many, many fantastic places and having many wonderful experiences (including witnessing les bleus win the World Cup in Avignon!). But perhaps no place am I more eager to return than this gracious Mediterranean city of around a million on the Baie des Anges (Bay of Angels), tucked away toward the easternmost edge of the French Riviera. Let me tell you why.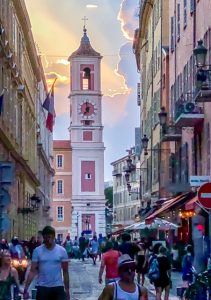 For me it's the mix of the lovely seaside setting; the centre city's gracious, heavily Italianate 19th-century architecture – and indeed, the somewhat Italian-style feel of life in general (Italy, after all, is right next door, and Nice has been part of France only since 1860); the fabulous dining; niçois locals who are nice and friendly; the lively street life; and a handful of great museums, especially the ones focussed on the renowned artists who lived here at some point – all with a soupçon of whimsy and urban grit thrown in (my favourite sign, over a public toilet, is a tongue-in-cheek take on Cartesian philosophy: "Je pisse, donc je suis" – "I, um, take a leak, therefore I am").                                                                                                                                                We stayed in a comfy flat in the heart of the Vieille Ville (Old Town), on a street lined with charming little eateries and shops, and around the corner from one of its main squares, the lively Place du Marché, where we dined and enjoyed ice cream on more than one occasion. Another couple of blocks east of our flat, toward the waterfront, I loved strolling and browsing the street-market stalls on the also lively (occasionally downright crowded) pedestrian promenade Cours Saleya (below), where at various points I also enjoyed local niçois specialities such as socca (a crêpe made from chickpea flour), pissaladière (an onion-and-olive tart with anchovy sauce), beignets de fleurs de courgettes (fritters of courgettes – that's zucchini, to my fellow Yanks), farcis niçois (an assortment of veggies stuffed with breadcrumbs), daube de boeuf (a red-wine-based beef stew with carrots), and of course the original salade niçoise, which needs no explanation, bien sûr.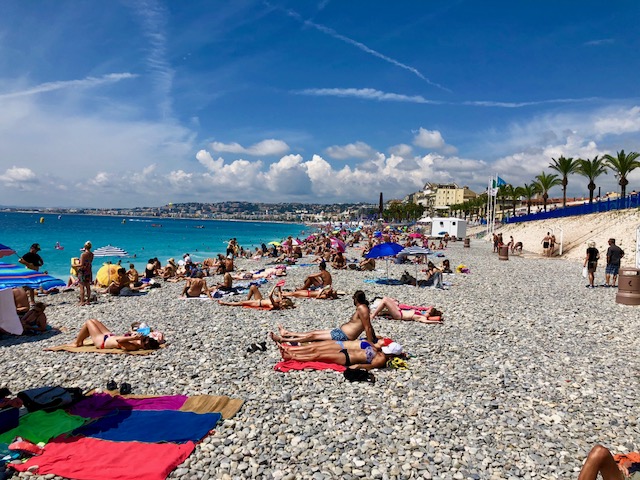 Apart from exploring the Vieille Ville by both day and night (its bars are magnets for young people both local and visiting), it was also cool to stroll along one of the city's icons, the Promenade des Anglais waterfront boulevard, lining the pebbly beaches (they even have a name for the pebbles: galets) of various names.  Many come with beach clubs or restaurants; some are in front of the large Belle-Époque casinos; and my own favourite is Castel Plage, the relatively quiet bit at the northern end. Up on the promenade, plenty of locals like to hang out, amble, bike, and roller-blade both day and night. And something relatively recent, continuing northward along the beach right above Castel Plage on the Promenade du Paillon, is the large installation #ILoveNice (top), cheerfully rendered in the bright colours of the French flag. This was erected as part of the healing process in the aftermath of the horrific Bastille Day 2016 terrorist attack. And it sure is happy, upbeat, and a popular tourist attraction!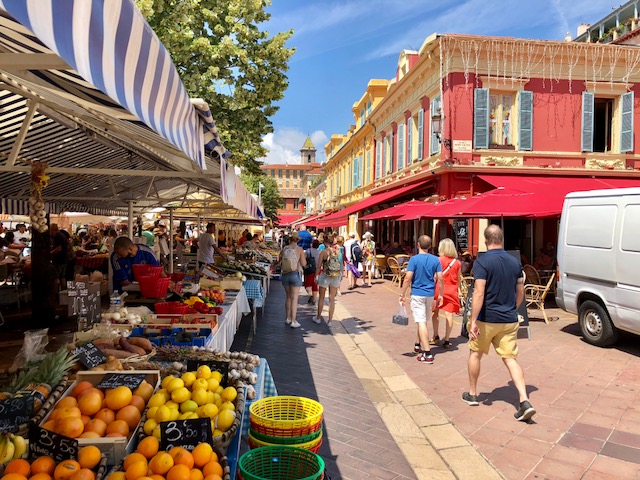 Also along Promenade des Anglais, I spotted the beginning stop of the city's white petit train. Duh, of course it's touristy, but often there's no better way of getting orientated in a new city than taking one of these tours, so on I hopped. The highlight (literally) was heading around past the boat harbour and up the Colline du Château that looms over the city (much better on that hot day than climbing several hundred steps up – though admittedly there's also a lift). On this forested hill, you can see one tower of the mediaeval château (castle) that remains, a 17th-century artificial waterfall, and of course sweeping views down over much of Nice (below).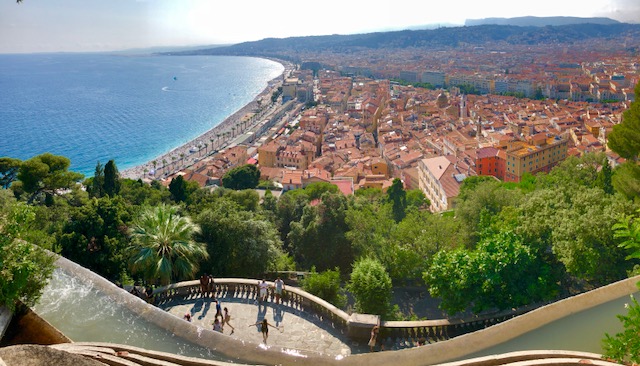 Orientation out of the way, being an aficionado of 20th-century painters Henri Matisse and especially Marc Chagall, I headed to the museums devoted to them. The Musée Matisse, housed in a large 17th-century ochre villa in the leafy Cimiez neighbourhood two kilometres (1¼ mile) north of downtown, showcases one of the world's largest collections of this 20th-century Fauvist, who lived and worked in Nice from 1917 to 1954 (Henri himself is at eternal rest in a cemetery across the street). Just a 15-minute stroll away, the Musée Nationale Marc Chagall is similarly one of the largest collections of one of my favourite 20th-century painters, with special focus on his luminous religion- and spirituality-inspired works.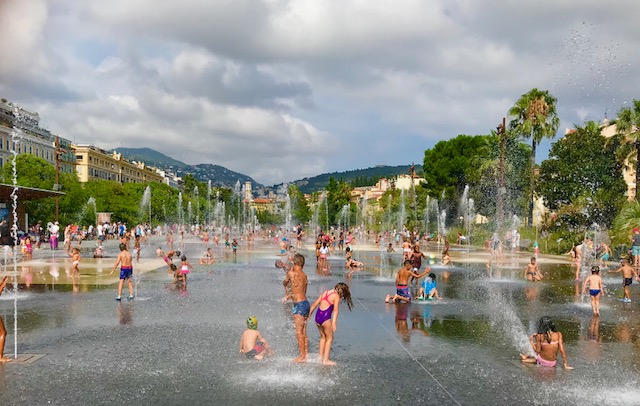 Sadly, I didn't make it on this visit to Nice's other main art museums, but they're on the list for next time, which I hope will be soon. Just three of special note: the Musée des Beaux-Arts (in addition to many artists from the south of France such as Jean-Honoré Fragonard, also marquis names such as Bronzino, Brueghel the Elder, Monet, Picasso, and Rodin); the Musée d'Art Moderne et d'Art Contemporain (aka MAMAC, featuring the likes of Christo, De St. Phalle, Liechtenstein, Oldenburg, Rauschenberg, Stella, and Warhol); and the Musée Masséna, in the elegant villa right on the Promenade des Anglais (the artwork and furnishings of the family of André Masséna, a Napoleonic general of humble origin), along with historical exhibits, especially relating to the Napoleonic era).
Speaking of that illustrious family, they were once such a big deal around here they have a large square, considered "the centre of Nice", named after them. The Place Masséna, a couple of blocks from the museum, is ringed with gracious 18th- and 19th-century architecture, and features the dramatic, classical-style Fontaine du Soleil, featuring the Greek god Apollo (funny story: when it was unveiled in 1956, his manly parts offended local ladies such that the statue was exiled to a less prominent part of town for a few years). The square is also the main site of Nice's annual pre-Lenten Carnival (taking place in 2019 from 16 February to 2 March). But honestly, my favourite spot here is another bit of whimsy – a much more recent fountain, flat and riddled with jets of water that fly intermittently, much to the delight of local children (above).
I also experienced a cool – and highly aromatic – personal first here. I had previously visited the city of Grasse, about a half hour inland, which is the world capital of perfume. I wanted to take advantage of one of its parfumiers' mix-your-own-perfume programme to prepare a gift for my dear friend Paula, and though I didn't get to do so there, I rectified that here at the local shop and workshop of the venerable, 169-year-old Molinard, where for 30 euros the staff walked me through the customised creation of "L'Amour Russe", composed of ylang-ylang, tangerine, orange blossom, and honeysuckle, among others. Fun, fragrant, and highly educational!
And last but definitely not least, I took a fascinating day trip, just a half hour up the coast toward Italy, to the tiny, posh, and altogether unique country of Monaco – of which I'll write in an upcoming post.
In sum – as if you couldn't tell from all the above – Nice is most certainly nice, and I highly recommend a visit to the Queen of the Côte d'Azur!
More info in English: NiceTourisme.com.