Turismo Euskadi
Landing in (Gipuzkoa (Guipúzcoa in Spanish) is like gliding down onto a velvety blanket of green shimmying up to the shores of the azure Atlantic Ocean's Bay of Biscay. And you'll find once you get here that the most diminutive of the three provinces of Euskadi (aka the Basque Country) – and indeed of all of Spain – proves that big, beautiful things can indeed come in small packages. Let me show you how.

Your arrival by air will bring you to one of Spain's most elegant cities and bays: San Sebastián and its Bahía de la Concha (Seashell Bay, named for its graceful curved shape), still redolent with the glamour of its Belle-Époque heyday in the late 19th and early 20th centuries. It's a delight to stroll, from the foot of the Mount Urgull, headland, passing through its charmingly old-fashioned fishing port and past the spectacular city hall (once a grand casino), then onward to grandiose Miramar Palace, once the summer residence of Spain's monarchs.
The beaches in and around the city (also known as Donostia in the local Basque language, spoken here more than anywhere else) ) are glorious, as well, such as the Playa de Ondarreta, filled each summer with blue-and-white-striped canvas tents. Clinging to the cliffs nearby you'll find one of San Sebastián's 21st-century icons, El Peine del Viento (Combs of the Wind), a trio of imposing metal sculptures by local artist Eduardo Chillida, one of the great maestros of Spanish art. This spot is lovely with gentle breezes on a clear day, but if anything even more striking with powerful winds and rough seas below.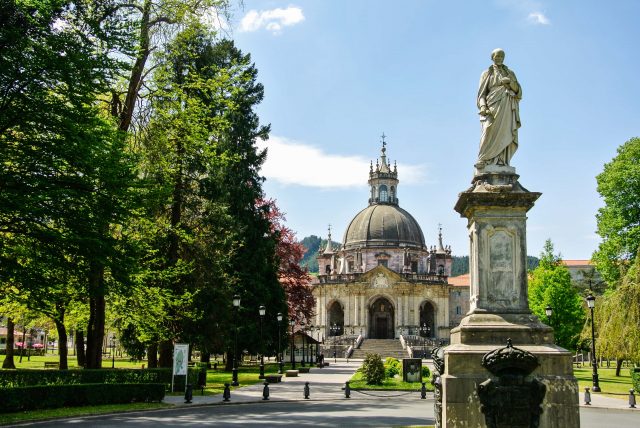 Ander Dylan
And San Sebastián's other claim to fame is as a world culinary capital, the epicentre of not just hearty traditional Basque fare but nouvelle Basque cuisine, from the pinxtos (tapas) bars of the Parte Vieja (Old Quarter) to the cutting-edge likes of Pedro Subijana's three-Michelin-star Akelarre on the city's outskirts.
Outside the capital, other Guipúzcoa musts include the Loyola Sanctuary in Azpeitia, 40 minutes' drive away in the Urola Valley. This extravagant Baroque basilica and surrounding complex was built in the 1730s by the Catholic Church in next to the two-storey brick birthplace of St. Ignatius Loyola, the early-16th-century founder of the Jesuit order (all open to visitors).
Then back up in on the coast a 20 minute drive away (and the same from San Sebastián), the quaint fishing village of Getaria is known for its seafood restaurants and Mount Antón, an offshore islet dubbed "the mouse of Getaria" because its silhouette is indeed reminiscent of a rodent. But its premier attraction since 2011 has been the Cristóbal Balenciaga Museum, dedicated to one of the most legendary fashion designers of the 20th century, born here in 1895. Along with spectacular views along the coast, this four-storey townhouse (a onetime aristocratic residence where Balenciaga's mother was in service) with a sleek modern annex offers a fantastic retrospective of the couturier's best and most iconic designs, which will appeal not just to fans of fashion but those who appreciate beauty, creativity, and innovation.
There's much more where this came from, but these three are an excellent start. To learn more about why Gipuzkoa should be on your bucket list, check out  Tourism.Euskadi.eus. and SanSebastianTurismo.com.