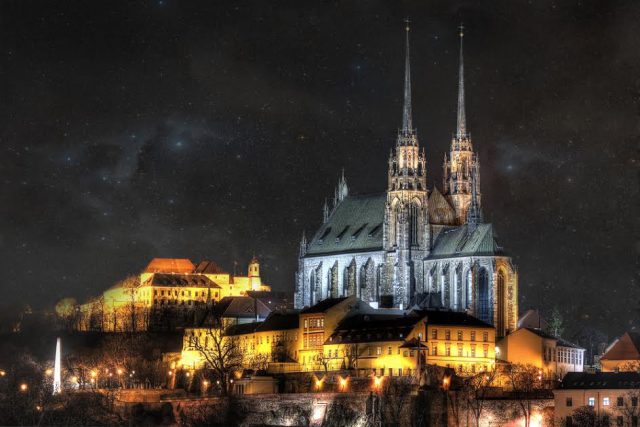 Tomas Luka
The magnificent Czech capital Prague and the towns and cities of the surrounding region of Bohemia tend get most of the attention from travellers and travel writers alike. But in my many visits and time living in the Czech Republic, I found that the next-door Moravia region has an amazing amount of cool stuff to offer, as well. And one of its top attractions is its own capital, Brno, which mixes history and culture with a friendly, untouristy – and even newly hip – vibe, yet at prices quite a bit lower than Prague's.
Founded around 1000 AD, this city of around 400,000 (metro area 800,000) is the Czech Republic's second largest, and though it's perhaps more visited for trade fairs and auto racing than tourism, Brno can boast some impressive sites indeed. Foremost among them is the early-13th-century Špilberk Castle on Petrov Hill (top). Long used during the Austro-Hungarian empire as a jail for political prisoners, then a military barracks, today it's the site of the city museum. The other iconic building up here is the Cathedral of St. Peter and Paul, an also imposing mix of Gothic, Baroque, and neo-Gothic dating back to the 14th century.
The heart of the city's old quarter is the triangular Náměstí Svobody (Freedom Square), a felicitous mix of architecture from Baroque to 21st century; nearby the city's oldest secular building is the Stará Radnice (Old Town Hall), dating back to the mid-13th century, its historic rooms and observation tower open to the public (and check out the adornment over its entrance – one of the spires was made crooked on purpose by its designer after he was stiffed for his work by the city council). And like Prague's Old Town Square, it has an astronomical clock, but this one is modern, a bulletlike sculpture of sleek, polished black granite – and frankly, a little challenging to figure out!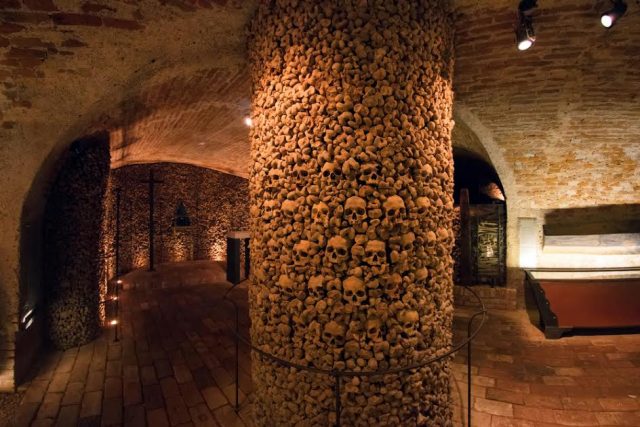 posztos
Speaking of modern masterpieces, architecture geeks will want to Czech out Ludwig Mies van der Roe's Villa Tugendhat, an icon of modernism built in the late 1920s that's this country's only modern-era UNESCO World Heritage Site.
And apart from all of that, among the city's more singular museums are the Moravská Galerie, devoted to Moravian artists, especially contemporary; the Gregor Mendel Museum of Genetics (the pioneering biologist-monk was a local lad); and the Museum of Romani Culture, dedicated to the much misunderstood and persecuted Roma people (aka gypsies).
Other cool 'n' curious sites include Europe's second largest ossuary (bone depository, above) after the Paris catacombs, unearthed under Old Town's Jakubské Náměstí (aka Jakubák). If you want more of the macabre, have a peek at the Capuchin Church and next-door monastery, whose underground crypt features remarkably well preserved mummified bodies of monks, visible in coffins with transparent lids. Another mysterious underground space worth a gander is the recently rediscovered cellars under Zelný Trh (Cabbage Market), turned into a labyrinth, with tours given by guides in mediaeval garb.
And if you're a beer fan, head out to the Starobrno Brewery, for a tour and tasting. Sites worth visiting near the city include the 11th-century Veveří Castle (not completely restored but open to the public for tours) and the Moravský Kras (Moravian Karst), a reserve with dramatic scenery including deep gorges and more than a thousand cool caves (some open to the public).
After dark, you'll find the vibe lively and young is a big student city – and students of Masaryk University and other institutions are perhaps even more noticeable out and about compared to Prague because they're such a large percentage of the local population – some 90,000 out of 400,000. And especially once the weather warms up, a plethora of cool bars, clubs and restaurants come alive in central areas such as Náměstí Svobody, Jakubské Náměstí, and Veveří Street (this last also known for some wonderful architecture, from Baroque to Art Nouveau), with nightlife stars like Mandarin Essence Club, Charlie's Hat, 7. Nebe (Seventh Heaven), Super Panda Circus, and Bar Který Neexistuje (The Bar That Doesn't Exist). Indeed, Brno has even been luring cool cats all the way from Prague for its hip, increasingly sophisticated bar, pub, and coffeehouse scene.
And by the way, among the wide range of accommodations, from modest hostels to five-star luxury hotels, the quirkiest is 10-Z (14 Husová, at the foot of Petrov Hill), once an underground bomb shelter built by the Nazis, then maintained for use by the postwar Communist régime; rooms feature the original (though refurbished) bunk beds, along with 1960s-era phones and TVs.
More information in English: GOtoBrno.cz, TICBrno.cz, Brno.me.
Best fares to Prague from the USA, from Spain.