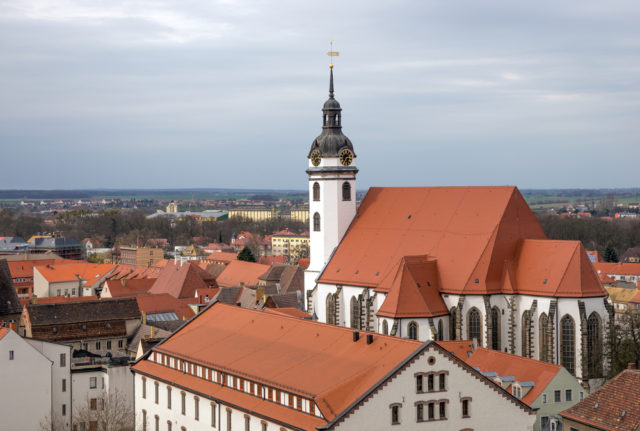 photo | kelifamily
Of the key developments that have altered Western (and world) civilisation, it could be argued that the Protestant Reformation of 16th-century Europe ranks right up there.  It revolutionised large swaths of the continent's old mediaeval order as well as myriad aspects of culture, thought, and politics – not to mention creating wars, rivalries, and general upheaval that have profoundly shaped history down to this day.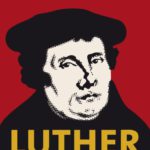 And the revolt against the corruption, abuses, and excesses of the Roman Catholic Church was spearheaded by a number of seminal figures, as diverse as John Calvin in Switzerland, Jan Hus in Bohemia, and Britain's King Henry VIII of the eight wives. But the dude who started it all and became the great powerhouse of the Reformation was the German Augustinian monk and theologian Martin Luther (1483-1546). And in 2017, Germany is pulling out all the stops to celebrate the 500th anniversary of the launching of the Reformation, when on October 31 Luther published and supposedly nailed his "95 Theses" to the door of the Castle Church in Wittenburg. That includes a yearlong series of events and exhibitions throughout the country, such as a special exhibition April 12-November 5 at Berlin's Deutsches Historische Museum called "The Luther Effect. Protestantism – 500 Years in the World" (plus products – even, would you believe, Martin Luther action figures? Gives new meaning to the term "Bible belt"). But they're especially concentrated in the eastern region of Saxony, divided into the states of Saxony, Saxony-Anhalt, and Thuringia. I recently visited Saxony state to experience several of the key Lutheran sites that so transformed Europe and ultimately the world.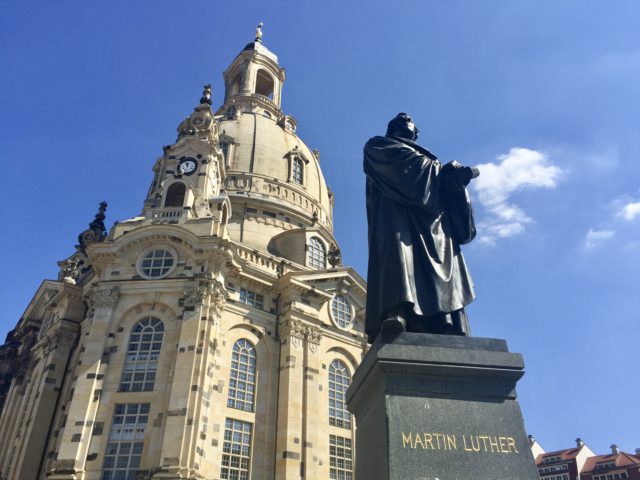 photo | David Paul Appell
Driving a couple of hours south of Berlin, I started out in Saxony's capital, Dresden (pop. 586,000), whose majestic Altstadt (Old Town) was all but flattened by Allied bombing in World War II but has been rebuilt in its original glory. Luther's statue is the focal point of one of the Altstadt's main squares, the Neumarkt, in front of the 18th-century Baroque Frauenkirche, in my opinion one of the world's loveliest Protestant churches. In the last year of his life as a Roman Catholic prior, He visited the monastery of St. Erasmus, across the river in the Neustadt (New Town), whose site is now occupied by the Jägerhof, the Museum of Saxon Folk Art. After the publication of the 95 Theses, he preached in the chapel of the royal palace, the Residenzschloss, which now houses museums in which you can see his signet ring and goblet.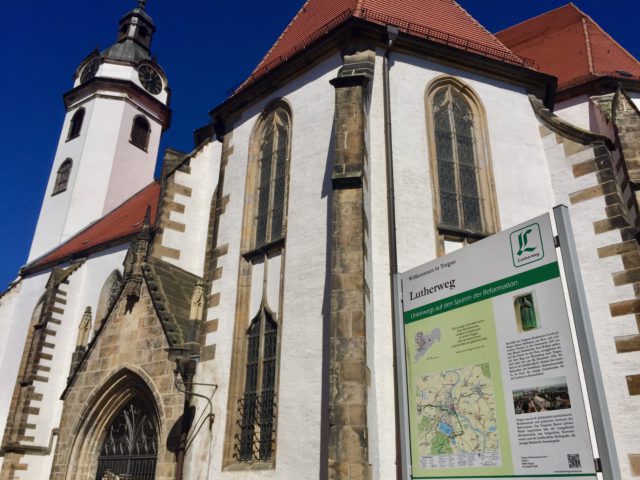 photo | David Paul Appell
I found the smaller city of Torgau-an-der-Elbe  (top; pop. 20,000) to be a real Renaissance and late-Gothic charmer to begin with. But its modest size belies its importance five centuries ago as the political centre (also dubbed "the wet-nurse") of the Reformation, where the town council closed all Catholic cloisters and citizens stormed the Franciscan monastery and destroyed statues and paintings of saints in the churches. In addition to landmarks like the magnificent Hartenfels Palace, Germany's best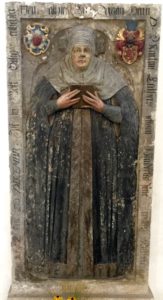 preserved early-Renaissance palace (starring a downright spectacular exterior spiral staircase) and the  monument to the first meeting at the end of WWII of U.S. and Soviet liberation armies, there are a several which are especially Reformation-relevant.  There is the modest abode of one Katharina von Bora, a onetime nun whom Luther helped escape from a convent and subsequently became Luther's wife and mother of his six children; died here in 1552; and was a very capable, even formidable person in her own right. You can visit Kate's modest house, with artifacts and exhibits, and she's buried in the whitewashed Marienkirche (above), built between the 13th and 15th centuries, where the two were married in 1525 and their kids baptised; you can see her depicted on her tombstone (left) standing against one wall.  And Hartenfels Castle, by the way, harbours its own special contribution, in the form of a relatively simple chapel that in 1544 was the first church to be built as a Protestant house of worship. Torgau's Museum of Municipal and Cultural History puts these sites and other aspects. Walking tours are available through the local tourist office, and a "Katharina Day" is held annually in late June.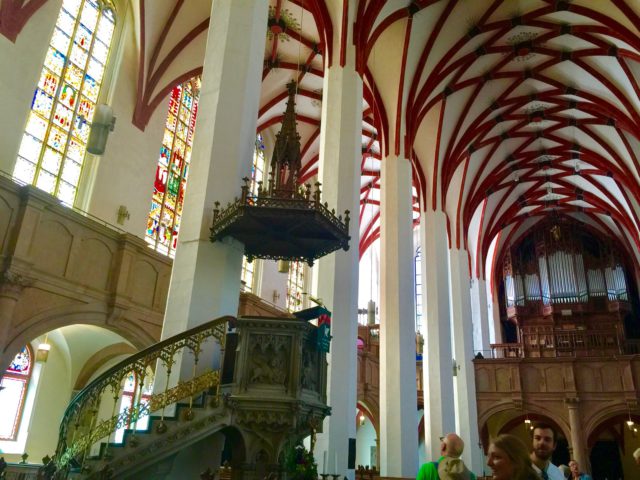 photo | David Paul Appell
The last stop on this particular trip was Leipzig, also rebuilt from the ashes of WWII and today an even more vibrant and youthful city despite its ancient pedigree. ML visited several times, but it was here that he took part in the Leipzig Disputation with another theologian, Johann Eck, which finally led to his excommunication from the Catholic Church; the Neue Rathaus (New Town Hall) has stood on the site of this great debate since 1905. He preached here several times, perhaps most notably in the Thomaskirche (above), commemorated by a plaque and stained-glass window. A pair of atmospheric and still highly recommendable restaurants whose owner was a friend of Luther and where he dined: Thüringer Hof, the city's oldest eatery (1454), and the Auerbachs Keller  (1525), whose Luther Room makes for an interesting visit before or after your meal.
There's a lot more to Germany's Reformation/Luther trail where that came from, and many other cities and towns all across the country played various key roles, such as Saxon-Anhalt's capital Magdeburg as well as Worms in Rhineland-Palatinate and Thuringia's Weimar and Schmalkalden. Here are a half dozen more of those which are in my humble opinion the most interesting, all in eastern Germany: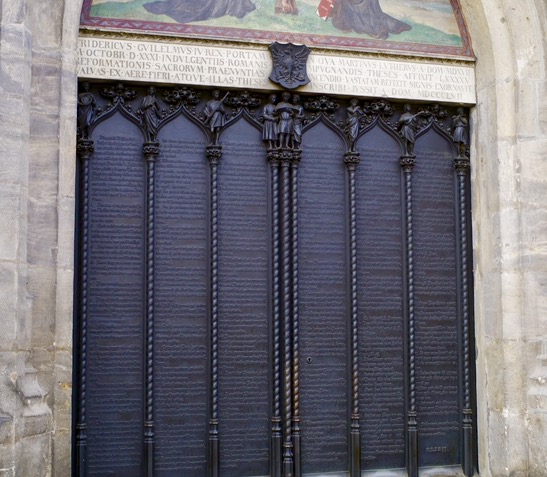 photo | gary yim
Eisleben (pop. 25,000; an hour northeast of Leipzig; two hours from Dresden two hours 20 minutes southwest of Berlin), at the foot of the Harz Mountains, dates back to at least the late 10th century, with sites to visit including Luther's birth house (one of the oldest museums in any Germanic country, recreating a period townhouse as well as containing exhibits); the St. Peter and Paul Church, where ML was baptised; and the house where he spent the last three weeks of his life. Luther-themed tours are available on request from the tourist office. The city celebrates a Luthersburg Festival in June and Martins Festival on his Nov. 10 birthday.
Halle  (pop. 237,000; two hours southwest of Berlin; 90 minutes from Dresden; a half hour from Leipzig) has been dubbed "the cradle of the Reformation" thanks to the conflict between Luther and his archrival, local Catholic cardinal Albrecht von Brandenburg, over the sale of indulgences which was one of the core things the Protestant movement was protesting. Key sites include the four-tower Marktkirche (1529-1554), where Luther preached which today holds his death mask, and the Francke Foundation, a UNESCO World Heritage candidate founded at the end of the 17th century to promote Protestantism throughout Europe and beyond (today you can visit its museum and historic orphanage and school. A Lutheran-themed tour is available.
Wittenberg (pop. 46,000; an hour 40 minutes from Berlin; just over two hours from Dresden; just over an hour from Leipzig) is perhaps the best known Lutheran destination of all (in fact, its official name is Lutherstadt Wittenberg), thanks to the fact that it was here that the Reformation was essentially launched by the 95 Theses. Luther lived here for nearly 35 years, and his house has been preserved and turned into the world's largest museum of Reformation history. Also here is the Schloss (castle) and Schlosskirche (castle church) upon which the theses were said to have been nailed. Today the church, rebuilt after war damaged, features bronze instead of wooden doors (above), including the text of the theses (in Latin, of course), and several illustrious tombs including that of the great reformer himself. The spot outside the Elster Gate where Luther burned the papal bull excommunicating him is marked by an oak tree. Annual festivals include Luther's Wedding every second weekend in June, and the Reformation Festival; this year, the special exhibition "Luther! 95 People – 95 Treasures" will run May 12 to November 5 at the Lutherhaus.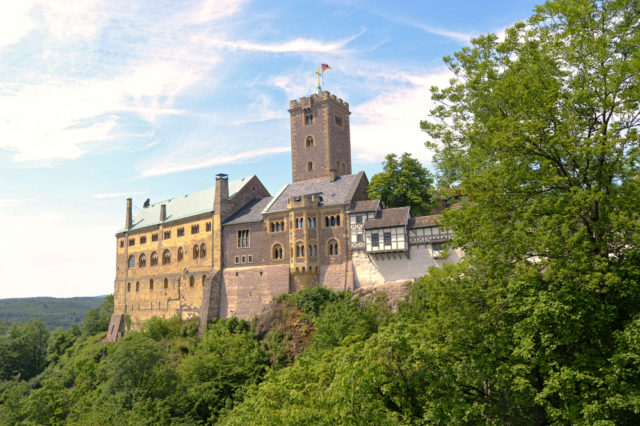 photo | Tayte Campbell
Altenburg  (pop. 33,000; just under two hours from Berlin and just under an hour from both Dresden and Leipzig), on the Pleisse River, was a "test case", as it were, where the Reformation was put into everyday practice after the collapse of the local Catholic Church under the "Reformation's Helmsman", Luther protégé Georg Spalatin. Top Lutheran sites including the red, Evangelische Kirche (Church of the Brethren), built in 1905 with lovely Art Nouveau mosaics; the Gothic Bartholomäikirche (St Bartholomew's, 1443), where Luther often preached and Spalatin is buried; and the early-15th-century Schlosskirche (Castle Church), with its elaborate 17th-century Baroque interior. Tourist office tours are conducted on Fridays and Saturdays.
Eisenach  (pop. 42,000; 3½ hours from Berlin, two hours 40 minutes from Dresden, two hours from Leipzig), in addition to being the birthplace of Johann Sebastian Bach and site of the 11th-century UNESCO World Heritage Wartburg Castle (above), was teenage Luther's home for five years as well as the place where while hiding out in the castle he later translated the Bible's New Testament into the vernacular German. The half-timbered Cotta House where he stayed includes austere period furnishings and modern exhibitions; in the castle you can visit the great man's study, and a special national exhibition, "Luther and the Germans",  will start running on May 4.
Erfurt  (pop. 210,000; just over three hours from Berlin, 2¼ hours from Dresden, 90 minutes from Leipzig), Thuringia's capital; dates back to at least the 8th century; and boasts one of Germany's best preserved historic cores, Europe's longest inhabited bridge, and a marvelous Baroque castle. This was where young Martin was a liberal arts and theology student at Germany's oldest university (1379); was ordained as a priest in the also-14th-century Gothic cathedral; and spent six years at St. Augustine's Monastery, which was built circa 1300 and today lacks monks but does offer tours, a Luther exhibition as well as a small modern conference centre and comfortable rooms for overnighting. The local tourist office runs Luther tours regularly, and the city celebrates his Nov. 10 birthday with a festival.
For more on the Lutheran trail and Germany's Luther Year, check Germany.travel, Luther2017.de, and Routes-To-Luther.de.  Best fares to Berlin from the US, from Spain.