photo | Marian Goldberg
If you recognise the name Narita, it's most likely because of its international airport, a 60-minute express train ride (and 80 to 90 minutes by bus) from Tokyo. But right alongside is a vibrant city of 129,000, along with its other next-door neighbour, the slightly larger city of Sakura (pop. 172,000). Both have a surprising amount to offer culturally, and make either a great introduction to Japan after a long trans-Pacific trip, or a relaxing little coda at the end of your visit. Here's why.
Narita City 
Along with all the trappings of a standard modern Japanese city, Narita is besides the airport perhaps best known for extensive, lovely Narita-san Shinshoji Temple, the main temple of sect of Chizan-ha esoteric Buddhism. Founded by Archbishop Kancho in 940, it's dedicated to Fudō, the god of fire, whose image here was carved and consecrated by the great monk Kukai. A million faithful as well as tourists visit Shinshoji per year, especially to witness its daily Goma fire ritual and annual festivals such as the taiko drum festival (top) in April.
photo | Marian Goldberg
Running a kilometre (just over a half mile) bewteen the train station and the temple is the movie-set-like street called Omotesando (below), lined with machiyas (traditional buildings) housing numerous restaurants – especially those featuring fresh unagi (eel), the local speciality, as well as shops selling souvenirs, traditional crafts and street food. Sample freshly charcoal toasted sembei (rice crackers) and pick up some perfectly packaged gift foods, such as yokan, Narita's special sweet azuki–bean jelly. You can even learn more about this local treat at the Nagomi-no- Yoneya, a famous yokan shop and historical museum at the top of Omotesando that dates back to 1899.
Also noteworthy among local shops is the sake store and brewery, Takizawa Honten, founded in 1872. When I was there recently, I was fortunate that the amiable fifth-generation brewer invited my friends and me in for not only a tasting but an explanation of his premium nihonshu and a back-of-the-house inspection of his production facility (available December-February, reservations required). We observed how the rice is polished, fermented and then combined with a rice-derived microorganism called koji, plus yeast and brewed for the right length of time at the right temperature to make the perfect grade. As sake is 80 percent water that is its essential terroir, Takezawa-san uses spring water so pure that it was reportedly used historically by healers. With this in mind, he names his sakes chomeisen, "fountain of longevity."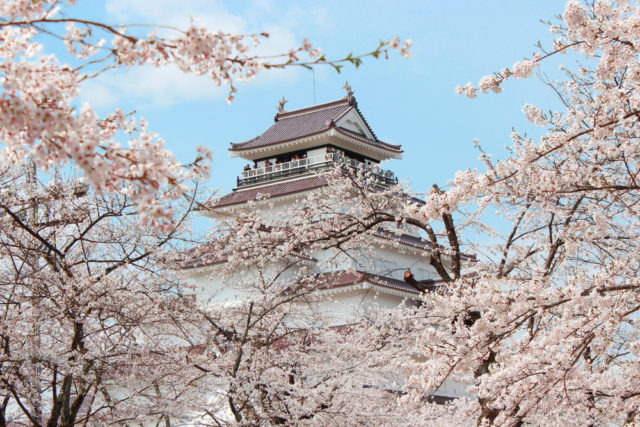 photo | JBOY
Sakura City
A twenty-minute taxi or train ride (JR or Keisei lines) from Narita Airport, Sakura is even more overflowing in history, renowned in particular for its castle (above), well restored former samurai residences, and the National Museum of Japanese History, whose exhibits reveal these islands' story prehistory through modern times.
Sakura also boasts two distinctive art museums, the Sakura City Museum of Art and Kawamura Memorial Museum of Art. The former displays work by local artists from Sakura and the nearby Boso Peninsula, latter museum is heralded for its rich 20th-century collection of European masters, including Rembrandt, Renoir, Monet, Chagall, Picasso, and Braque, along with Japanese sensei such as Korin Ogata.
In 1610, Doi Toshikatsu, chief advisor to Japan's second shogun, Tokugawa Hidetada, began constructing Sakura Castle and a town to support it. Today the castle is in ruins, but its structural remains and its dry moat are the cornerstone of Sakura Ca. The park is also famous for its June flowers – its magnificent ajisai (hydrangea) and its 9,000 irises in 46 varieties, which bloom around the main pond.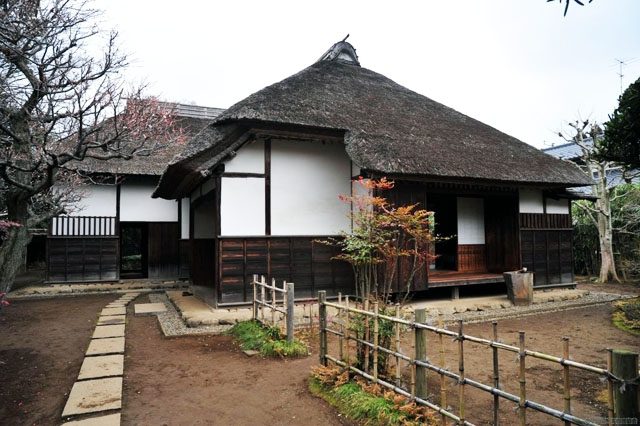 photo | Marian Goldberg
East of the castle park is Sakura Samurai Street, with five well-maintained samurai residences — the largest number collectively still standing in Kanto (the eastern region of Honshu island, including greater Tokyo), where the street view hasn't changed since the Edo Period. These houses have typical thatched roofs as well as earthwork barriers for their defense. Three of them, Kawara House, Tajima House, and Takei House, are open to the public; because they differ in rank and value of fief, you can get an idea of the variation of the lives of samurai by comparing them (Kawara, built in the early 19th century, is the oldest and belonged to one of the highest ranking samurai of the time).
On nearby Kaburagimachi Street, Hotta House was built in 1890 by the last feudal lord of Sakura when he moved from Tokyo after the Meiji restoration of the emperor. Made in traditional Japanese tatami-mat/shoji-screen style, this five-wood-building compound has tiled, hipped roofs along with a storehouse and a gatekeeper's lodge. Its grounds, always open to the public, are known as Sakura Garden, were created by Ito Hikoemon, a famous Meiji Period gardener, and are acclaimed as one of the best scenic views in Chiba Prefecture.
Moving on to the National Museum of Japanese History, an excellent introduction to Japan, you'll want to set aside three hours to fully appreciate its more than 200,000 artifacts (complimentary English-language audio guide, free to foreigners) telling the history of a land and its people through objects of daily life. The collection includes Jomon pottery (12,000 to 300 BC); painted Edo-Period shoji screens depicting Japan's relationship with foreign countries during the 18th century; replica sailing ships used in the Kashima nagashi ceremony in Akita Prefecture to banish misfortune to the spirit world; a scale model of a real Western-style schoolhouse in Yamanashi Prefecture circa 1875, when the silk and iron industries began driving Japan's Meiji Period economic growth; and the "war and peace" life and culture of the 1930s to 1970s, as conveyed through real publications and video news footage of the day.
photo | Marian Goldberg
Getting Around/Putting It All Together
East Japan Railway provides sample rail and walk/hike itineraries and rail and bike itineraries around Narita and Sakura cities, making it easy to spend a culturally rich and soft adventure filled day or overnight just a short distance from Narita Airport. You can use their itineraries and maps as a base, even if you plan to take taxis from one site to another. In addition, if you book in advance, it's easy to arrange volunteer guides of Narita and Sakura cities via links from Chiba Prefecture's website.
Additionally, if you are just on an airport layover, but have at least four hours, there is a new Narita area sake brewery taxi tour service that will take you to Takazawa and one other sake brewery, as well as Narita Temple and Ryushoin Niomon-Gate, an "Important Cultural Property". Other tours visit other breweries in conjunction with Shisui Premium Outlets for shopping or the Ino Tadataka Memorial Museum, an homage to one of Japan's first surveyors/map-makers. Tour fees range from 12,000 yen per group for four hours with a sedan to 27,000 yen for six hours with a mini-van.
For more information on Narita and Sakura cities, visit Chiba Prefecture's website.