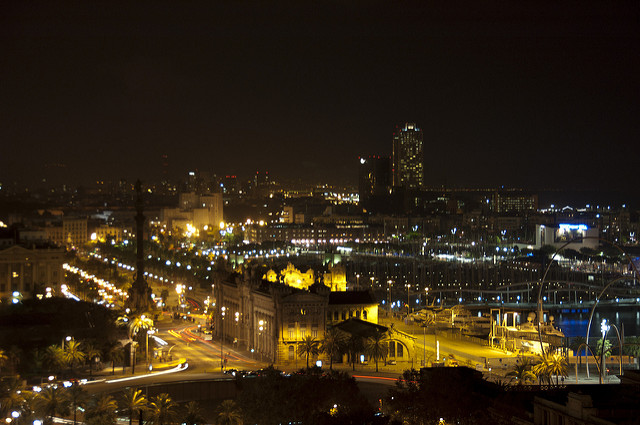 photo | Brian Miller
A gorgeous city with gorgeous eats – yum, what could be better for travellers? Barcelona and Catalonia in general have of course become reknowned these days as culinary stars, and the city has developed an amazingly diverse as well as high quality dining scene. And when you can combine the pleasures of the plate with spectacular sights, why wouldn't you do that? Here are seven picks you'll find tasty in all senses.
The "Seaview" is up on Montjuïc hill, which unsurprisingly delivers awesome eyefuls of the Mediterranean Sea, but also of the city itself, to go along with its creative, top-quality Mediterranean menu.
Barcelona's other main hill, Tibidabo, is up north in the Sant Gervasi neighbourhood, and its slopes, too, are leveraged by several great eateries. This one is considered by many the best terrace restaurant in town, with two floors, a garden, even a little pond, and of course chef Joaquim Reig's own imaginative Mediterranean fare.
Barcelona's highest restaurant is visual, all right, with 360-degree views from the 23rd floor of the Torre Catalunya hotel out west near the Sants train station. Perhaps so mesmerising (especially at night) that they felt it necessary to add some unusual surprises to the tasty menu, such as sea urchin soup and kangaroo steak.
Rice dishes such as paella are favourites in Catalonia as well as nieghbouring Valencia, and they're a house speciality at this restaurant (above) atop the harbourfront's Maremágnum shopping/dining/ entertainment complex, along with organic seafood and roast-meat dishes. The vibe is sophisticated, as well as DJ-serenaded.
Not far away, up on enormously popular pedestrian promenade known as Les Rambles, Eugeni Cortes' farm-to-table, modern Catalan delicacies in the restaurant of the Le Meridien hotel come right from the famous Boqueria market down the street. The view here is not from on high but rather a front-row, picture-window view of the colourful, bustling Rambles.
Another Montjuïch original, right across from the botanical garden, it's known to serve up some of the best sunsets in Barcelona along with specialities like paella and barbecued chicken with Catalan sausage. Quite affordable, too!
An old-fashioned, family-owned eatery in the El Carmel neighbourhood, tucked in the hills north of Güell Park, it's worth the trek a bit off the beaten path to feast on traditional Catalan and Spanish home cooking at amazingly low prices but high views over the whole city and the sea beyond.
Best fares to Barcelona from the UK, from the USA.