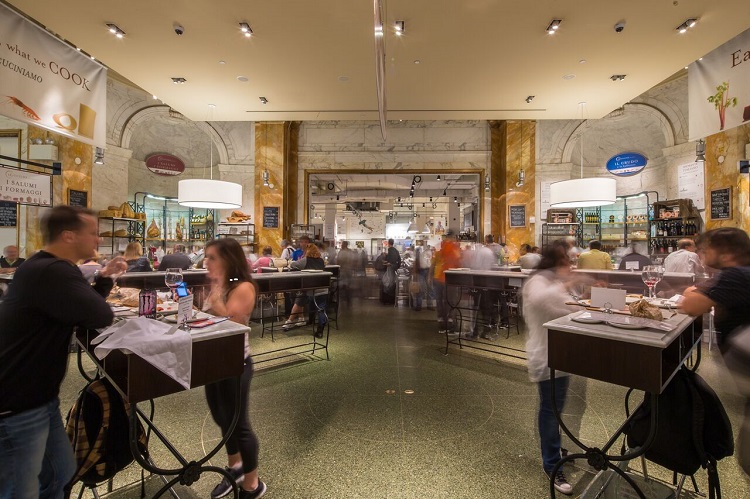 Increasingly popular in many cities throughout the world – food halls have especially become a big thing of late in New York City, and for visitors they're providing some of the most fun ways possible to take a bite out of the Big Apple. Unlike the "food courts" that have been with us since the 1980s, these extensive venues are usually crammed with multiple, cutting-edge vendors. Three were launched just last year and at least three more are due over the next year, courtesy of celebrity chefs Anthony Bourdain, Claus Meyer, and Mario Batali.
The world may often look to New York for nascent trends but its obsession with indoor markets was inspired by decades-old food halls and centuries-old markets in Europe and Asia. Chef Todd English had in mind London's Harrods food hall and central markets in Paris, Barcelona, and Berlin when in 2010 he opened the Todd English Food Hall in the basement of the ritzy Plaza Hotel on Central Park South. Diners sit at communal tables and order from any one of nine open kitchens serving up a range of cuisines, including an oyster bar, sushi bar, a charcuterie station and a pasta station cooking up English's signature dish, rigatoni bolognese. Proving food is the new fashion, the venue displaced a former clothing boutique.
A couple of months later, Batali and his partners, chef Lidia Bastianich and restaurateur Joe Bastianich, opened the first U.S. branch of Turin's Eataly (200 Fifth Avenue) in the Flatiron District. In this gigantic (5,390-square-metre/58,000-sq.-foot) complex, shoppers browse cookbooks, kitchen goods and groceries then opt for a table at the indoor pizzeria, rooftop birreria, fish or meat restaurants or stand at a tall counter tables in La Piazza, a busy, informal gathering space decked out with marble alcoves and mosaic-tiled floors not unlike a food market in Florence or Rome. A collective cheer erupted across Manhattan when Eataly reopened its popular Nutella bar last year in here. This summer, a new Eataly opens way downtown on the third floor of 4 World Trade Center.
In 2012, the Plaza Food Hall opened adjacent to Todd English's space in the Plaza Hotel, and has become particularly popular at lunchtime. Diners take a seat at kitchen-facing counters and on bar stools or choose to-go food enjoyed at bistro tables dotted around elegant spaces. Favourites here include seafood at Luke's Lobster and Tartinery's gourmet open-faced sandwiches on rustic bread. Thanks to its location opposite the southeast corner of Central Park, it makes a great spot to satisfy cravings after a stroll around Manhattan's largest park.
Opening its doors in 2013 in Midtown's Hell's Kitchen neighbourhood, at Gotham West Market (600 11th Ave.) nine artisan vendors cater to a young crowd bunched together on benches. The Cannibal specializes in charcuterie and small plates and El Colmado serves classic Spanish tapas dishes such as meatballs, Serrano cured ham, and toast with tomato and olive oil. Cozy in the winter and heavenly on summer evenings when the setting sun streams in, it's just ten minutes' walk west of the Theatre District. City Kitchen, which opened in 2015 on the second floor of the Row NYC Hotel (700 Eighth Ave.) is even closer, just a block west of Times Square, a 372-sq.-m (4,000 sq.-ft.) space inspired by dinner parties where everyone congregates around the kitchen. Ramen bowls from Kuro Obi are a hit, as are hibiscous doughnuts from Dough.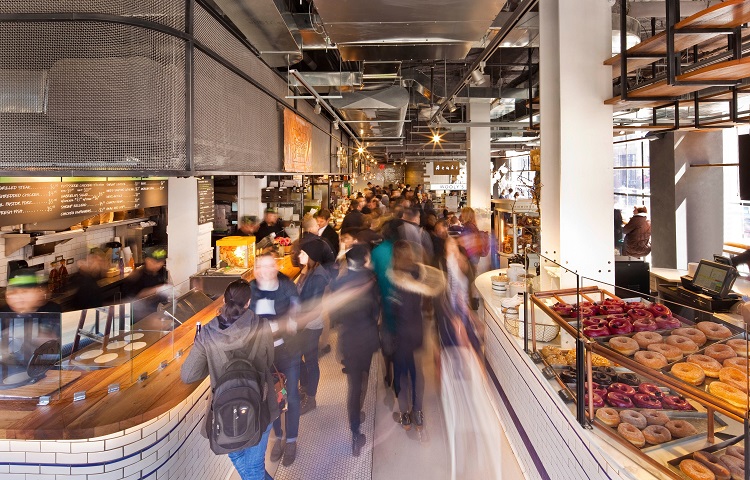 Way downtown, the Financial District got a culinary boost with the opening of Hudson Eats in 2014 followed almost year later by Le District, both at Brookfield Place, the former World Financial Center (200 Vesey St.). The former offers more than a dozen eateries, including Mighty Quinn's Barbecue, Dos Toros Taqueria, and Blue Ribbon Sushi Bar – plus a striking sunset view over the Hudson River toward New Jersey that could turn an evening around. French-themed ' Le District is divided into a grocery area, a café and pâtisserie, restaurants, and a market zone that includes a charcuterie, fromagerie, and boulangerie, right alongside wine bar Le Comptoir, serving champagne and oysters, and the marina-facing Beaubourg brasserie, with indoor-outdoor seating.
British company Urbanspace has been revitalising outdoor food and pop-up holiday markets in Manhattan for a few years now. In 2015 they went indoors to create Urbanspace Vanderbilt (230 Park Ave.), where more than 20 vendors fill a spacious corner of the Helmsley Building, just north of Grand Central Station. At the station itself, in Vanderbilt Hall (89 East 42nd St.) Danish chef Claus Meyer will open his Great Northern Food Hall, bringing the "New Nordic Cuisine" movement into the heart of the city in May.
In the near term, perhaps the future epicentre of f ood-hall heaven will shift over to the Lower West Side, where the popular Chelsea Market (75 Ninth Ave.), a block-long mix of retail stores and eateries – has already been operating since 1997. Nearby, the visually sumptuous Gansevoort Market which opened several blocks south in the Meatpacking District in 2014, will be relocating to West 14th Street later this year.
Looking a bit further down the road to next year, Anthony Bourdain's plans for Bourdain Market sound like the most ambitious and exciting food hall venture yet. The globetrotting chef has set his sights on a nearly 1.5-hectare (3½ acre) space inside the "SuperPier" being planned on the site of an old wharf on the Hudson River at West 15th Street. Bourdain has said the venture aims to bring together "a dream list of chefs, operators, street food and hawker legends from around the world" and aims to be "crowded and chaotic" like the best public markets of the world – a welcome addition to the trend that has truly energised the New York City foodie scene.
Lee Howard is a London-based freelance and photographer who covers travel, arts and culture; his work has appeared in The Guardian, National Geographic, Rough Guides andWhere Traveler. Follow him on Twitter at @LeeeHoward.