With its roots in the hippy/crunchy counterculture of the 1960s and 1970s, not all that long ago, much vegetarian dining was for hardcore veggies only, the type who really dig stuff like wheatgrass shots – as I recall from visiting one such spot back in the 1980s on Greenwich Avenue in New York City's Greenwich Village.
But especially in recent years, the rise of vegetarianism, health consciousness, and the foodie movement have led to more mainstreaming of meatless dining and eateries that not only have a decent number of meatless dishes but are actually dedicated to vegetarian cuisine (with a subset also subscribing to the recent trend in so-called "raw food" – uncooked, unprocessed, and usually organic fare, which sounds hardcore but is actually often made palatable with exquisite haute-cuisine flavours, preparation, and presentation). And here are some of the top choices in Europe.
Amsterdam
Just north of the Dam, the vegan menu at tiny TerraZen Café (Sint Jacobstraat 19) is divided between Rastafarian Caribbean and Asian (mostly Japanese), and features readings, music and other events of exactly the type you'd expect at a Dutch multi-culti veg café. Over at Alchemist Garden (Overtoom 409), part of a holistic health centre near Vondelpark, meanwhile, it's all about raw food, and at ovo-lacto Betty's (Rijnstraat 75) the vibe (and prices) are a bit more upscale (prix-fixe menu 33 euros). Also well worth a bite is De Waaghals (Frans Halsstraat 29), near the Rijskmuseum, with for example a lovely goat-cheese fritter with raisin-walnut chutney, potatoes gratin with onion, chard with oyster mushrooms, and grilled garlic vegetable skewer.
Barcelona
Over near Ciutadella Park, Javier Andrés Medvedovsky's Café Blueproject (Carrer Princesa 57) is the cosy eatery at the eponymous foundation devoted to exhibition of multimedia arts as well as performance. Menu choices here (mostly light fare, salads, sandwiches, and desserts) are vegan, and many of them also raw and gluten-free; a good example is the "artistic tofu" sandwich, with grilled tofu, marinated eggplant, sundried tomato paste, green leaves, and sprouts on whole grain bread. The fare is fairly similar at the tiny, also artsy-feeling, and pet-friendly Quinoa Bar Vegetarià up in the Gràcia neigjbourhood (Travessera de Gràcia 203; closed Sunday); the veggie burger is a particular favourite here.
Berlin
One of Europe's better cities for vegetarian travelers, it provides an especially good selection in Berlin Mitte, alt/boho Kreuzberg, and artsy Prenzlauer Berg, with top contenders including Cookies Cream (Behrenstrasse 55), where Stephan Hentschel's haute offerings include no tofu but yes the (obviously not always vegan) likes of parmesan dumplings with tomatoes, herbs, and cream of artichoke (multi-course menus 39/48 euros); Lucky Leek (Kollwitzstrasse 54), tomato-stuffed mezzalune with paprika sauce, bok choi, and crispy fried feta (menus 49 euros); and Kopps (Linienstrasse 94), specializing in German-inspired fare (menus 36/42/49 euros) such as smoked-lentil praline with Riesling cabbage, glazed potatoes, and walnuts. Less pricy fare – including raved-about veggie burgers and seitan currywurst – can be found at Yellow Sunshine (Wiener Strasse 19) across from Görlitzer Park.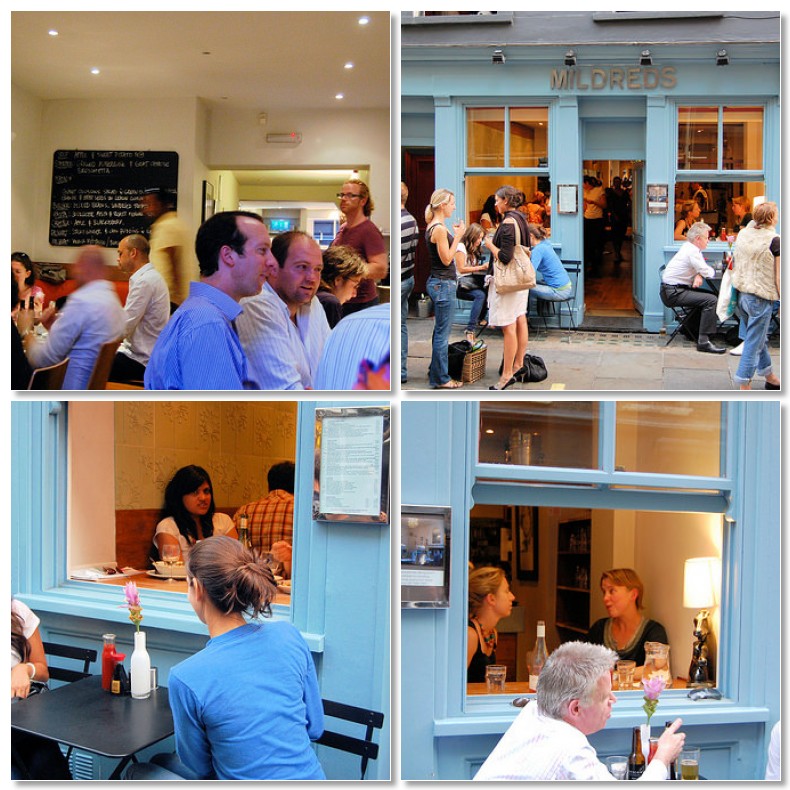 London
For perhaps the finest veg in town, in a brick townhouse along a side lane in The City, head to Vanilla Black (17-18 Tooks Court) and get ready for the likes of seared seaweed and cabbage with soda-bread sauce, pickled potatoes and foraged seaside vegetables (lunch menus £20/25). Meanwhile, over in Soho, crisp, white Mildred's (45 Lexington St.) in Soho, which slings creative multi-culti fare from burgers to Sri Lankan sweet-potato/cashew-nut curry, yellow basmati rice with peas, and coconut-tomato sambal.  For victuals that are a tad more casual and budget-friendly, check out Tibits (12-14 Heddon St.), the local branch of a Swiss chain, located just off Regent Street, a short stroll from Picadilly Circus; the fresh, varied offerings are laid out buffet style.
Madrid
Downtown is home to several great options, such as a pair of Artemisa restaurants (just off Gran Vía, at Calle Tres Cruces 4, and four blocks east of the Puerta del Sol at Calle Ventura de la Vega 4) where I especially like the sharing platters (25 euros for two), which might include the eggplant bake with manchego cheese and tomato sauce, veggie paella, Catalan-style spinach, and soy burger; lunch prix-fixe menu 12 euros.  Also near Puerta del Sol, Yerbabuena (Spanish for "mint", Calle de Bordadores 3) serves up its own veg paella, as well inventive dishes like eggplant tempura with honey syrup and crisy wheat crepes stuffed with spicy cheese, cole slaw, guacamole, and gazpacho; à la carte or 20-euro menu. On the other side of Gran Vía in trendy Chueca, AbonaVida (Calle Navas de Tolosa 3) is an "eco-café" that's excellent for sandwiches, pizzas, and libations from an extensive tea selection to cannabis beer (menus 9/12 euros).
Paris
Near the Sorbonne on the Left Bank, the cute little Le Grenier de Notre-Dame (18 Rue de la Bûcherie) is still going strong after 30 years, doing right by one of the world's top culinary capitals with the likes of veggie couscous and cassoulet, as well as and varied quiche, pasta, and seitan dishes (à la carte or menus 16/18 euros). Over on the Right Bank right across from the Pompidou Centre, Le Potager du Marais (24 Rue Rambuteau) looks like one of those typical narrow Marais restos with one row of tables, but in fact it also serves up its own vegan take on French cuisine.

image | Stock-Asso, vegan traveller