Made up of five islands settled by the Portuguese in the 15th century – main island Madeira (pop. 268,000), as well as with smaller Porto Santo and the three Desertas – this archipelago with a semi-tropical climate that's mild year-round  has in addition to gorgeous scenery a feel of traditional Portugal. Today we're heading to Madeira's capital, a gracious city which along with nearly half of the island's population also offers charming historic architecture and landmarks, as well as excellent dining, lodging, entertainment – and wineries, to boot.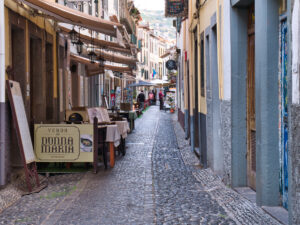 Exploring Funchal's Old Town
Velho Funchal is a warren of lively, colourful streets such as Rúa Santa Maria (left), one of the city's oldest, lined with small shops with local products as well as restaurants serving classic Portuguese cuisine at affordable prices. Notable landmarks include the such as the 16th-century Sé (cathedral, known especially for its elaborate inland ivory-tile ceiling) and the Capela do Corpo Santo, a chapel built at the end of the 15th century and dedicated to the patron saint of fishermen, Pedro Gonçalves Telmo. By the way, Rúa Santa Maria is also notable for its colourfully painted doorways, all because of an artistic initiative begun in 2010.
Funchal is home to a number of interesting museums dedicated to various topics including Madeira wine and city history, and a particular standout is this one, housed in a 16th-century manse that was once home to the its bishops. Here you'll find striking works of Catholic-themed art from the 15th to the 19th centuries, such as Flemish wood paintings and sculptures, silver artefacts, religious garments, and gold work. Closed weekends.
Fantastic Feeds
As we noted before, along with most of the island's population, Funchal is home to many of its restaurants, serving not just the food you'll find throughout Portugal but delicious Madeiran cuisine which draws upon fresh ingredients grown in and raised on the rich volcanic soil amid a balmy climate. As you'd expect, seafood is a speciality, including swordfish and tuna but also particularly local specialities such as lapas grelhadas, sea snails grilled with butter or olive oil along with plenty of garlic. Outstanding meat dishes include espetadas – beef kebabs grilled on bay-leaf-branch skewers – and don't forget the bolo do coco, a flatbread made with sweet potatoes. Pair it all with locally grown wine and you're guaranteed some memorable meals indeed.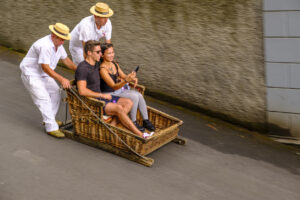 Take a cable car up to the top of the hilly Monte district, check out the 18th-century church Our Lady of the Mount as well as several fine gardens and parks, then to come back down take the carreiros do monte, which is unique in the world as far as we know. Started in the 19th century, these are wicker toboggans which careen down the streets guided by white-garbed blokes in straw boaters and rubber-soled shoes – both traditional and muito divertido (lots o' fun)!

Handsome Handicrafts & More
Check out the Embroidery and Handicrafts Museum, then browse the streets of Velho Funchal for some fine pieces of your own – not just the island's esteemed embroidery but also wickerwork, tapestries, and of course some world-famous sweet Madeira wine.
For more fantastic info on Funchal and the island as a whole, check out VisitMadeira.com, then book an affordable flight on Iberia, currently from 164 euros from Madrid.