If you're not familiar with the term "greenways", they're corridors of open space – especially in Europe and the USA – which run either along natural formations like rivers and streams, or manmade features such as abandoned railway beds. Here in Spain, it's the latter – our country has more than 2,900 kilometres (just over 1,800 miles) of former train tracks that over the past decade have been converted into cycling and walking routes administered under a Spanish Railways Foundation programme called Vías Verdes.
Spain's verdant north, is especially rich in these routes including six in the autonomous  community of Cantabria, known the richness of of its nature, from the rugged Bay of Biscay shore to the soaring Picos de Europa mountain range. Once mining railways, they range from just one to 34 kilometres (just under ⅔ of a mile to just over 21 miles) and all within fairly easy driving distance of Cantabria's capital Santander.


The Besaya Greenway
Just a half hour westward along the coast from Santander, the hamlet of Hinojedo is an endpoint of one of the longer Cantabrian greenways (20km/12½ mi.), named after the Besaya Valley and river, part of which it follows. Here on the wharf you can still see the equipment that used to load the ore from the train whose route the greenway now covers; nearby Suances has some interesting historic architecture as well as something of a summertime beach scene, and less than 20 minutes west is the lovely medieval town of Santillana del Mar and the breathtaking prehistoric rock art of Altamira Cave.  Once you hit the greenway, it's fairly flat and almost entirely paved, covering parts of the coast, parkland, forests, meadows, and ending up in Corrales de Buelna, once the site of the mine and with a surprising number of interesting historic buildings for a town this size (just under 11,000).
The Castro-Alén Greenway
Some 45 minutes east of Santander, the historic port town Castro Urdiales, with its picturesque cobblestone streets, Gothic landmarks, and seafood restaurants, is one of the endpoints of another former mining railway (concretely the wharf used for loading iron ore for shipping). Its partly paved 18km (11 mi.) is at least .75 metres (2½ feet) wide.


The Castro-Traslaviña Greenway
About 75 km west of Santander, this gravel pathway with asphalted sections runs 5.5km (3½ mi.) along yet another old mining railway line, through meadows and forests between the hamlet of Santullán and the site of the onetime mining village of Herreros, with highlights including Castro Urdiales.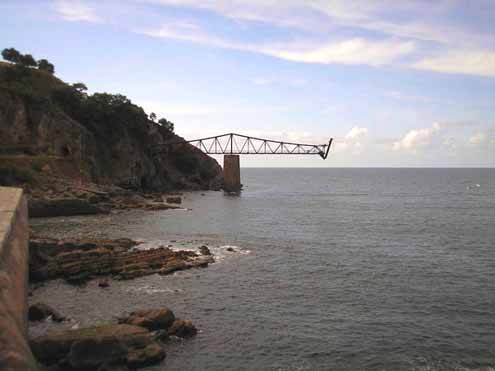 The Dícido Greenway
The shortest of our routes is actually a fairly well developed promenade running about a kilometre (just under ⅔ of a mile) along Dícido Beach in the small town of Mioño just outside Castro Urdiales. Besides impressive sea views, you can check out the remnants of late-19th-century mining operation here, including a trio of tunnels, workshops, forges, a loading dock, a locomotive, and big a cantilevered loading arm still jutting out into the sea.
The Pas Greenway
Closest to Santander (just 20 minutes south), the longest of Cantabria's greenways runs 34km (21 mi.) along the Pas River through the Pasiego Valleys from Obregón to Puente Viesgo, with most of it paved and about 8km (five mi.) packed dirt. The route takes you through the meadowlands and forests and along the Pas River of Peña Cabarga Natural Park, with highlight along the way including the 12th-century Romanesque Casatañeda Collegiate Church; the 19th-century hot-springs spa and 16th-through-18th-century manses of Alceda-Ontaneda; and in Puente Viesgo, another 19th-century spa as well as the early-20th-century Fuentes Pila mansion and a quartet of caves on Mount Castillo, including the Cueva de la Pasiega, featuring Neolithic ocre paintings depicting horses, deer, and bison, among other figures.
The Piquillo Greenway
Yet another route with an endpoint in Castro Urdiales (specifically an outlying hamlet called Ontón), this lovely little stretch is just 1.9 km (just under 1¼ mi.), running from an old ore shipping point at El Piquillo along sea cliffs to Covarón, once the site of a mine in the neighbouring Vizcaya province of the Basque Country.
Fly to Cantabia to explore the greenways from 491$!