Sardinia's fifth largest city, with around 60,000 inhabitants, is known especially as the gateway to and base for visiting the fabled nearby Costa Smeralda. But besides paradisiacal beaches, there's quite a bit to keep you engaged and entertained in and around Olbia – its international airport just five kilometres (three miles) away served by Iberia during the summer season – from history (including ancient archaeological sites) to culture, and delicious dining. Here are the reasons why its name – from the ancient Greek for "happiness" – is so very fitting.
First, of course, we'll start off with those justly famed, tawny-to-white-sand strands. Here are the top three:
Liscia Ruja
Located between the villages of Portisco and Cala di Volpe and also known as Long Beach, at 700 metres (2,297 feet) and 50m (164 ft.) wide Liscia Ruja (above) is one of Sardinia's biggest as well as best, thanks to its powdery white sand and calm, turquoise waters; these also make it ideal for snorkelling. Surrounded by pignete (pinelands), it also offers great views of the offshore islets Soffi and Mortorio. There are umbrella and chaise-longue rentals, as well as a café for refreshments.
Porto Istana
Also fine of sand and gorgeously turquoise and placid of waters ideal for snorkelling, this beach in the picturesque village of the same name is smaller than Liscia Ruja but also offers a menu of other aquatic fun such as aquascooters, sailing, and stand up paddleboarding. Porto Istana also serves up an inspiring view of a limestone massif island called Tavolara (to which excursions by boat can be booked).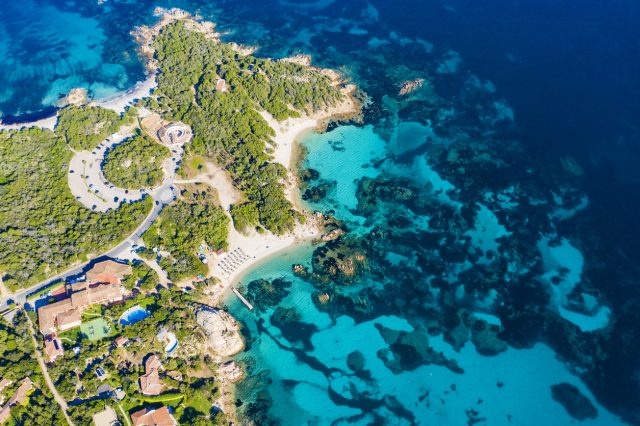 Capriccioli
Divided in two beaches by large, pink-granite rocks and surrounded by classic Mediterranean vegetation, this sweet little cove's shallow, crystal-clear waters are perfect for families as well as full of marine life for snorkellers. You can also rent rowboats, canoes, and pedalos (for example, to row out to the islet of Mortorio, just off the beach).
Olbia City, its Culture & Monuments
With a history dating back to the ancient Phoenicians of the 4th to 5th centuries BCE, Olbia boasts plenty of historical monuments to explore. Probably the most significant is the Romanesque San Simplicio basilica (above), built in the late 11th century and named for the city's patron saint, a 5th-century pope of the Roman Catholic Church. Beneath  the basilica, meanwhile, a necropolis museum preserves an archaeological site consisting of hundreds of ancient tombs from paleochristian (early medieval) all the way back to the Phoenician era.
Speaking of museums and archaeological sites, the port area's ship-shaped Museo Archeologico di Olbia (above) is a must – and, by the way, free of charge – to understand the more than two millennia of history behind this city and region, back even to the times of the nuraghe (Sardinia's pre-Phoenician megalithic structures, dating back as far as 1900 BCE). Artifacts include jewels, weapons, amphorae, and several preserved remains of ancient ships, complemented by multimedia displays and explanations – fascinating stuff!

It's also worth the 15-minute drive out of town (and not far from the airport) to Pedres Castle, built strategically built in the late 13th/early 14th centuries atop an 80m (262-ft.) hill for a panoramic view out over Olbia, the bay, and indeed much of Sardinia's northeast corner. And right in front of the castle is Su Monte de s'Abe, a prime example of one of the island's Bronze-Age nuraghe, a so-called "tombs of giants" (because it consists of huge cut stones stacked on top of each other) dated to 1800 to 1100 BCE.
So as you can see, this sweet little Sardinian city and its environs serve up a little bit of everything – plenty of bodacious beaches but also history, culture, dining, and more in a setting of both architectual and natural beauty. So book a flight to Olbia for this summer and you'll find it's a win-win-win!
For more details about Olbia in English, check out SardegnaTurismo.it. For more about Sardinia on Love2Fly, check out Sardinia, the Emerald Isle of Italy and Come to Cagliari, Comely Capital of Sardinia.
And to read this post in Spanish, click here.