Every city has its fashionable and hip neighbourhoods, of course, and Chile's cosmopolitan capital is naturally no exception; this blog has covered one, Bellavista, and Brasil is another. But these days many consider the coolest of all to be Lastarria, named after a mid-19th-century writer-politician and co-founder of the University of Chile. Located in central Santiago – a 20-minute taxi ride and just ten minutes by metro from the historic centre's Plaza de la Constitución – this nabe boasts plenty of historic architectural flavour (especially from the Belle Époque of the late 19th and early 20th centuries) as well as several key museums, but its main allure for locals and visitors alike is a plethora of dining, nightlife, and cultural offerings.


Culture-Vulture Central
Lastarria has been a hub for writers, musicians, painter, theatre people, architects, and myriad other intellectuals and cultural leading light for much of the past century – which has left a legacy of alternative theatres, music and other bars; diverse dining spots; shops and galleries; and streets now converted to pedestrian only (don't miss the Thursday-through-Sunday antiques street market in and around Plaza Mulato Gil de Castro). It also happens to have a seamier side as home to a number of sex shops and cabarets.
And beyond all that, it's also home to some of this city's top museums, such as the city's  Museum of Fine Arts, at 130 years Latin America's oldest and home to Chile's most distinguished artists as well as a wide range from Europe; behind it, the Museum of Contemporary Art with some 3.000 works from the late 19th century to the present; and the Museum of Visual Arts, home to around 1,300 works of Chilean artists.
But for many, the jewel in the crown is the Centro Gabriela Mistral (above, named after the mid-20th-century Chilean poet who was Latin America's first Nobel Prize laureate in literature) – a onetime convention centre which since 2010 has been devoted to disseminating and promoting  performing arts and music, with two main buildings and ten spaces (including rotating art exhibits on the ground floor.|
Exceptional Arquitecture
Back to architecture, Lastarria is also a delight to simply wander also due to the many manses and other historic buildings which line its streets. One particular example is the imposing, mid-19th-century Church of Veracruz (above); the Lastarria Observatory, an old manse with a lovely balcony which today is a cultural centre; the Luciano Kulczewski Home/Workshop, designed as a little castle of eclectic style by a prominent 20th-century Chilean architect and open to the public as a museum combining Neogothic, Art Deco, and Art Nouveau elements; and best known of all, the three-storey Palacio Bruna, built in Italian Renaissance style in the early 20th century and whose marquis attraction is a spectacular frieze (it's now the headquarters of Chile's National Chamber of Commerce).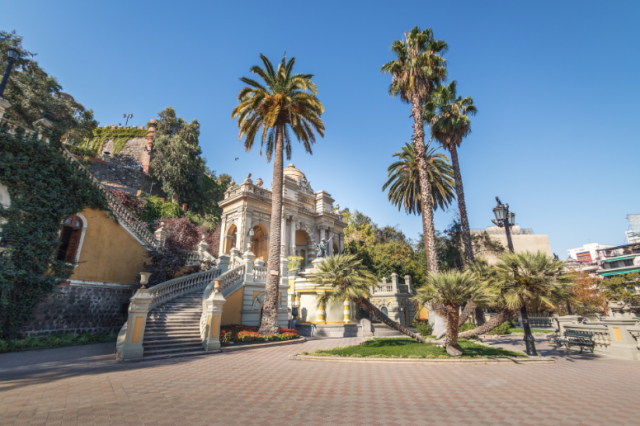 A Peek at the Parks
There's a delightful greener side to Lastarria, as well. First off, the Parque Forestal, (Forest Park), so called because its 17 hectares (42 acres) is like a forest in the middle of the city. It's an oasis of peace and tranquility for strolling amidst its 6,000-some species of trees (predominant among which are banana trees) and statues such as that erected in honour of Rubén Darío, the 19th-century Nicaraguan poet who is one of Latin America's greatest literary figures. Then just a 15-minute stroll south is 629-metre (2,064-foot) Santa Lucía Hill (above), anchoring a 6.5ha (16- acre) park with more than a thousand species of flora of its own. Here the outstanding features are several splendid terraces from which visitors can get lovely views out over the city.
Luscious in Lastiarra
In addition, the neighbourhood is known for its cafés and restaurants, serving excellent Chilean cuisine including roast meats; empanadas; fresh seafood such as the very popular ceviche (above) brought in from the nearby Pacific coast; and hearty traditional stews reinvented with a modern touch. There's also no shortage of international options along the lines of sushi (also very popular in this city) and gourmet burgers. All washed down, of course, with Chilean wine – among the world's best.
In fact, cuisine is such a big deal in this neighbourhood that for the past decade it's hosted an annual festival called Ñam ("Yummy"), which each April brings together Latin America's top, most innovative chefs for talks, workshops, and tastings. To the delight of local and visiting foodies, during these four tasty days Lastarria's restaurants restaurants pull out all the stops to showcase their best creations. Ñam, indeed!
Intrigued? Get tickets from London to Santiago from just £537!