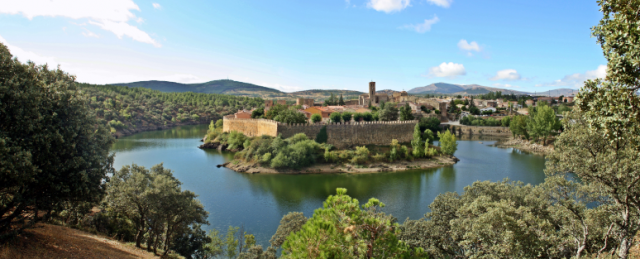 When most people hear "Madrid", they think of Spain's vibrant capital city, its culture and historic sights, its dining and shopping, its wild nightlife. But all around it in the larger Autonomous Community of Madrid lie delightful towns, cities, and even countryside to which madrileños love to escape on weekends and holidays. In fact, ecoturismo is one of this region's most appealing draws, with diverse menu of landscapes and activities that will delight any lover of the great outdoors. We've covered some of the community's allures in the past, and we're back for another bite at the apple, with some of these highlights: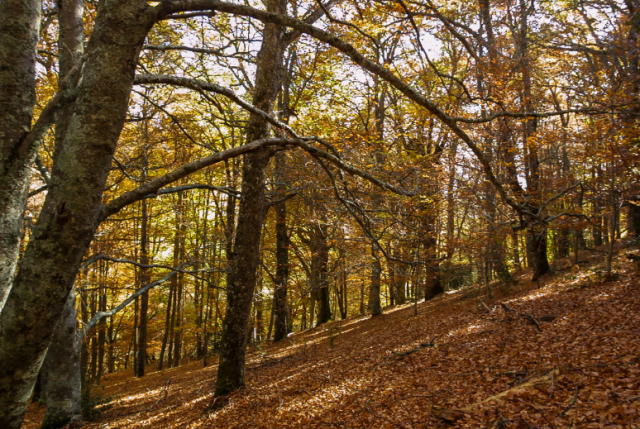 Montejo de la Sierra & its Famous Beech Forest
Up in the Madrid Community's far north, a drive of about an hour and 40 minutes from the capital's downtown, this charming village of not even 400 souls has lived on farming and cattle raising for most of its 560 years, and is known for its lovely alpine setting in a range called the Sierra del Rincón, a UNESCO Biosphere Reserve, covered with forests of oak and ash as well as ancient grain fields. But the most celebrated section of this reserve is the Hayedo de Montejo, a 250-hectare (618-acre) swath of  beech forest on the banks of the Jarama River. Since 2017 sharing a designation as a UNESCO World Heritage Site with the other beech forests of Europe, Montejo is home to beeches towering 20 metres (66 feet) and higher, a few even have names, such as the La Roca Beech, 250 years old. Other trees in the area include oaks, ashes, hollies, and cherry and hazelnut trees, and the forest is home to a wealth of flora (some 833 species) and fauna (193 species, including roe deer, wild boar, and of course a wide variety of birds). The hayedo is open to visitors but only on (free) guided hikes and with daily limits – you can book online or pick up your place at the local visitor centre; other areas of the Sierra del Rincón, meanwhile, are open to unrestricted hiking.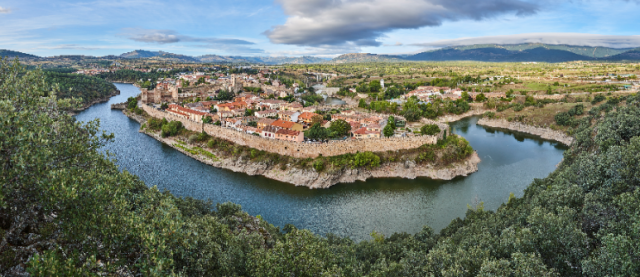 Buitrago del Lozoya – History Amid Gorgeous Surroundings



Also north of Madrid – just an hour away in the Sierra Norte range – this larger village (pop. just under 1,900, above and top) is also one of the loveliest in the Madrid Community, with an atmospheric medieval old quarter surrounded by an 11th-century wall built when this area was still ruled by the Muslim Moors. (And by the way, in addition to the Gothic castle and churches you would expect, one particularly unusual one is Buitrago's very own Picasso Museum, a collection in the town hall of some 70 works given by the artist to a local native who was for many years his barber and friend in exile in the south of France.)
But nature lovers will focus more on the surrounding countryside, with a number of trails for hiking, biking, and horseback riding; the one along the Lozoya River is especially recommendable thanks to its scenic views, and you can also take to the water in canoes and kayaks. Speaking of water, another outdoorsy local highlight is the nearby  Riosequillo Reservoir, 4,500 square metres (1,112 sq. ft.) which besides providing drinking water for Madrid is also home to great recreational facilities including pools, various spaces devoted to greenery and sport, and a very good little botanical garden.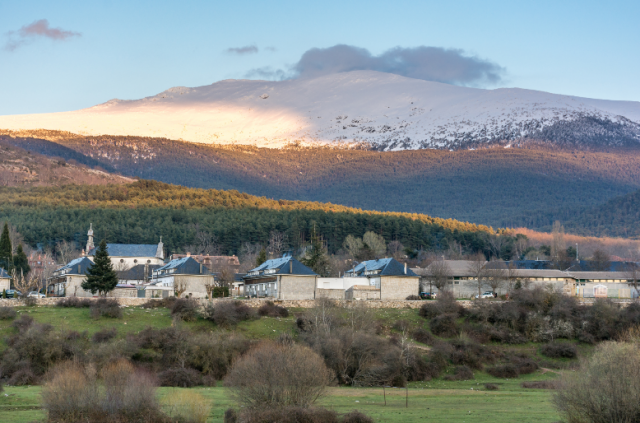 Rascafría & the Snow-Covered Peaks of Peñalara
Up in the Guadarrama Mountains about a half hour west of Buitraga (and about an hour 15 minutes from downtown Madrid) this town of around 1,670 inhabitants has its own regional architectural style, with major landmarks including the Gothic Monastery of Santa María de El Paular, founded in 1390. The area is also known as home to the Valedesquí winter resort, with 22 kilometres (just under 14 miles) of skiing and snowboarding trails.
Plus Rascafría has two other major draws when it comes to the great outdoors. Firstly its hiking and biking trails, with options for all ages and experience levels winding through dense pine and oak forests (home to a variety of wildlife including, for example, the world's sixth largest population of black vultures). Perhaps the best known is the nearly five-hour trail which crosses the El Paular Valley from the Monastery of Santa María and includes the majestic El Purgatorio Waterfall.
Number two is Peñalara Natural Park, a 768ha (1,942-acre) enclave formed by a glaciar featuring a spectacular valley, morraines, glacial lakes, and of course the titular Peñalara Peak, the highest in the Guadarrama Range at 2,428m (8,031 ft). Accessed from one of its passes, Puerto de Cotos, it's pure catnip for hikers, mountain climbers, and cross country skiers.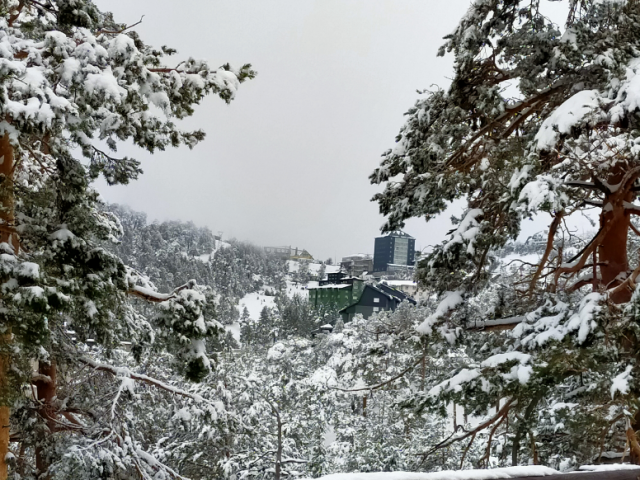 Manzanares el Real & La Pedriza
Just 45 minutes northwest of downtown Madrid, the largest of the towns on our list (pop. 7,250) is home to among other things one of the Madrid Community's best preserved castles, dating back to 1475, but it's especially blessed when it comes to the natural environment that surrounds it. Spreading across some 6,000ha (23  sq. mi.) of the Sierra de Guadarrama, that includes spots like the Santillana Reservoir (set in a lovely area of ash trees and oaks, and home to a large population of white storks) and the Bola del Mundo, a 2,257m (7,405-ft.) mountain famously crowned by a set of red-and-white antennas visible for kilometres and reachable either by hiking or by chairlift from the nearby Navacerrada winter resort.
But the top eco-allure in these parts is without a doubt La Pedriza, a 32-sq. km (eight-sq.-mi.) field of dramatically and exotically weathered granite boulders interspersed with streams, ridges, rock walls, and piles of scree. From its upper reaches you can get some incredible views of the surrounding countryside – even as far as the Madrid skyline in the distance.