Panama of course has no shortage of islands, ravishing beaches, and secluded paradises. But this archipelago of around 365 islands and cays (barely 50 of them inhabited) spread over some 300 square kilometres (100 sq. miles) off the country's Caribbean coast, is a particular standout for its pristine environment.
That's in large part because they're part of the province of Guna Yala, autonomously ruled by the Guna people who predate the invasion of this region by the Spanish in 1513 – meaning that the locals control the pace, keeping out overdevelopment and mass tourism, with what tourism there is kept sustainable and eco-friendly (all electricity, for example, being solar-powered). That, the lack of hurricanes, and the opportunity to experience the singular culture of the Guna, makes the San Blas Islands – a half-hour flight from Panama City and three to four hours by road and ferry – a truly extraordinary destination that more than a few seasoned travellers declare is their favourite in Central America.
Most visitors enter the archipelago via El Porvenir, its capital (and eponymous main island, in the west of the archipelago, home to a hotel, a number of beaches, and water-taxi/sailing-ship connections to other islands such as Cayos los Grillos, Cayos Holandeses, Cayos Limones, Isla Perro, Nalunega, Sindup, Ukuptupu, and Wichubwala.
Some visitors come on day trips from Panama City, but those interested in overnighting should be aware that the often palm-thatched cabins and guesthouses on these islands (many available for less than 50 USD per night, including meals) are reasonably comfortable but also fairly basic – for example, lacking air conditioning, electricity, perhaps even hot water, and of course Internet; there is, however, some handheld-device charging as well as mobile phone coverage if you absolutely must.
Now, for many this is part of the allure – to truly "unplug" from their hyperconnected, perhaps hectic daily lives and indulge in a slower, more simple life for a short while. Kick back in a hammock under the rustling palms, sipping from a fresh coconut – tot of local rum optional – then going out into the vibrant turquoise waters of the Caribbean to soak, swim, sail, kayak, and snorkel (scuba diving is prohibited). Maybe sunbathe, collect shells, or play volleyball on the powdery white sands. In short, the simple pleasures of a castaway island. Candlelit evenings can be spend enjoying rum drinks at a local bar and chatting to like-minded visitors from all over the world.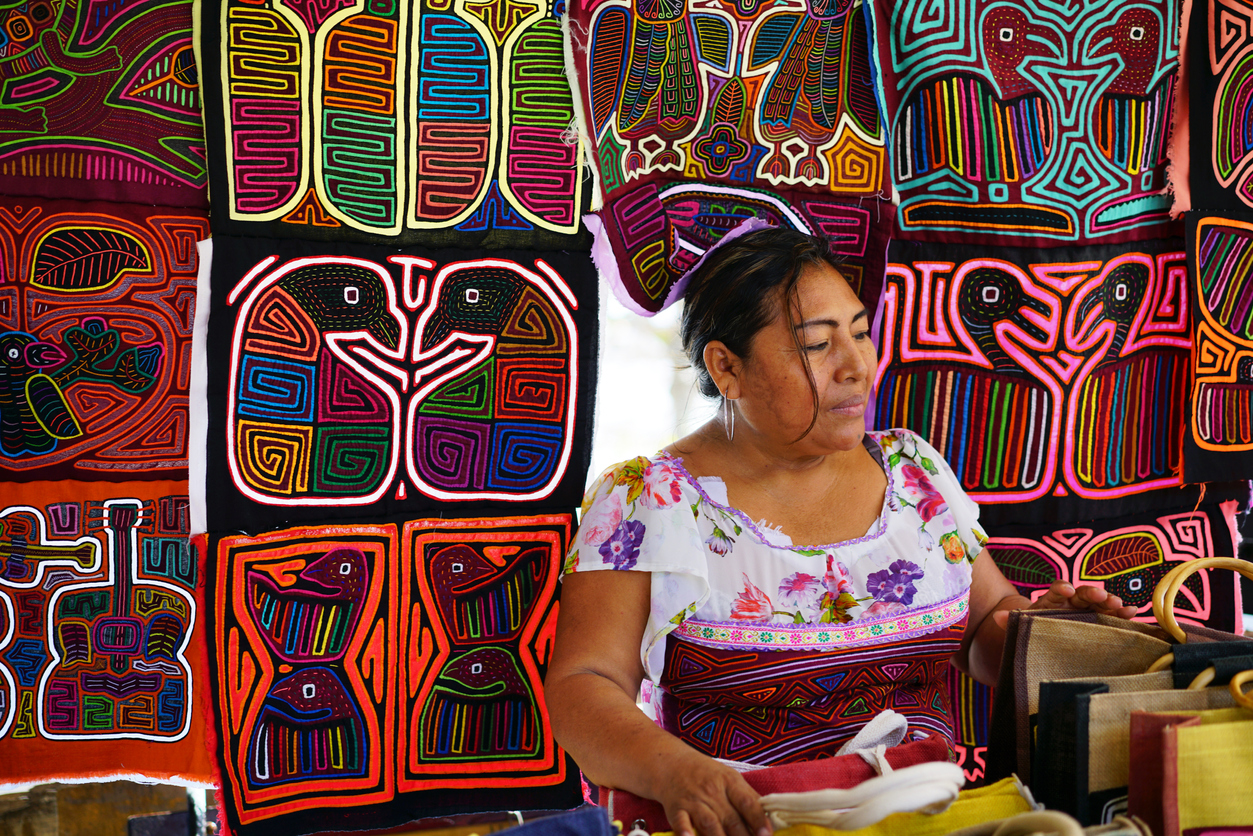 Speaking of things social, it's not just the breathtaking tropical beauty of these islands, but a chance to experience the singular culture and lifestyle of the Guna (aka Kuna) people, estimated to number around 50,000 on these islands (thousands more live on the nearby mainland coast) and notable for their extremely short stature – 1.5 metres (4'9″) would not be an usual height for them.
Though a good number of them work in the tourism industry, many still engaging in age-old pursuits of their traditional matriarchal society, with men fishing and lobster diving from palm-tree canoes and women creating colourful and intricate beaded jewellery and cotton molas, brightly hued, embroidered blankets, wall hangings, and accessories that are a Guna hallmark – which of course they are happy to sell, and certainly make fantastic souvenirs.
As for eating, if you love seafood, you'll be delighted with the freshness and quality of the grilled or fried fish (especially red snapper) and lobster, served in generous portions and usually accompanied by coconut-flavoured rice, and/or perhaps some fried plantains and salad.
By the way, those who've traveled here recommend you bring along some of your own supplies, such as snacks, insect repellent, flashlights, soap, shampoo, toilet paper, and maybe even bedsheets and towels (those supplied here may be of dubious quality) – all of which can be bought inexpensively in Panama City, if you like. Then of course there's entertainment – no electronics, obviously, but on the order of books and perhaps a musical instrument such as a guitar, if you play one. Keep in mind, too, that the locals are extremely laid back and unrushed, so don't expect service to be "hop-to" – for many of us, in fact, that's precisely part of the charm of a holiday here.
The best time of year to visit the San Blas is during Central America's dry season,  December through April – meaning of course you're far less likely to be rained out as you enjoy your idyll in paradise. Because this truly still is a kind of paradise, where you can leave the stresses of the modern developed world behind for a spell and reconnect with nature, yourself, your loved ones, and a simpler life – sure to be a tonic you'll cherish for the rest of your days.
More info: SanBlas-Islands.com, PanamaSanBlasTours.com.
And check out Iberia's amazing fares – at the moment from just 465 euros!!