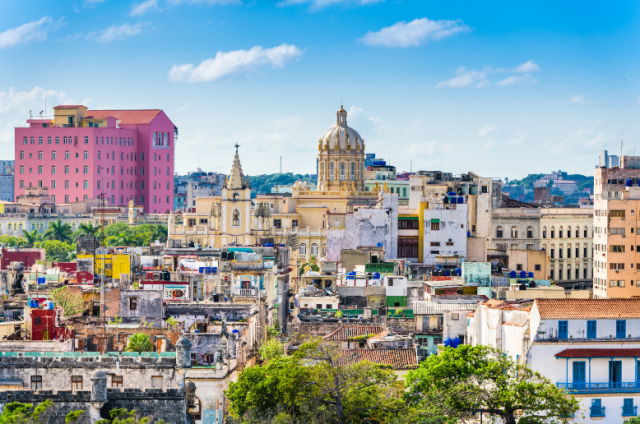 In this blog we've covered Cuba's capital a fair bit, including its highlights; one of its most prominent neighbourhoods; its street art; its pre-1960s cars; even its adorable street dogs. Here we're taking a slightly different perspective – in fact, one from a bird's eye view. Most visitors of course experience Havana at street level – which is certainly impressive enough. But there are a few spots where you can get above it all to drink in sweeping views over one of the Americas' most beautiful cities, and here's a quartet of the best: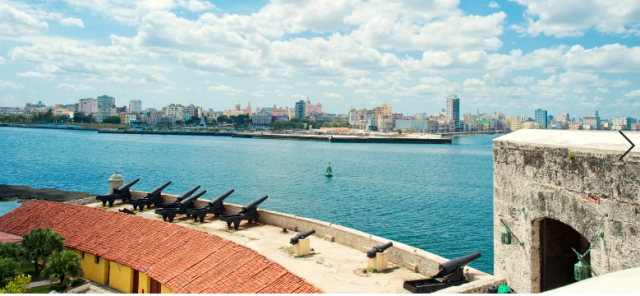 El Morro Fortress Lighthouse
Though not the highest lookout in town, this may be in a sense the most singular, located as it is in the iconic 16th-century that guards the entrance to Havana's harbour. Built in 1845, the lighthouse rises 25 metres (82 feet) over the fortress walls and still provides navigational guidance to ships by emitting two white flashes every 15 seconds. Meanwhile, visitors may climb the steps inside up to the narrow, somewhat claustrophobic cabin where the light is housed. But the reward is a truly spectacular view out over the sea, the harbour, Old Havana (including the golden dome of the Capitolio, which houses Cuba's parliament), and the Malecón promenade along the oceanfront. There's also usually an attendant on hand who will explain how the lighthouse functions.
The Bacardí Building Tower
Clad in granite, this 90-year-old Art Deco gem in Old Havana was Cuba's tallest building at 12 storeys and 47 metres (154 ft., to the top of the bronze statue the iconic bat logo of the Bacardí rum company, probably Cuba's most famous enterprise to this day). The top floors are part of a modest, ziggurat-topped tower with a space whose openings afford more exceptional views out over both Old Havana and the neighbourhoods to its west, including Centro Habana and Vedado. For a nominal fee, visitors can take an elevator nearly all the way up, then a set of steps the rest of the way. It's very worthwhile at any time of day, but do it at sunset and you'll be very glad you did.
(And about that Art Deco design: more specifically it's executed in the style of the Modernism that was characteristic of Spain's Catalonia region in the late 19th and early 20th centuries, with notable features including a lobby clad in pink granite from Bavaria. And by the way, there's also a restaurant on the mezzanine level.)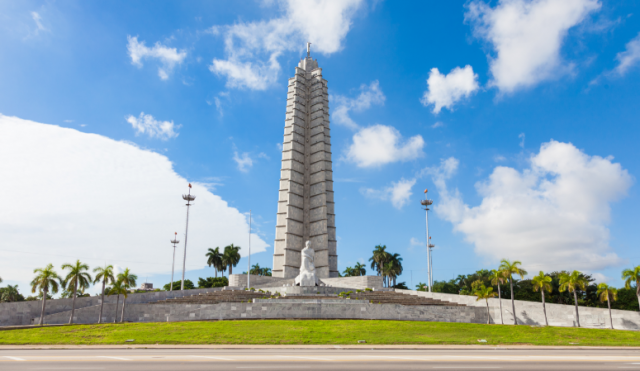 José Martí Memorial



Perhaps Havana's best known outlook is to be found in the city's tallest structure, a star-shaped tower on Vedado's Plaza de la Revolución that was completed in 1958, is covered in grey-marble tiles, and rises 142m (466 ft.), measures nearly 40m (131 ft.) around. If you're ambitious (and in decent shape) you can climb the 567 steps to the observation deck – or just take the elevator. As you can imagine, the 360-degree views from up here are especially spectacular, with visibility on a clear day up to 50km (31 mi.), including some of the beaches just east of the city, the Playas del Este.
(While you're in here, check out the four exibition rooms dedicated to the tower's namesake José Martí, the 19th-century poet and journalist who because of his ardent activism for Cuban independence from Spain became one of this country's foremost national heroes. There's a white-marble statue of him out front, 18m (TK ft.) high, and 79 of Martí's sayings are inscribed in gold on the monument's base.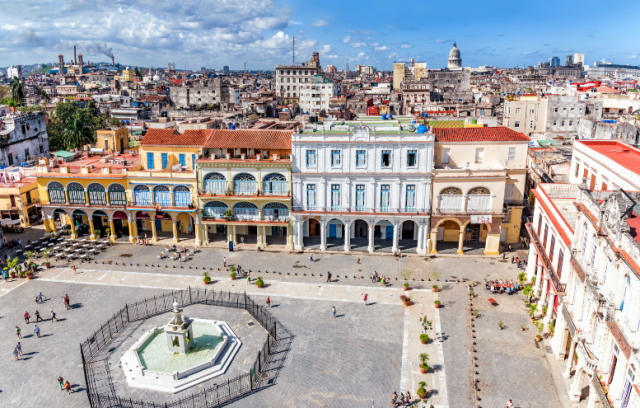 The Cámara Oscura



But probably the coolest way of all to take in Havana from above (albeit in a somewhat indirect fashion) is located at the corner of Plaza Vieja, one of Old Havana's three loveliest squares, reached by elevator at the top of the handsome 19th-century Gómez-Vila Building. The camera obscura ("dark chamber") is an artifice that dates back to the 16th century, involving lense-equipped  devices which yield reverse images of whatever they're pointed at. This one's a periscope 38 metres (125 feet) high containing a complex system of lenses and mirrors that projects – onto a concave screen almost 2m (6 1/2 ft.) in diametre – 360-degree panoramas of the city over a distance of five kilometres (three mi.), including landmarks such as the cathedral, Central Park, and the colonial governors' palace.
(This setup was a gift, by the way, from the Spanish city of Cádiz to commemorate its twinning with Havana – whose architecture shares a lot of similarities; in fact, for that very reason Cádiz has been dubbed "Little Havana"), and it's the only one of its kind in Latin America and just two dozen throughout the world.)
Get a good look at Havana from just £416 from London!